The S&P 500 has made yet another closing high in recent days. Adjusting for reinvested dividends and inflation, the index is also around record highs.
The breakout to fresh all-time highs, both nominal and real, has convinced some investors that the S&P has emerged decisively from the "lost era" in equities that began in 2000, and which involved two brutal bear markets.
Long-term valuations cast serious doubt on this notion, however. Real total returns over the coming years could be very disappointing indeed.
James Montier of GMO makes this case very persuasively in his latest white paper. Looking at five long-term valuation metrics, he estimates that annualised real total returns could be zero - or even worse - over the coming seven years.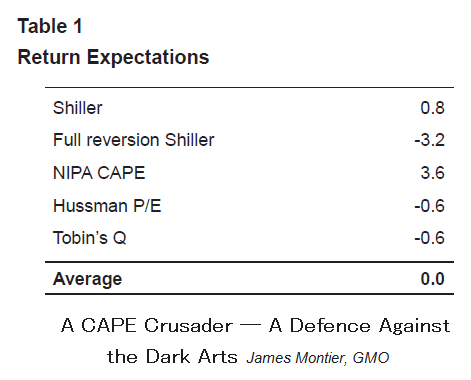 As an aside, Mr. Montier was rightly bearish ahead of the credit-crunch collapse in stocks from 2007 and then correctly turned bullish as stocks reached their major bottom in early 2009.
Mr. Montier's projections got me thinking about what path the S&P might follow in order to end up going nowhere out to 2021.
I have therefore taken a look back at previous spells where US large-caps have delivered similar returns to those mooted by Mr. Montier.
Going back to 1871, I've identified eight sequential and non-overlapping periods where the S&P produced an annualised real total return of -1.1% to 1.1% over a seven-year timeframe.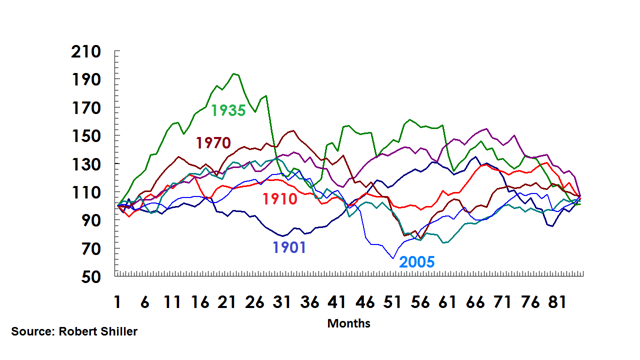 The episodes identified proved to be a bumpy ride for investors. All bar one involved two bear markets, at least one of which saw the S&P shed at least one-third of its value and last for at least 12 months.
(The "single" bear market exception was the Great Depression's crash). I think it is fairly likely we may follow a similar two bear-market trajectory over the coming seven years.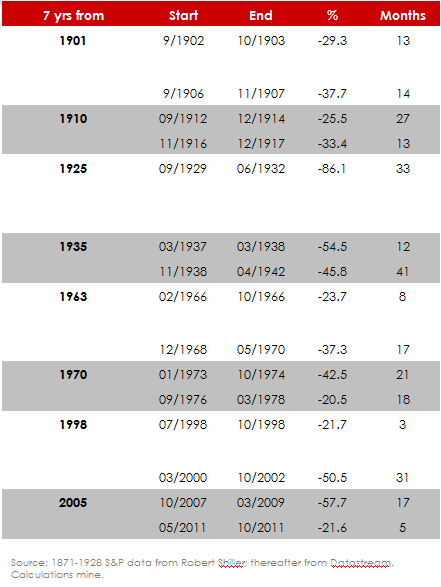 Of course, the valuation metrics that have reliably warned of poor returns over a 7-year horizon in the past tell us very little about the near-term outlook.
There is nothing to prevent the S&P rising further and valuations becoming even more stretched in the immediate future. Indeed, that is my expectation for now.
Past experience shows that the first couple of years within 7-year equity famines are very often quite positive.
I am keeping faith with the trend in the S&P for now, believing a move to above 2050 to be in store.
On a multi-year basis, however, I intend to be heavily underweight the S&P.
Disclosure: I have no positions in any stocks mentioned, and no plans to initiate any positions within the next 72 hours. I wrote this article myself, and it expresses my own opinions. I am not receiving compensation for it. I have no business relationship with any company whose stock is mentioned in this article.