With almost 5 months of 2010 in the books, we decided to take a look at the total returns for the S&P 500 broken down by-AFG defined sectors to see which sectors have outperformed/underperformed the index so far this year.
You will notice in the chart below that the Energy, Utilities and Health sector seem to be dragging down the returns of the overall index, while the Consumer Durable and Capital Goods sectors are leading the way.
Along with this breakdown, we will also provide a few attractive and unattractive companies to consider from the 2 sectors that have experienced the best returns thus far. The companies we have provided in the chart below have been identified as the companies from within their sectors most likely to outperform and underperform their sector peers based on key criteria used in The Applied Finance Group's stock selection process, such as overall investment opportunity signal as well as valuation attractiveness signal.
An attractive default AFG valuation is a great place to start when looking for potential investments, as our valuation techniques have proven successful through time at identifying mispriced securities and helping our clients identify investment opportunities.
In the chart below you will find the average returns for each AFG sector and the S&P 500 index YTD.
click to enlarge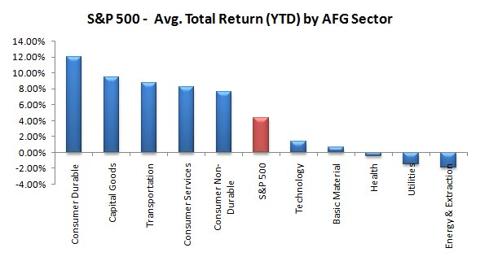 Source: EconomicMargin.com
To stay updated on companies AFG believes are attractive investment opportunities register here.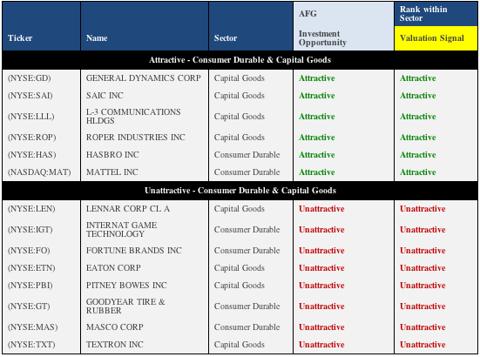 Source: EconomicMargin.com
Signup for VE now to gain valuable insights, lists of companies that outperform benchmarks and other registered only content.
Disclosure: None