Dividend Growth is very popular on Seeking Alpha. It doesn't take a Sherlock to recognize that it is likely the most popular topic for readers, and likely one of the investment models or philosophies embraced by new investors arriving at Seeking Alpha. Unfortunately I think many investors are simply getting it wrong.
Investors are failing to separate the two components of the investor lifespan; the accumulation phase and the spending phase. Dividend growth has wonderful advantages for both stages, but we should not confuse the two. In the accumulation phase the only thing that matters is total return. In the spending phase (harvesting of income and capital) the management of the actual income then becomes very important. Side note: we should also recognize that dividend growth can be a very good risk management tool as typical dividend growth stocks will offer slightly less volatility and may help an investor stay the course.
But we should always understand that in the accumulation phase there is no need to micro-manage the dividends. There is no need to ensure that the dividends coming into the portfolio are consistent month to month or quarter to quarter. If you don't need to spend the dividends, what does it matter? When all that matters is total return the only metric to watch over medium and longer time frames is how fast the portfolio is going. Micro-managing the dividends is akin to obsessing about the radio volume in your car when you're looking to maximize speed. One can have nothing to do with the other, and keeping your eye on the radio settings might even slow you down. That slowing down analogy appears to be what is happening with some dividend growth investors on Seeking Alpha, certainly with many who are providing articles and prodigious levels of commenting and advice.
Many readers are in turn staring at the radio and not the speedometer. The might be tapping the brake in error along the way.
So why invest in dividend growth stocks in the accumulation phase? Well there's a few thousand gigs of writing out there that say dividend growth can beat the market such as the S&P 500 (NYSEARCA:SPY) over longer periods. Heck, I provided a few K on that subject in this article Dividend Growth: A Very Useful Distraction? You can find that article here.
Now make no mistake, if you are young and brave and have a very long time horizon for your investments then perhaps small cap is the way to go. Small caps will outperform the broader markets if you give 'em time. You can find one of my articles on that subject here.
But back to the large cap world where these dividend growers typically reside -- in my Useful Distraction article I offered this chart that shows the dividend payers and dividend growers outperforming the larger market by a very large degree according to the Ned Davis research.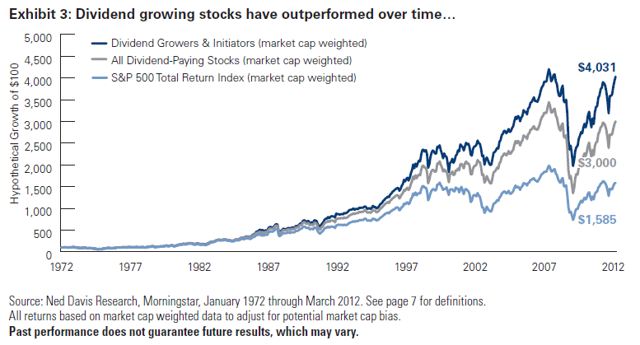 Now that's the reason to invest in dividend growth stocks if there are no glitches to their research - and that an investor can find a formula or system that captures the potential of that world of generally large to mid-cap companies.
Further research in that article lead to the search of trying to find the sweet spot for returns for dividend growth stocks. According to Credit Suisse, for the time period that they analyzed, a high yield and low payout ratio was the ultimate combination. That is high yield with the likely ability to continue to pay (low payout ratio) and grow those dividends was a sweet spot.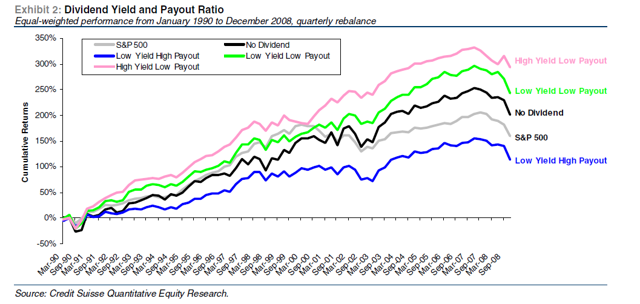 You'll notice in that period, non-payers beat the index as well. But certainly the top two "winners" in that evaluation are dividend payers (both high and low yield) with a low payout ratio. Perhaps the most important metric for dividend investors who are seeking alpha is payout ratio. That appears to make sense. While no one knows what the future holds (predictions are hard to make, especially about the future) payout ratio is more forward looking. A company that has a record of growing earnings and that low or modest payout ratio certainly has more of a chance of being able to raise that dividend. That ability to raise the dividend (and at times combined with a history of raising dividends) is a powerful one-two punch that leads to investors supporting the share price(s).
And remember there are two ways to go at this. In the Credit Suisse chart it shows dividend payers and dividend initiators. Those dividend initiators may stray from the core of dividend growth investors who like to see some history or look in the rear-view mirror. But it may be leaving out a sector of dividend growth opportunity.
I have some experience in this dividend initiator and low payout ratio phenomenon. As many know, I am an indexer, but I recently wrote this article My Three Stocks. In addition to the broad based indexes and dividend and bond ETFs I also hold three stocks, Enbridge (NYSE:ENB), TransCanada Pipelines, and Tim Hortons (THI). Enbridge and TransCanada are legacy stocks from my stock picking days. They are from the group of stocks that survived, the winners. There certainly were some losers and flame outs along the way to be sure (and so that you don't come to the wrongful conclusion that I am an artful stock picker). Those three stocks have certainly beat the you-know-what out of the market. But the only company that I truly hold by design (or I will sometimes write "on purpose") is Tim Hortons. In my previous life I was a writer and advertising creative director on that business. I understood that business very well. I understood and still understand the brand power of that company. Canadians have a love affair with that company and brand. The company has a wonderful opportunity to grow in Canada, in the U.S. and certain regions around the world. But I mostly bought the company for the day that when it had every street corner in Canada covered, and there was not much room to grow in the great white north and they would return a large percentage of the earnings to investors by way of dividends that might be in the area of 4-5%. I certainly thought back in 2006 that there would be considerable capital gains or price appreciation available that would also offer some comfort and ability to take profits. I certainly did trim half of my position in Tim Hortons after it first offered a double - or as we say in Canada a "double double". That's our code for two sugars two cream.
Here's how Tim's has delivered on the total return front. Tim's was spun off of Wendy's (NYSE:WEN) back in 2006.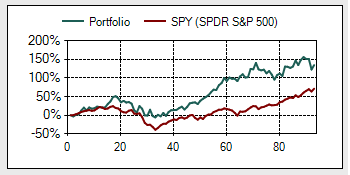 Speaking of double doubles, it's just about a double of the broader market SPY. Tim's did initiate a dividend in August of 2006, but I could certainly care less about the dividend even though the dividend growth rate is 22% from that date. Not many companies offer that kind of dividend growth, but to me so far it is meaningless, I am not looking to spend the money, I'll care about the dividend when it's time to retire and spend those dividends. I bought it for price appreciation and total return. George Bush would smirk and say "Mission Accomplished". Well mission accomplished so far.
Tim's recently raised its dividend by another 22%, and quickly investors piled in and increase the share price once again, and reduced the immediate yield to below 2%. All said, the dividends are nice and likely attract some of the dividend seekers and will help drive the share price. Management teams of companies know that dividends are attractive and can drive the share price and also fill their wallets. Management teams can get paid in shares and dividends. It's sensible policy to pay those dividends even though it will have no effect on company growth.
And so far, earnings growth has been generous enough to support the dividends. The trend is moving in the right direction.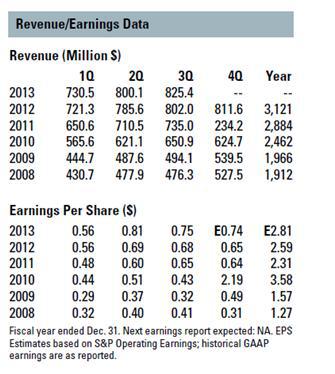 The payout ratio is in the area of 35.5% according to TD Waterhouse. Dividend initiation supported by a low payout ratio and rising dividends has been a market-beating combination so far for this company.
But many on Seeking Alpha are closely watching the income stream, or buying companies based on the dividend growth history, that is they are looking in the rear view mirror. And they are doing so even though the likelihood of a company with a long history of increasing its dividends has a very slim chance of maintaining its previous dividend growth history. Dividend growth rates for the majority of companies fall precipitously. And once again, that dividend growth history may have very little to do with the growth potential of earnings and especially the share price growth.
The prolific writer and blogger Chowder is very popular on Seeking Alpha. His strategy is one of total return. His public portfolio is entitled Project 3 million, and it will attempt to create $3 million of holdings for his son over many decades. Here is his strategy outline: "To focus on the safety of the dividend, then to focus on the growth of the dividend, and then to focus on the total return. The formula to be used to put this strategy into effect is what I call, 'The Success Formula That Never Fails.'"
High Quality + High Current Yield + High Growth of Yield + High Total Return.
For Chowder it's all about the quality of the company (from external source evaluation), a high current yield, and high growth of the yield (looking to the past). No one will argue with the quality aspects of evaluation, but high current yield certainly leaves out a vast swath of companies with low yield that may have the ability to grow earnings and dividends leading to very robust market-beating capital appreciation and total return. Chowder also looks to the past using dividend growth rate history that he acknowledges will certainly fall at a very generous pace. He builds in a buffer zone for that declining dividend growth.
Chowder created a formula that many new investors (or new to dividend growth) adopt. He calls it the Chowder Rule and it goes like this: he adds the current yield to the 5 year compounded annual growth rate (for dividends). The number must then add up to 12, or 12%. It appears that he will not invest in a stock (even if it makes his quality parameters) if he does not get to that magic 12 number.
Quality as a given, one can conclude that Chowder's stock selection is then based primarily on yield and dividend growth history, though he states that he has a total return strategy. Certainly he is thinking that high yield plus dividend growth history is a way to total return. To be fair he states that he is seeking 8.5% average annual returns (what is required to amass that $3 million) and he is above target from his start date of late 2009. He is well above meeting his goals and no one can argue with that fact. The market, SPY, has been delivering at a rate of about 15.5% from late 2009, there has been ample opportunity to generate some very nice gains for investors well beyond market historical averages.
Chowder is meeting his goals, but he is leaving some gains on the table according to my calculations where I simply use SPY and the Vanguard dividend growth fund (NYSEARCA:VIG). That is similar to other popular dividend growth writers on Seeking Alpha who underperform the ETFs. Is it possible or likely that Chowder's Project $3 million could turn into Project $4 million if he simply bought a simple and easy to manage ETF such as VIG?
I see many investors citing (and adopting) the Chowder rule and also concentrating on, and micro-managing the yield. They're watching the income growth, not the portfolio growth. I would suggest that investors that embrace dividend growth adopt a total return strategy. In the accumulation phase, all that matters is total return. That is a mathematical fact. In the end it will come down to how much money you have to go shopping for yield. Most investors would take $1.5 million vs. $1 million. Don't get distracted by income and the previous rate of growth. That can leave money on the table.
Also, do your own research on why and how dividend growth can deliver superior returns. And it's time to separate the accumulation phase and the spending phase and apply the appropriate strategy. Or you might simply buy VIG and put that investment on an automatic investment plan and figure out what to do with the free time you've now created by being a passive investor.
Stay tuned. I will follow up this article with the quarterly and annual comparisons of VIG and SPY compared to the Chowder returns, detailing the breakdown of the income and total returns for each investing strategy.
Happy investing, and be careful out there.
Disclosure: I am long SPY, VYM, DIA. I wrote this article myself, and it expresses my own opinions. I am not receiving compensation for it (other than from Seeking Alpha). I have no business relationship with any company whose stock is mentioned in this article. Dale Roberts aka cranky is a Streetwise Coach at ING Direct Mutual Funds. The Streetwise Portfolios offer index-based complete portfolios to Canadians. Dale's commentary does not constitute investment advice. The opinions and information should only be factored into an investor's overall opinion forming process