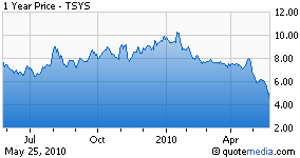 Recent turmoil in the markets has finally opened up some compelling bargains. The one I want to cover today is Telecommunications Systems, Inc. (NASDAQ:TSYS).
TSYS provides telecommunications technology, equipment, software and support to the US government and to dozens of wireless phone companies around the world. It has a reasonably strong balance sheet, its sales are not particularly sensitive to economic conditions, the stock is cheap relative to recent earnings (P/E less than 10), and its sales are growing rapidly. Recent 2010 guidance is for revenue growth of roughly 47% over last year, with EBITDA/share of $1.17-1.22, and earnings/share of $0.37-0.42, compared to the recent market price of $5/share. I'm estimating that free cash flows will be roughly $0.90/share.
Now, I'll discuss TSYS' business, and explain why I think that the Company will do well regardless of a potential double-dip recession or credit crunch:
TSYS operates in two segments: Government and Commercial. The Government segment provided 58% of revenues in 2009. This segment provides telecom products and services to the US Government (primarily the Department of Defense, but also State and Homeland security as well as others). It offers satellite teleport facilities (permanent ground-based facilities for 2-way communication with satellites), portable satellite communications systems (allowing, for example, US army troop communications in the field) and it is a reseller of satellite airtime.
TSYS' recent acquisition of Solvern Solutions also gives the Company cyber-security capabilities, an area in which the government is significantly increasing its investments. I believe that the Government segment will be largely unaffected by economic cycles.
The Commercial segment provides enhanced services for wireless phones. The largest customer in 2009 was Verizon (NYSE:VZ), accounting for 22% of overall revenues. However, TSYS provides at least some of its services to at least 57 wireless carriers and VoIP providers worldwide. These services include enhanced 9-1-1 services (providing the location of the caller to the 911 operator), inter-carrier SMS text messaging services, and location based services (turn-by-turn GPS navigation for cell phones, GPS-based local search for stores, restaurants, etc., a 'people-finder' for friends and family, and a lost phone locator).
I view the Commercial segment services as also being fairly insensitive to the economic climate. E-911 services are mandated by the FCC, text messaging is cheap, popular and on the rise, and location based services are growing rapidly with the increasing popularity of smart phones. Only 5-6% of cell phone users currently use these services, but it's anticipated that usage could reach 30% or more in the next few years. A tough economy might slow that growth, but I don't anticipate that it would shrink it.
For a more quantitative view of TSYS' resilience in tough economic times I would look at its revenue over the past several years, a difficult time period for most businesses. After revenues of $144 million in 2007, TSYS hit $220 million in 2008 and $300 million in 2009. The Company has issued revenue guidance for the current year of at least $430 million.
Assuming you buy the argument that the government and wireless carriers aren't going to reduce their purchases for TSYS' services, the only remaining risk is that competitors will start taking business away from TSYS. Here again I think TSYS is in good shape.
The Company has patented its technologies heavily, with 108 patents issued and over 300 pending worldwide. It's difficult to assess how well TSYS' patents actually defend its business from competition. However, the Company did recently prevail in a patent case with Sybase 365 (a subsidiary of Sybase, Inc. (SY)), in which TSYS received $23 million for a license to its messaging technology. Also, most of TSYS' businesses seem difficult and expensive for new competitors to enter, even in the absence of patent protection.
The question that remains is, "What are the issues with TSYS that have made its shares so cheap?"
The catalyst that seems to have really sent the price down was the earnings report, which was issued after market hours on April 29th, and was followed by a downgrade from outperform to neutral by Wedbush the next day. Wedbush described results as 'soft' for the first quarter, as a result of weakness in the government segment, and mentioned their concern on the Networks in Motion (NIM) acquisition.
However, from the earnings call management sounded very confident in forthcoming government orders and comfortable with the NIM business (the strong guidance for 2010 results was provided this same day). On the call, analyst worries about NIM seemed to center around free GPS navigation offerings from Nokia (NYSE:NOK) and Google (NASDAQ:GOOG), the navigation business of NIM/TSYS. On this point, I think the worries could be justified to some extent.
However, it's worth remembering that the offerings from Nokia and Google are free like a 'free lunch'. They offer their navigation services free in order to sell phones (Nokia) and advertising (Google). It may turn out that TSYS overpaid for NIM ($170 million) and its navigation business, but there's no question that this is a rapidly growing service area with room for multiple business models.
NIM/TSYS will almost certainly continue to make profits here, even if growth isn't as strong as expected. It's worth mentioning that Wedbush only lowered their target price for TSYS from $11.50 to $8 based on their concerns. That's a considerable premium to today's price of $5.
Other concerns worth mentioning:
TSYS's President, CEO and Chairman of the Board, Maurice Tose, owns 33% of the voting rights in TSYS shares, and the company has significant anti-takeover provisions. (While this doesn't overly concern me, some may find it troubling.)
There is the potential for significant dilution in the future. TSYS sold $103.5 million in convertible bonds (due November 2014) this past November. The conversion price is $10.35, so there is the possibility of 10 million extra shares being issued (against the current 52.8 million shares outstanding). However, this would only occur if the stock price appreciated over 100% from current levels, and this would also settle over $100 million in debt. Additionally, TSYS has granted 15.4 million in stock options to its employees, which have an average strike price of $5.58. The number of those that are vested and exercisable is 8.3 million, with an average strike price of $4.03. Although this is a disturbingly large number of options relative to the 52.8 million outstanding, remember that the exercise of those options will provide cash to TSYS. Also, even if all the vested options were exercised, this year's free cash flow per share would still be approximately $0.78.
The above pretty well summarizes the pros and cons of the TSYS case. Here's a link to a recent company presentation if you want to see some nice pictures and graphs.
Disclosure: Author long TSYS