In this article, I will discuss Google's (NASDAQ:GOOG) Motorola business and try to determine whether it's a good or bad decision for the company to sell this business segment. I will also discuss the latest move by Microsoft's (NASDAQ:MSFT) Nokia (NYSE:NOK) and its role in the growth of the company.
The Acquisition
On August 15th, 2011, Google announced an agreement to acquire Motorola Mobility for $40 per share or $12.5 billion that was completed on May 22nd, 2012. It was a strategic move to strengthen Google's patent portfolio because at that time, Motorola had 17,000 patents with 7,500 more patents pending. The expanded portfolio was used to defend its Android operating system that had been the subject of numerous patent infringement lawsuits between device vendors and other companies such as Apple (NASDAQ:AAPL), Microsoft and Oracle Corporation (NASDAQ:ORCL). Together with Motorola's expertise, Google accelerated its innovation and enhanced competition in the mobile computing industry and increased the availability of lower priced phones for consumers.
Critiques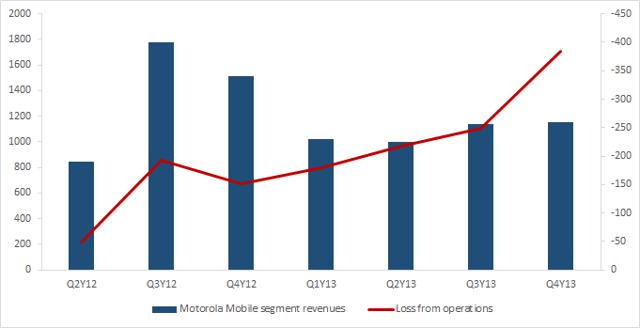 Source: Google financials
After Google purchased Motorola, the company was unable to turn this business segment into a profitable business and posted losses for five straight quarters. Google's Motorola acquisition was criticized by many over the years because of the nature of the acquired business. The acquisition posed a significant challenge to the search giant, because it is not specialized in manufacturing or marketing of smartphones. Critics were unaware of the company's big plans that were to strengthen its patent portfolio rather than enter the smartphone manufacturing sector. This smartphone business was an additional bonus for the company at that time.
Google Sells Motorola
On January 29th, 2014, Google announced its plans to sell its Motorola Mobility smartphone business to Lenovo for $2.91 billion, including $1.41 billion paid at close, US$660 million in cash and US$750 million in Lenovo ordinary shares. The remaining US$1.5 billion will be paid in the form of a three-year promissory note.
How Does this Deal Benefit Google?
I believe this deal is a win-win deal for Google, because the company was struggling to transform this business segment into a profitable business because of the super competitive nature of the smartphone market. This move also helped the company to dedicate its energy into driving innovation across the Android ecosystem for the benefit of smartphone users everywhere.
The important thing to note here is that Google retained the vast majority of Motorola's patents that it continues to use to defend the entire Android ecosystem. The company valued those patents and other developed technology at Motorola at $5.5 billion.
Calculations
Many investors believe that the company has lost a lot of money by selling its Motorola mobility unit, but my calculations suggest that the company made slight profits even after posting losses for five consecutive quarters. I also support the company's decision to sell this business unit at the right time.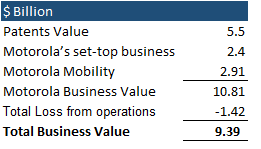 The company acquired Motorola for $12.5 billion, but the interesting thing to note here is that when Google acquired Motorola it had about $3 billion in cash on hand and $1 billion in tax credits reducing the effective purchase price to about $8.5 billion. Later Google sold Motorola's set-top business to Aris for nearly $2.4 billion. With the Motorola sale of $2.91 billion and the value of the patents priced at $5.5 billion used as a strategic asset to protect the Android ecosystem, Google seems to have fared better than many may think.
In this case, Google generated a 10% return from the Motorola business even after its incurred losses for five consecutive quarters. The company also has Motorola patents that will continue generating cash flows for the company. In addition, the company can utilize its Motorola losses to enhance the productivity of the business.
Nokia Turns to Google's Android
At the Mobile World Congress, Microsoft revealed the Nokia Lumia X, the first of its Lumia handsets to be powered by Google's Android mobile operating system. The Lumia X will be the first of several Nokia smartphones to be powered by Google's Android, but Microsoft did not fully adopt the Android operating system. Rather than using Google's suite of apps, including leading services like Google Maps and Google Play, the Nokia X line of smartphones will instead come with a suite of Microsoft and Nokia-based apps like Skype, Outlook, Nokia Browser, and Nokia's Here Maps.
However, the Nokia X line will come with Google's app store preloaded, enabling users to access Google's much larger base of apps. This is still a big win for Google even though Microsoft has its own Windows-based OS for mobile devices. As you know, Microsoft is performing well in emerging markets, so this move will help Google to further boost its Android market share and strengthen its market position.
Disclosure: I have no positions in any stocks mentioned, and no plans to initiate any positions within the next 72 hours.
Business relationship disclosure: The article has been written by APEX Financial Consultants. This article was written by one of our research analysts. APEX Financial Consultants is not receiving compensation for this article (other than from Seeking Alpha). APEX Financial Consultants has no business relationship with any company whose stock is mentioned in this article.