On December 4, 2013 I wrote my first article on Dataram Corporation (NASDAQ:DRAM). At the time I was very bullish about the company and still am. My revenue projections turned out to be a bit too optimistic but I correctly predicted that the company would report its third consecutive quarter of increasing revenues and narrower losses (or a tiny profit). On December 16, 2013 Dataram reported a loss of $338K for 2Q 2014 ended October 31, 2013. This was the smallest loss in over two years. The loss for the comparable prior-year period was $1.25M. The loss for the six months ended October 31, 2013 totaled $1.22M versus $2.22M for the prior comparable period. This was a significant improvement but I was expecting better results.
John H. Freeman, Dataram's president and CEO commented, "The Company continues to execute its plan of cost reduction and sales expansion. The six percent sales increase over the same quarter of last year and slight increase over the previous quarter of this year is a result of our product expansion, increased sales of Advanced Micro Devices (NYSE:AMD) Radeon Memory products and growth in our AMD relationship. We continue to work to expand the number of outlets for our AMD Radeon branded consumer and server memory in addition to exposing more gamers to our AMD Radeon RAMDisk."
As a refresher, the initial AMD-Dataram manufacturing partnership was officially launched on May 8, 2013, but since has expanded into numerous other memory products. Prior to this key partnership, DRAM's revenues resulting from the sale of legacy memory products to dozens of clients globally continued to decline because of cheap memory prices and soft demand. I estimated in my 1st article that legacy-related revenues had stabilized at about $6 million/quarter. The last two quarters showed a gradually increasing contribution of AMD branded memory products. Dataram provides a turn-key solution to AMD in this program by designing, manufacturing, selling, and marketing the AMD Radeon branded memory modules.
Fast-forward three months and I find myself trying to predict the performance of 3Q 2014 ended January 31, 2013. But this time I feel more confident about my estimates end expectations. I believe DRAM will report its first profitable quarter in several years. With only 2.1 million outstanding shares, it could be a double-digit profit even if it is a tiny one.
DRAM's CEO has been telegraphing improved results going forward as its relationship with AMD continues to expand successfully and other positive developments. Dataram has launched more AMD-branded memory products during the quarter, has announced more outlets for AMD memory modules, and has made improvements to its balance sheet while doing and excellent job keeping operating costs to a minimum:
Some of the factors that will have a positive effect on 3Q 2014 financial results to be reported with 2 weeks in random order are:
In September of 2013, a fire at a Hynix factory created a shortage in DRAM inventory and exacerbated the gradual climb in DRAM prices. The impact of that incident on the market on the market has been significant as can be seen in the chart below (DRAM Index or DXI). The DXI index not only reflects the output value of the DRAM industry, it also depicts the stock price changes for DRAM memory. The chart clearly shows that the average DRAM price for 3Q 2014 ended January 31, 2014, is significantly higher than that of 2Q 2014 ended October 31, 2013. Although some DRAM capacity has been restored, recent reports suggests that higher DRAM prices are here to stay.
(click to enlarge - source DRAMeXchange)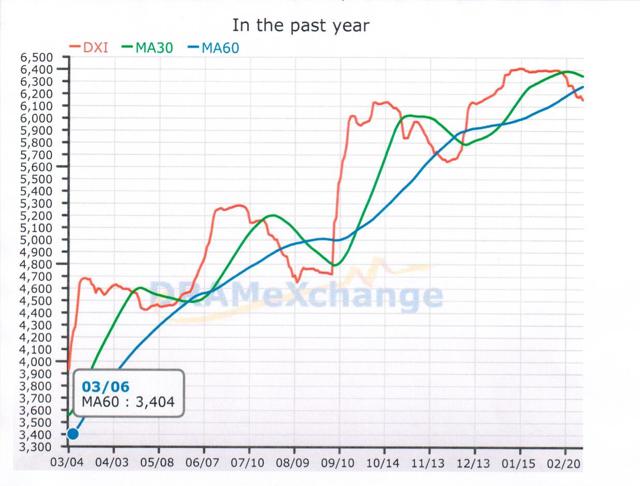 The 20 - 25% higher average DRAM price for 3Q 2014 vs. 2Q 2014 means to me that legacy-related revenues could jump to $7 - $7.5 million assuming that demand for these products remained unchanged.
On October 16, 2013, Dataram Corporation announced that it has established two new sales and distribution channels for its line of AMD Radeon Memory products in Canada (ncix.com and canadacomputers.com). Although no formal announcements were made one can find Dataram-manufactured AMD Radeon memory at Amazon, Best Buy, and other etailers and national consumer electronic chains.
AMD and Dataram have been actively promoting Dataram manufactured Radeon gaming and entertainment products and RAMDisk software at various events along with other AMD partners.
On January 16, 2014, Dataram unveiled Radeon™ R9 2400 Gamer Series Memory, joining AMD in revolutionizing computing and UltraHD entertainment. This is a testament that giant AMD relative to tiny Dataram has great trust in Dataram's ability to deliver high-quality sophisticated memory products bearing the AMD logo.
CEO Freeman and a director recently bought shares in the open market. Although the number of shares is not significant, it clearly indicates that company executives are trying to send a message to the investment community that Dataram Corporation is making great strides towards becoming a growing and profitable company.
When combining all revenue streams and the positive effect of the factors discussed above I estimate that DRAM will report revenues ranging from $8 - $10M for 3Q 2014. This range is understandably wide because it is difficult to pinpoint the effect of DRAM price increases, the ramping of new product launches, as well as the effect of marketing campaigns on product sales. But I fully expect that the positive trends observed on prior quarters will continue going forward. And because of a tight cost control I expect that this range will yield a profit ranging from a few cents/share to 10 - 30c/share as revenues approach the high end of the range.
As I stated previously, I am more confident with my estimates this quarter because of the tangible factors I've discussed above, and intangible ones such as recent insider buys as well as statements by CEO Freeman like, "These are steps we are taking in a program to strengthen our balance sheet, reduce expenses and have working capital available to support large recent wins and to position Dataram for future growth." (On November 8, 2013 when the company announced that it had refinanced its revolving credit line and completed the sale of equipment).
In conclusion, Dataram is quietly and successfully executing a growth plan that involves maximizing revenues related to ever increasing AMD partnership as well as continuing to expand the reach of its RAMDisk software in other verticals. I believe that after it's 3Q 2014 earnings report in about two more weeks, DRAM will start reflecting a more reasonable valuation than the current 0.1 times sales and still near the lowest levels in the 47-year history of the company. The current market cap of about $6M is laughable in relation to the growth it's starting to experience and about $30M/year in revenues. Back in 2010 DRAM traded north of $30 on far less potential and diversification than today. The potential is definitely there for DRAM to return to those trading levels if it keeps the current momentum going and makes the right moves to ensure sustainable profitable growth going forward. But low floaters like DRAM can be very risky investments if things don't go as planned. For a complete discussion of all risks and uncertainties, I advise potential DRAM investors to carefully read the most recent company 10-Q.
Disclosure: I am long DRAM. I wrote this article myself, and it expresses my own opinions. I am not receiving compensation for it (other than from Seeking Alpha). I have no business relationship with any company whose stock is mentioned in this article.