On Tuesday (March 4) it was reported that General Electric (NYSE:GE) CEO Jeff Immelt purchased $2.6 million worth of stock in the company using his 2013 year end bonus. Mr. Immelt purchased 104,900 shares at $25.19 per share. This follows a similar purchase of 40,000 shares back in January for a total of $3.6 million in 2014 stock purchases.
General Electric is diversifying away from finance
In 2014, General Electric's stock has suffered greatly, down 8% from its 52 week high. The company sold off nearly 10% in mid January as a result of disappointing Q4 2013 results. In addition, there are growing concerns regarding the IPO of GE Capital's North American retail finance unit.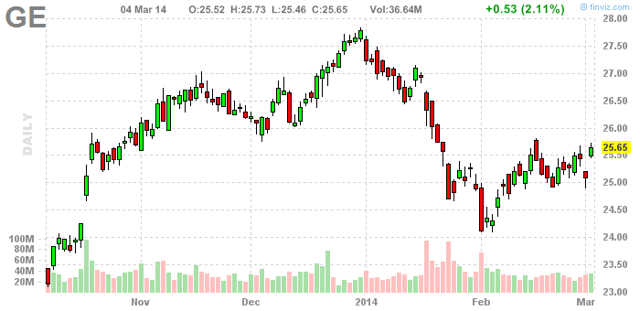 However, these declines present a clear buying opportunity for patient investors. 2014 guidance points towards this being a great year in regards to both revenue diversification and margin improvements. While EPS may come in flat compared to last year, this is due to the impact of a smaller GE Capital. 60% of General Electric's profits should come from its industrial segment this year, increasing to 70% by 2015.
Furthermore, General Electric's orders continue to grow, with several billion dollar plus deals announced over the past few weeks with several Asian airliners. As of year end, the order backlog stood at $244B, with the majority involving General Electric's aviation segment.
General Electric has been focusing more and more on its energy infrastructure segments, especially those involved with the production of natural gas and oil. The company is seeking to become the largest supplier of equipment and services to oil and natural gas companies, with last year's $3 billion acquisition of Lufkin moving it firmly in that direction.
The company has also formed a joint venture with Chevron (NYSE:CVX) to develop and commercialize technology for the oil and gas industry. In addition, by 2020, General Electric plans to invest $10 billion through 2020 for its "ecoimagination" project.
In 2013, General Electric Oil & Gas segment proved to be the strongest in terms of both revenue and organic earnings growth. For 2014, this segment is expected to post double-digit profit growth.
A look at General Electric's dividend and share buybacks
General Electric's capital return program is likely to ramp up, with the company projecting share buybacks and dividend payments to exceed last year's $18B. The company has made it clear that it is aiming to meaningfully reduce its float, targeting a 9.5 billion share count by 2016.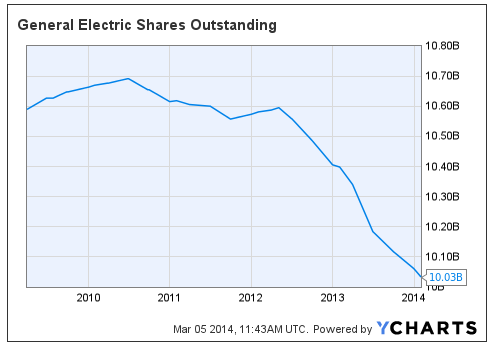 In addition, General Electric dividend policy has pointed towards double digit yearly increases. In 2013, the company boosted the payout 16% to $0.22 per share per quarter. Since reducing its dividend 66% as a result of the 2008 financial crisis, General Electric has raised its dividend 120% over the past 5 years.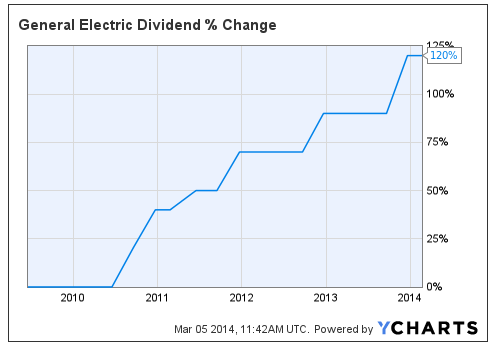 The company certainly has room for another increase in 2014, with the current $0.88 per year dividend less than 50% of the projected 2015 EPS of $1.80.
Conclusion
Sometimes you need to follow the money. Mr. Immelt clearly knows that the stock is undervalued. Indeed, this is one of the biggest buys by a CEO of an S&P 500 company besides the massive purchases seen from Rich Kinder in Kinder Morgan Inc (NYSE:KMI).
While I typically do not view insider sales and purchases of stock as a catalyst, with General Electric, this purchase seems to be much more of a statement regarding the current depressed valuation of the stock.
Disclaimer: The opinions in this article are for informational purposes only and should not be construed as a recommendation to buy or sell the stocks mentioned. Please do your own due diligence before making any investment decision.
Disclosure: I am long GE, KMI. I wrote this article myself, and it expresses my own opinions. I am not receiving compensation for it (other than from Seeking Alpha). I have no business relationship with any company whose stock is mentioned in this article.