Vodafone (NASDAQ:VOD) is now much smaller and more focused, following the completion of the sale of its 45% stake in Verizon Wireless. The sale of its US wireless joint venture represents Vodafone's last major divestment since the company abandoned its aggressive 'global' expansion strategy. The transaction, which had been completed on February 21, has improved Vodafone's financial capacity to fund organic capital investments and expand its cable and broadband offerings. A nimbler Vodafone with a greater focus on core markets should enable the company to compete more effectively against its rivals.
Since the late-90s, Vodafone had pursued an aggressive 'global' expansion strategy in an attempt to reap the benefits of cost synergies from a global scale. Unfortunately, Vodafone paid too much for quite a few acquisitions, including Mannesmann and Hutchison Essar, and had to subsequently make multi-billion dollar write-downs and faced unforeseen tax bills. In other regions, Vodafone had such limited local scale and its resources were spread so thinly that it could not effectively compete against dominating incumbents. Whilst its European competitors also sought global expansion, they also saw opportunities from generating revenue synergies from bundling mobile contracts with broadband and paid TV services. Service bundling reduces churn rates by increasing switching costs, and also inhibits competition in the market because of barriers to entry.
Vodafone's sale in 2006 of its wireless subsidiary in Japan, previously known as Vodafone K.K., to SoftBank for 1.75 trillion yen ($15.4 billion) marked the beginning of the departure from the company's former strategy to global diversification. With the recession in 2008 and the European sovereign debt crisis, companies facing declining revenues and shrinking profitability increasingly turned to selling minority interests and focused on their home markets and tried to preserve free cash flow. This served only to accelerate the pace of Vodafone's divestment strategy, and in 2010, Vodafone sold its 3.2% stake in China Mobile (NYSE:CHL) for $6.5 billion. This was followed by the disposal in 2012 of the company's 44% minority stake in SFR, its French joint venture, for just under 8 billion euros ($10.6 billion) to its parent, Vivendi.
The sale of its Verizon Wireless stake was merely a continuation of the company's strategy to unlock shareholder value through divestments of minority interests, despite the US joint venture being Vodafone's single most valuable asset. Worth around $130 billion, Verizon Wireless had accounted for about half of Vodafone's operating income and almost 40% of EBITDA (earnings before interest, taxes, depreciation, and amortization). Although the sale of its stake in Verizon Wireless leaves Vodafone more reliant on weak European markets, the company's partnership with Verizon has not been all plain sailing.
Verizon Communications (NYSE:VZ) maintained operational control of the wireless joint venture and had sole discretion over the venture's dividend policy. Although Verizon Wireless had represented a growing proportion of Vodafone's operating income, the venture offered Vodafone with almost no cost or revenue synergies. Between 2005 and 2011, Verizon Wireless had made no dividend payment to its parent companies, as Verizon had claimed that free cash flow from the business should be used to pay down debt instead.
Many analysts perceived the move as an aggressive attempt to force Vodafone to the negotiating table to sell its stake. Vodafone's shareholders pressed its management to resolve the issue with Verizon and resume cash distributions from the wireless unit or sell its stake. Vodafone refused to sell, and Verizon refused to budge. Given the lack of operational control, Vodafone's market valuation had substantially discounted the company's stake in Verizon Wireless.
When Lowell McAdam succeeded Ivan Seidenberg as CEO of Verizon, he moved away from the previously more hostile attitude into a more conciliatory approach towards Vodafone. Dividend payments from the wireless unit resumed in 2012. Although those dividend payments from the unit enabled Vodafone to sustain its growing dividend payouts at a time when revenues and profitability fell sharply in Europe, a sale of its stake remained the only realistic option to substantially unlock shareholder value. Furthermore, the $130 billion offer from Verizon represented a good opportunity for Vodafone to leave the US market, whilst revenue growth is expected to slow in the coming years and fears over increasing competition rise.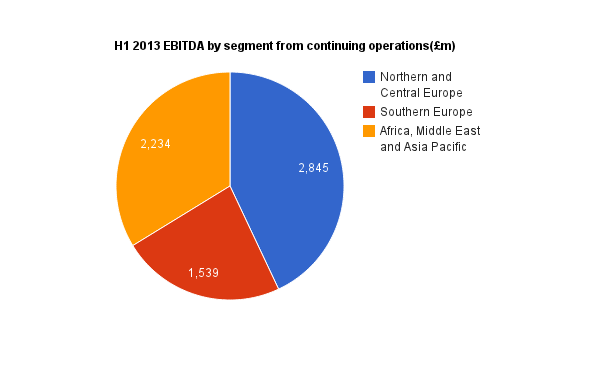 Without Verizon Wireless, Europe would account for almost 70% of Vodafone's group revenues and just under two-thirds of the group's EBITDA. With intense price competition in Northern and Southern Europe and weak underlying fundamentals, Vodafone's EBITDA continues to decline. Conversely, in India and Vodacom's African operations outside of South Africa, organic service revenues continue to grow robustly, and EBITDA margins remain stable, despite the impact of weakening emerging market currencies.
Looking forward, Vodafone would likely seek to strengthen its market position in India through increased capital spending and spectrum purchases. It has also been looking at an acquisition of Tata's telecom subsidiaries. In addition, the company has already sought to buy out minority shareholders in Vodafone India for up to $2 billion.
In Europe, it is looking to expand its cable and broadband services in order to bundle triple or quad-play services. It has completed its acquisition of Kabel Deutschland, and has reportedly made an offer for Spain's ONO. Vodafone's desire to expand into the Spanish cable market likely stems from the company's weakness in the market because of intensified price competition and the company's own limited scale.
However, concerns over Vodafone's foray into cable and broadband assets have also arisen, because of the pricey valuations of many potential acquisition targets. There are also concerns over the cable market's long-term competitiveness as incumbent fixed line operators expand their high speed fiber networks. Furthermore, further expansion outside of the core wireless markets could make AT&T (NYSE:T) lose interest in seeking an acquisition of Vodafone. But, without a concrete bid from AT&T, Vodafone cannot just sit on its hands whilst its businesses continue to shrink.
Rumors are also abound over a potential merger of Vodafone and BSkyB, the UK's largest paid-TV provider. The two companies have also discussed expanding their existing partnership, including the possibility of giving Vodafone's 4G customers access to Sky's paid-TV content. In the meantime, Vodafone has already begun increasing its organic capital investment program to accelerate and widen high speed wireless capacity across core markets in Europe.
Vodafone's share price has already performed strongly since the announcement of the sale of the Verizon Wireless stake, and is following the 'Return of value'. With the completion of the transaction, Vodafone has already distributed approximately 0.026 Verizon shares for each Vodafone ordinary share (0.26 Verizon shares for each Vodafone ADR). In addition, a cash payment of approximately $0.4928 per ordinary share ($4.928 per ADR) will be made on March 4.
Currently, Vodafone trades at an adjusted EV/EBITDA of 6.1x, based on forecasted adjusted 2013/4 EBITDA. Its peers, including Telefonica, Orange and Deutsche Telekom trade at an adjusted EV/EBITDA range of between 4.4 and 5.9x, whilst large US carriers trade at or above 6.5x. Vodafone's minimal fixed line assets may be one of the explanations for the company to trade near the high end of the scale, as European incumbents face huge pressures to upgrade its existing infrastructure and expand its fibre network. In the medium term, this will substantially constrain free cash flow and maintain skepticism over the sustainability of the dividends paid by those firms. A potential acquisition from AT&T, or perhaps from America Movil (NASDAQ:AMOV) or China Mobile, is another explanation. With Vodafone being much smaller and more focused, the company could become a genuine takeover target.
Disclosure: I am long VOD. I wrote this article myself, and it expresses my own opinions. I am not receiving compensation for it (other than from Seeking Alpha). I have no business relationship with any company whose stock is mentioned in this article.