Anytime is a good time to build a shopping list of stocks you'd like to buy someday -- if the time and price is right. Even though we are in a downward market period now, it's still a good time to build or refresh that list.
Yesterday, we published a list of potentially interesting equity income stocks. That list had a relative price performance aspect. The list today does not consider relative price performance, just yield and internal fundamental considerations which are different than those in yesterday's filter.
After selecting for minimum price, market-cap and dollar trading volume for liquidity, this filter looks for consistently positive "as reported" earnings. We don't look at "operating earnings" in this filter because it ignores write-offs and other "non-recurring" expenses, because many companies have an endless stream of different "non-recurring items each year -- we don't want those in this filter.
In addition to positive and growing earnings, the filter requires a history of sales growth. Earning growth can only continue so far and for so long if sales do not grow too.
With equity income as the goal, the filter requires a minimum 2% yield, and a history of dividend growth.
To see the dividend as reasonably well protected, the filter requires a history of free cash flow, limited payout ratios, a current ratio of 1 or better, and earnings coverage of interest costs at a three or higher multiple.
From a stock database of 8,883 stocks, using data as of the close of business last Friday (May 21, 2010), eighteen stocks passed the filter criteria presented in the lower half of the table image. (Click to enlarge)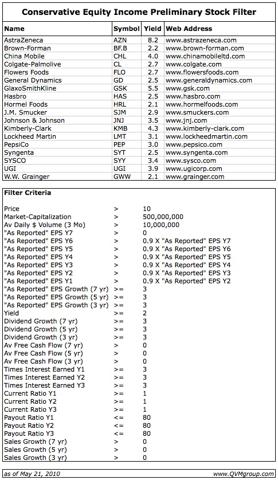 Keep in mind that qualitative filtering can result in significantly different lists with sometimes minor changes in filter criteria.
Stocks named in the table image and charts are: AZN, BF.B, CHL, CL, FLO, GD, GSK, HAS, HRL, SJM, JNJ, KMB, LMT, PEP, SYT, SYY, UGI and GWW.
We are predominantly out of equities at this time in the portfolios we manage, but find some of these stocks interesting for future consideration. This list is the beginning, not the end of research. Look at each stock carefully before deciding that it may be a good choice. Simple quantitative filtering doesn't catch all that reading SEC filings and consideration of macroeconomic issues and competition will reveal.
Holdings Disclosure: As of May 24, 2010, we have some exposure to PEP mentioned in this article in some, but not all, managed accounts. We do not have current positions at this time in any other securities discussed in this document in any managed account.
Disclaimer: Opinions expressed in this material and our disclosed positions are as of May 24, 2010. Our opinions and positions may change as subsequent conditions vary. We are a fee-only investment advisor, and are compensated only by our clients. We do not sell securities, and do not receive any form of revenue or incentive from any source other than directly from clients. We are not affiliated with any securities dealer, any fund, any fund sponsor or any company issuer of any security. All of our published material is for informational purposes only, and is not personal investment advice to any specific person for any particular purpose. We utilize information sources that we believe to be reliable, but do not warrant the accuracy of those sources or our analysis. Past performance is no guarantee of future performance, and there is no guarantee that any forecast will come to pass. Do not rely solely on this material when making an investment decision. Other factors may be important too. Investment involves risks of loss of capital. Consider seeking professional advice before implementing your portfolio ideas.
Disclosure: Author holds positions in AZN, BF.B, CHL, CL, FLO, GD, GSK, HAS, HRL, SJM, JNJ, KMB, LMT, PEP, SYT, SYY, UGI and GWW