When a potential investor looks to establish a long-term position in the Mortgage REIT sector, a firm's most recent quarterly performance and the margin by which it had exceeded earnings estimates are certainly key factors to consider.
With that said, I not only wanted examine New York Mortgage Trust's (NASDAQ:NYMT) most recent quarterly performance, but also highlight a number of reasons why I'm staying fairly bullish on shares of this particular REIT play that offers investors a higher-yielding stream of quarterly income.
Company Overview
Headquartered in New York, NY, New York Mortgage Trust, a real estate investment trust (REIT), is engaged in acquiring, investing in, financing, and managing mortgage-related and financial assets in the United States. It primarily invests in residential mortgage-backed securities comprising adjustable-rate, hybrid adjustable-rate, fixed-rate, interest only and inverse interest only and principal only mortgage-backed securities; multi-family commercial mortgage-backed securities; and residential mortgage loans, including loans sourced from distressed markets.
Recent Performance & Trend Behavior
On Tuesday, shares of NYMT, which currently possess a market cap of $495.38 million, a forward P/E ratio of 8.24, and an annual dividend yield of 13.90% ($1.08), settled at a price of $7.77/share.
Based on its closing price of $7.77/share, shares of NYMT are trading 4.89% above their 20-day simple moving average, 8.83% above their 50-day simple moving average, and 22.03% above their 200-day simple moving average.
It should be noted that these numbers indicate a short-term and mid-to-long-term uptrend for the stock, which generally translates into a moderate buying mode for most near-term traders and most long-term investors.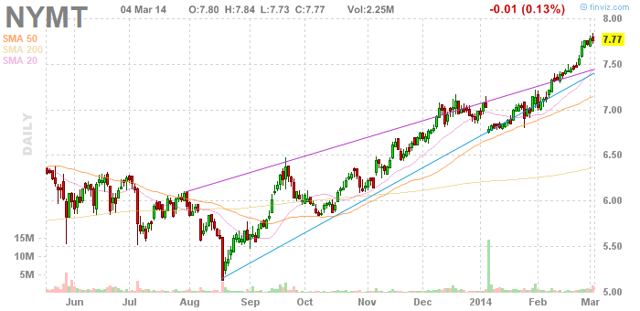 Comparative Ratios Set NYMT Apart From Several Of Its Peers
Even though the above referenced numbers indicate a long-term uptrend for the stock, I actually think the company's current share price of $7.77/share offers investors a considerable point of entry; especially since shares are trading at a much better forward P/E ratio than a number of its sector-based peers.
For example, NYMT's forward P/E ratio was 8.24 based on its Mar. 4 close, whereas the forward P/E ratios of Colony Financial (CLNY) (forward P/E ratio of 11.95 as of 3/4) and Redwood Trust (NYSE:RWT) (forward P/E ratio of 11.89 as of 3/4) were both considerably higher.
One thing I should point out is that not only does New York Mortgage Trust have a lower forward P/E then both of the above mentioned REITs, it also carries a much higher dividend yield. For Example, NYMT currently yields 13.90%, whereas Colony Financial currently yields 6.16% and Redwood Trust currently yields 5.29% .
A Strong Fourth Quarter For NYMT
On Tuesday, and after all three major indexes rose by an average of 1.56% on the session, New York Mortgage Trust reported the results of a very solid fourth quarter. Analysts had been expecting the company to earn $0.22/share; however, NYMT impressed both investors and analysts when the company reported earnings of $0.34/share.
One of the things that stood out the most for me in terms of the company's quarterly performance was clearly its EPS which demonstrated a 78.94% increase versus the year ago period.
Included in its quarterly earnings were a $0.01/share quarter-over-quarter increase in Book Value ($6.33/share as of 12/31/13 vs. $6.32/share as of 09/30/13), a $6.9 increase in net interest income, and a 51 basis point increase in terms of the firm's portfolio net interest margin on a quarter-over-quarter basis.
If NYMT can continue to demonstrate increases in both its book value and its net interest margin over the next 12-24 months, there's a very good chance that not only will in its earnings demonstrate considerable growth, but its stock price may begin to trade in the mid-to-upper $8/share range.
Recent Dividend Behavior
Since March 27, 2012, the company has increased its quarterly distribution once in the last two years, with the most recent increase having taken place in June of 2012. The company's forward yield of 13.90% ($1.08) coupled with its ability to maintain its quarterly distribution over last two years make this particular Mortgage REIT a highly considerable option, especially for those who may be in the market for a higher-yielding stream of quarterly income.
Certain Risk Factors To Consider (Most Recent 10-K)
According to NYMT's most recent 10-K, there are a number of risk factors investors should consider before establishing a position. These risk factors include but are not limited to:
#1 - Interest rate mismatches between the interest-earning assets held in NYMT's investment portfolio and the borrowings used to fund the purchases of those assets may reduce the firm's net income or result in a loss during periods of changing interest rates.
#2 - Declines in the market values of assets in the firm's investment portfolio may adversely affect periodic reported results and credit availability, which may reduce earnings and, in turn, cash available for distribution to its stockholders.
#3 - Increased levels of prepayments on the mortgages underlying its structured Agency RMBS, particularly Agency IOs, might decrease net interest income or result in a net loss, which could materially adversely affect its business, financial condition and results of operations and our ability to pay distributions to its stockholders.
Conclusion
For those of you who may be considering a position in New York Mortgage Trust, there are a number of things I'd keep a close eye on over the next several months. For example, I strongly recommend keeping a close eye on both the company's near-term trend behavior and its long-term earnings growth as both factors could contribute to the enhancement of shareholder value over the next 6-12 months.
Disclosure: I have no positions in any stocks mentioned, but may initiate a long position in NYMT over the next 72 hours. I wrote this article myself, and it expresses my own opinions. I am not receiving compensation for it (other than from Seeking Alpha). I have no business relationship with any company whose stock is mentioned in this article.