Editor's Note: This article covers a stock trading at less than $1 per share and/or with less than a $100 million market cap. Please be aware of the risks associated with these stocks.
MicroVision (NASDAQ:MVIS) recently spiked after Sony (NYSE:SNE) revealed that it has incorporated MicroVision's laser-based pico projector technology into a module it is developing. The skeptics and shorts didn't miss the opportunity to dismiss the company's technology and its product. And not without good reason - MicroVision has been a chronic underpeformer, has struggled financially and hasn't seen much in the way of sales from its main product, its pico projector. But I disagree on this occasion with the short thesis - namely that the projectors are a fail and therefore the company will ultimately fail. MicroVision's future isn't about the projectors, it's about the underlying technology. After a long period of development, MicroVision's technology may finally be able to realize its true potential.
AuthenTec (NASDAQ:AUTH) is a good case study to look back at because it had a disruptive technology that investors missed out on if they didn't recognize its huge potential at the right time. The company was inconsistently profitable and the stock, while often spiking due to news and trader momentum, went virtually nowhere. Nine times out of 10 the shorts were right that the stock would drop back down after a big spike. But in early summer 2012 they were never given the opportunity to see the stock fall back yet again since Apple (NASDAQ:AAPL) acquired it for $356M. I think MicroVision also has technology that could, like AuthenTec's fingerprint scanning technology, be of interest to a big mobile device company like Apple.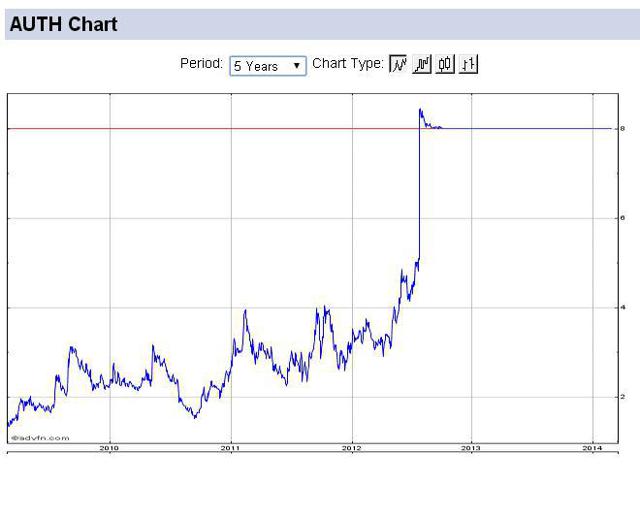 Click to enlarge
Sony says it plans to develop the module for use in pico projectors and "other devices" with projector functionality. What will the other devices be? I don't think it's a question of if, but rather when, pico projector technology will make its way into many smartphones.
The skeptics are right that the pico projector is something that nobody is really interested in carrying around as a standalone device. But it's a very compelling feature when built right into the smartphone package. With the smartphone market getting extremely competitive, the big players are finding innovative ways to make their products distinctive and more exciting. For example, Apple added AuthenTec's fingerprint scanner technology to its iPhone and Nokia (NYSE:NOK) has added some killer camera modules to its Lumia phones and Samsung has equipped its Galaxy Beam phone with a DLP (lamp-based) projector. Is the pico projector module based on MicroVision's technology Sony's next gambit in the smartphone game?
Consumers have shown that they want smartphones that have big displays. But for both practical and design reasons, there is certainly a limit to how big a phone can be. Phones like the Galaxy Note are pushing the envelope in terms of what is feasible to carry around conveniently, to hold in ones hand and to hold up to ones ears without looking ridiculous. With a conveniently small and lightweight smartphone with good projector functionality, many users can have their cake and eat it too. While for many users a projector feature would be used infrequently, I can't imagine anyone not being able to find great benefit from it from time to time.
Skeptics have noted that MicroVision's projectors are very dim compared to the competition. But this is an early iteration of the technology and in fact, laser-based projection technology can exceed the brightness of lamp-based technologies. Laser Light Engines, a private company, is working with Sony, IMAX (NYSE:IMAX) and other industry leaders to bring laser projection to the big screen. The reason that companies like IMAX are willing to invest in this expensive new technology is that lamp-based projectors are incapable of delivering the brightness, color saturation and image quality that can be achieved using lasers as the light source. One reviewer was very impressed with what he saw when he had the opportunity to see laser projection amped up to the size of the big screen. He contends that the biggest stumbling block for laser projection was the problem of "speckle", which Laser Light Engines has largely solved. As a result of such advancements, it seems that laser-based projection is finally making headway into major markets. From the reviewers article:
John T. O'Hara, president and CEO of Laser Light Engines, said they expect to start seeing digital cinema projectors retrofitted with laser-illuminated light sources up to about 45,000 lumens in large screen venues starting in Q2 of 2014. With advanced cooling systems, these could soar to 70,000 lumens.

...

"This technology will enable 3D to be seen in a way the public has never been able to before," said Garrett J. Smith, who was responsible for digital mastering operations at Paramount for more than two decades.
Sony has its own lamp-based LCoS technology, which it calls SXRD. But it likely realizes that laser-based technology is ultimately the technology of the future and better suited for mobile devices. In its news release, the company says that it will work to intensify the brightness and reduce the size of this module. Laser-based projectors also have some other key advantages - they don't require focusing, they can be very electrically efficient, have very long life spans and are highly controllable. Focus-free projection is very important for mobile use because it allows a clear image to be projected on surfaces that aren't flat and it doesn't require fiddling with controls to achieve focus.
The potential uses for laser-based projectors go well beyond entertainment or corporate board meetings. Doctors (many of whom have already incorporated smartphones and tablets into their practices) could use it to project x-ray images right onto their patients' bodies to aid in visualization or perhaps to aid themselves in performing surgery. It could be used to create 3-D advertising signage or to project GPS instructions or other visual information onto an automobile windshield. And coupled with the power of apps in a smartphone package, the value added would be tremendous. Leave it up to the app developers to dream up a multitude of uses for a new hardware module.
In 2010, the Institute of Electrical and Electronics Engineers ranked MicroVision #13 worldwide in its annual Patent Power rankings. This was actually ahead of all other U.S. companies, including Apple (despite it having nearly tenfold the patent count as MicroVision) in the electronics category. If its technology does get implemented in smartphones, then MicroVision's patents could potentially generate a substantial stream of revenue from loyalties. In its last quarterly filing, the company states that it is reducing its sales efforts and expenditures for its pico projectors and moving towards a research and contract based business model that leverages its expertise and patents in the pico projection field.
At its current burn rate, MicroVision has enough cash to last at least two more quarters and it has very little debt. Equity offerings, while largely viewed as negative, are a necessary evil for biotechs and small developmental stage tech companies and do have the positive effect of keeping promising tech projects going until they either die, become profitable or get bought up by a larger company. So stocks don't always go down after an offering. Given that the short interest in the stock is only 4% of the float, it seems that there isn't a resounding amount of confidence on the short side. Perhaps they too have considered the case of AUTH.
Disclosure: I am long MVIS. I wrote this article myself, and it expresses my own opinions. I am not receiving compensation for it (other than from Seeking Alpha). I have no business relationship with any company whose stock is mentioned in this article.