Weatherford (NYSE:WFT) posted Q4 2013 results on February 25th. Key issues regarding the company's results and management comments will be highlighted and discussed in the next few lines.
WFT has clearly underperformed the S&P in the last 5 years, as the chart below demonstrates.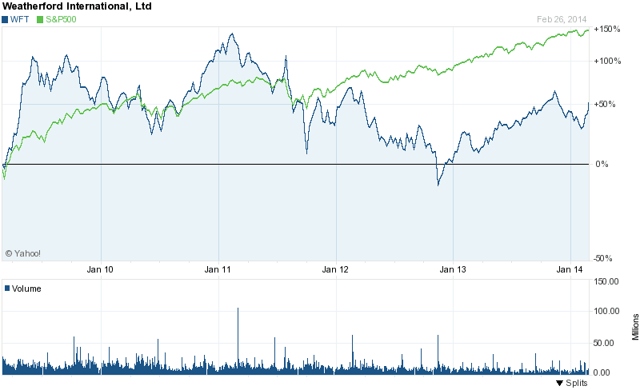 However, during the last 12 months, the stock has gained almost 40%, outperforming the S&P benchmark by roughly 20%. My first article on Weatherford, written on March 5th, 2013, can be found here and an update here. At that time, WFT was trading close to $ 11.60. Currently (at the time of the writing of this piece) the stock was being traded @ $16.30-16.50.
WFT, in comparison to its peers Halliburton (NYSE:HAL), Schlumberger (NYSE:SLB) and Baker Hughes (NYSE:BHI) is being traded at somewhat of a discount. However, a closer look at the debt metric raises question marks.

The stock's volatility issue has been addressed before, but it's always important to mention it. The stock is very sensitive to changes in the environment and to management guidance. Every time there's news, good or bad, the stock goes into roller coaster mode. In terms of portfolio management, Beta is something to be considered.
In relation to Price-to-Book ratio, the stock trades with a discount compared to HAL and SLB, but virtually equally if compared with BHI. Now, here comes the tricky part. The CEO has announced a huge divestment plan, which will take place during the next 12-18 months. Some of these assets may still need to be really priced, meaning that having these assets marked-to-market may not even be sufficient, since selling is very different than just valuing something. Getting rid of so many assets in a short time frame is no easy feat, especially if WFT wants to refrain from writing-off a portion of its balance sheet.
While WFT's P/E ratio is negligible (EPS of 0.07 in Q42013), the forward ratio is close to 10x, according to an average of analyst estimates. Given the company's record of missing estimates and reviewing guidance every now and then, a 12x forward P/E would be more realistic. Considering these issues, the stock is trading at a very similar forward price/earnings ratio if compared with HAL, SLB and BHI.
Tax accounting issues, legacy contracts in Iraq and FCPA charges
Tax accounting issues have undermined investor confidence in the past few years. The CEO stated, in a recent conference call, that material weaknesses have been left behind and are part of WFT's history. This was one of the catalysts that the market was waiting for and that caused the recent rally. However, one should be skeptic and keep an eye open for potential warning signs. SEC filings can be a good source, since any public company is required to inform income restatements, among other events. Following SEC statements on these kinds of accounting maneuvers is always a good way to anticipate important movements. On the Iraq front, there's still one drilling contract (out of five) open, which is almost complete. WFT has already reserved $150 million for contingencies. Regarding FCPA and trade compliance violations, WFT paid the astonishing sum of $253 million to settle charges (more information here). Needless to say that Compliance controls are being demanded from the company and that its culture is being forced to change. It remains to be seen the effectiveness of these measures. However, one thing is certain, these changes in Compliance policy are better than to stand idle, especially in the eyes of the DOJ.
Performance
Fourth quarter results were somewhat in line with what was expected by Wall Street. Revenue for the fourth quarter of 2013 was $3.74 billion compared with $3.82 billion in the third quarter of 2013 and $4.06 billion in the fourth quarter of 2012. Weather conditions in North America, Russia and the North Sea adversely affected activity. Operational disruptions in the Middle East and capital reductions in Latin America also contributed to revenue decline. WFT's commitment in terms of performance is to focus on its five core business segments (Well Construction, Completion, Artificial Lift Systems, Formation Evaluation and Stimulation). Well Construction is by far the most profitable operation, with revenue of $4.6 billion in 2013 and an operating income margin of 24.9%. The overall WFT operation margin - which includes core and non-core segments - stands at 11.2%. The five core operations altogether have an operating margin of 16.3%. It is pretty clear that WFT's divestment plan is not only a strategic one, but rather a necessity. WFT expects to sell these non-core assets (specialty services, testing and production services, drilling fluids and wellheads) in the next 12-18 months, and will spin-off the land drilling rig business in 2015. Proceeds of these sales will be used to pay down debt. These are really good news, however, as we discussed before, one thing is how the company values these businesses and another very different is how much the market is willing to pay for them.
Employment termination
The company is going through a downsizing effort that aims to cut the workforce by almost 7,000 (the entire organization employs around 60,000 people). Now, this is tricky. Considering that WFT is getting rid of several business units, it's doubtful that these cuts will come from operations that are being marketed for sale. So the hypothesis is that these cuts will come from its five core operations. More than 6,000 positions, according to the fourth quarter report, have already been identified. These positions correspond to uneconomic and cash draining markets, according to the company. Annualized cost savings could reach approximately $500 million. News of the layoff were received in a positive fashion by Wall St., however, it's quite a delicate subject. CEO Bernard Duroc-Danner said in the most recent conference call with analysts and investors that these cuts would come from underperforming markets, but that the company would not reduce its international footprint. Well, this is kind of difficult. Either people were hired without a precise task to perform or the company will indeed be forced to reduce its international footprint. One thing is to downsize aiming to reduce operational costs, another very different is to cut the workforce by more than 10%. When asked about this issue, the CFO (in the same conference call, which can be found here) answered that most of these cuts would be done in non-revenue positions (meaning indirect cost). However, as stated before, short-term savings may be good news for now, but if these job cuts affect performance in any of WFT's core businesses, results will be felt most probably by Q3 and Q4 2014. Considering that these cuts will be finished by mid-year, but are currently undergoing, the next Quarter Report (April 25th, 2014) and especially the conference call and Q&A session will help investors measure impact on performance and cost savings.
Debt and Working Capital
During 2013, WFT improved its cash flow, working capital efficiency and debt ratios.

Source: weatherford.com 8K and 10K SEC filings
In comparison to the third quarter of 2013, net debt at the end of the year was reduced by $687 million, aided by cash collections of $359 million related to the sale of an equity investment in Borets. Working capital increased sequentially, and positive free cash flow generation was $298 million. In comparison to the fourth quarter of 2012, the improvement is quite substantial.

Source: weatherford.com 8K and 10K SEC filings
Conclusion
At this present time, we have a neutral recommendation in the stock, and rate it as Hold. The 12 month price target we put on the stock is $18.00. This analysis takes into consideration future earnings power, continuous improvement in working capital efficiency and the possibility that WFT may turn out to be an attractive asset for any of its competitors, or even new entrants in the oilfield market (remember GE buying Lufkin and paying a more than juicy premium). Up to this point, Weatherford's huge non-performing balance sheet and enormous pile of debt failed to raise interest from bigger competitors. A lean and more efficient Weatherford has the potential to become an investment opportunity for larger conglomerates.
Disclosure: I am long WFT. I wrote this article myself, and it expresses my own opinions. I am not receiving compensation for it (other than from Seeking Alpha). I have no business relationship with any company whose stock is mentioned in this article.