Plug Power (NASDAQ:PLUG) aficionados across the globe already know of the blockbuster Feb. 26 announcement regarding Wal-Mart's (NYSE:WMT) purchase order of 1,738 more GenDrive fuel cell units, hydrogen supply and 6-year service contract.
However, what investors may not know - and this knowledge is as critical as the many benefits of fuel-cell technology in the material handling vehicles (MHV) space - is, what I see as, an obvious realpolitik behind the Wal-Mart deal with PLUG Power.
A Shotgun Wedding Worth the Price of Attendance
To me, the relationship reeks of a public relations, borderline socially-goaded shotgun wedding for Wal-Mart, with marginal benefits to Wal-Mart's bottom line utterly dwarfed by the mega-retailer's fiscal 2013 top line of $470B and desperate public relations campaign to win back customers.
At an estimated $50MM contract for PLUG, the recently-announced purchase order from Wal-Mart represents 1 basis point (not 1 percent) of gross revenue and 38 basis points of total capex spending projected by the retailer for 2014. And the return on that $50MM of capex to a company the size of Belgium is so tiny, we're talking a few basis points of a basis point return on investment.
The fact is, Wal-Mart will certainly benefit financially from PLUG's technology, all right; but, it's the enormous public relations coup that the alleged Philip Morris (NYSE:PM) of the retail industry gains from the alliance with the "green" and near-iconic fuel-cell company, PLUG.
PLUG Benefits From Wal-Mart's Fight to Shed Years of Bad Reputation
"[M]any corporations, including Wal-Mart and BP, are much more concerned about convincing us that they're benevolent than actually being benevolent," states Salon. "They are almost certainly losing a lot more business due to their bad reputation."
The Salon hit piece, like so many others throughout the years, goes on to rip Wal-Mart for every social ill, from condoning overseas slave labor, domestic low wages and unemployment, to global warming, sexism and the missing Lindbergh baby.
Though the evil Wal-Mart issue has long become quite stale, it nonetheless lingers to this day.
But, as Forbes points out in its article, entitled, "It's About Time Wal-Mart Waged An Ad Campaign Like This One," Wal-Mart is fighting back with 30-second ads which features testimonials from grateful and satisfied customers.
"Over the years, of course, Walmart has been critiqued vigorously about its competitive effects on local small retailers, where the chain sets up shop, its promotion policies for women, its wage scales, its environmental footprint . . ." states Forbes. [emphasis added]
For a long time, "it's been easy for the chain's many critics to overlook such a benefit while depicting the company as a corporate ogre," Forbes continues.
"That's why this campaign makes a lot of sense for Walmart."
And how much does one 30-second spot cost Wal-Mart?
According to International Business Times, it's plenty, as in $325,000 per spot on CBS's hit show, "The Big Bang Theory." And in 2008, for example, to run one 30-second spot on top-hit "American Idol" cost $780,000, according to Bloomberg.
"[T]hey [Wal-Mart] have to spend too much of their money on propaganda political contributions and what must be a surprising amount of amount of money for 'consultants' that seem to be doing a lot of work for Wal-Mart," lunges Salon.
Now, back to PLUG's announcement and the important suggestion I make here to investors, which is: speculation that PLUG will win the remaining Wal-Mart business appears to be in the bag, as I see it. The deal is a win-win-win scenario for all parties (PLUG, Wal-Mart and PLUG investors) that goes far beyond the capex spending returns at distribution centers, as far a Wal-Mart is concerned.
Almost every large news publication, from USA Today to Forbes, Wall Street Journal, CBS, and a slew of other large readerships, covered the story, and will continue to cover the PLUG/Wal-Mart relationship for years to come, in my assessment.
Now, what is that worth to Wal-Mart?
I assure you, the equivalent ad space is worth well more than $50MM in PR for the perception-challenged multinational.
What Does PLUG Stand to Gain From Wal-Mart's PR Campaign?
Lots! As in a potential of hundreds of millions of dollars, and with no problem, I may add.
With only a fraction of Wal-Mart's potential largess committed to the fuel-cell project at its distribution centers, PLUG could be in gravy for many years from a roll-out of PLUG's GenDrive package.
After 17 years of, first, stardom in the late 90s, to cult following for more than a decade, to ridicule recently, it appears that the company who 'cried wolf' too many times has finally panned out to be credible once again with Wall Street's big-name analysts. And the spillover could be the jackpot investors have been waiting for throughout the long and bumpy ride in PLUG.
"What's really cool about this [Wal-Mart deal] is they've penetrated less than 2% of their current customers' fleets,'" Cowen & Co. analyst Rob Stone tells USA Today. "Just the customers they have now could drive a lot of growth. We expect more deals."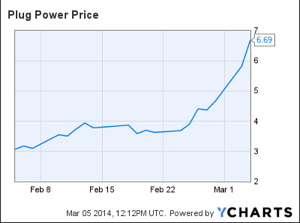 According to USA Today, Stone anticipates PLUG to achieve $250MM of annual revenue by 2017, "plus service contract revenue worth $100 million." And that doesn't include the Wal-Mart copycat effect within the retail industry, as well as the other industries represented by the dozen household-name customers on PLUG's books.
And with approximately 38% of PLUG stock short, the rise in price due to short covering could be quite dramatic in the coming days through to the company's earnings release on Mar. 13.
If earnings don't impress, guidance most likely will.
Conclusion - The End of the Long Road of Vicious Ridicule From Shorts
As I stated in my last article of Jan. 24, entitled, "Plug Power: Setting Straight Some Harsh Words," defending the company from some recent harsh and unmeasured criticism, PLUG has every reason to be optimistic.
And if you were thrown off the track recently by some cleverly-written rhetoric, which suggested that the company is a dead giveaway to short, I invite you to follow me on SA. The shorts have gotten, and may continue to get killed. At the time of publication of my Jan. 24 article, PLUG has risen to $6.69, from $2.805, or a nearly 139% move higher.
In response to criticism of CEO Andy Marsh's alleged hype, I stated in my article:
But, to one investor, the point regarding CEO Marsh's overly enthusiastic and viewpoint about the subject of Plug Power's profitability could also be construed by someone else to be a demonstration of Marsh's optimism for the company's prospects in a wide open multibillion dollar marketplace.
Investors should allow the Plug Power's performance in 2014 to speak for itself.
And as far as capacity and manufacturing concerns, PLUG's Latham, N.Y. facility can handle 10,000 units per year, according to the company, and presumably management will execute it well in the future.
Moreover, I don't believe I would be stretching it too much by stating that, Wal-Mart intends to work with PLUG to grow within its commanding presence of the MHV niche market -which, by the way, was a brilliant textbook marketing strategy for navigating PLUG toward a market within its grasp.
It's now your turn, Dr. Akston.
Disclosure: I have no positions in any stocks mentioned, but may initiate a long position in PLUG over the next 72 hours. I wrote this article myself, and it expresses my own opinions. I am not receiving compensation for it (other than from Seeking Alpha). I have no business relationship with any company whose stock is mentioned in this article.