Andrew Bary questioned the sustainability of Kinder Morgan Energy Partners LP's (KMP) in Kinder Morgan: Trouble in the Pipelines?, the cover story from the Feb. 22 issue of Barron's.
Although the story catalyzed a sharp drop in the master limited partnership's (MLP) unit price, the arguments presented in Bary's hit piece rehashed criticisms advanced by Connecticut-based research firm Hedgeye Risk Management late last year.
Barron's last year published a series of articles that borrowed heavily from Hedgeye Risk management's attack on Linn Energy LLC (LINE), a partnership that produces oil and gas.
The aforementioned hit pieces, coupled with an aggressive social media campaign waged by Hedgeye Risk Management, sent shares of Linn Energy and other upstream MLPs spiraling lower last summer.
Fresh memories of this experience help to explain why panicked retail investors sold Kinder Morgan Energy Partners after the latest Barron's piece.
But investors who panicked and sold their positions in Linn Energy last summer suffered significant losses and missed out on a total return of about 45 percent since the stock bottomed on July 5, 2013.
Savvy investors who took advantage of this pullback - which extended to Vanguard Natural Resources LLC (VNR) and other MLPs that produce oil and gas-locked in double-digit yields and have enjoyed solid capital gains in the ensuing rally.
Investors should regard the sell-off in Kinder Morgan Energy Partners as a buying opportunity.
Although Barron's cover story on the Kinder Morgan family of companies advances a number of arguments against the MLP, the most important relates to how the partnership calculates its maintenance capital expenditures (MUTF:CAPEX), a key metric for determining its cash flow and distribution coverage.
Misplaced Faith in Earnings
The earnings metrics prescribed by generally accepted accounting principles (GAAP) don't capture an MLP's distribution power because they include noncash accounting expenses such as depreciation, an accounting charge used to allocate the cost of an asset over time.
Kinder Morgan Energy Partners, Enterprise Products Partners LP (EPD) and other MLPs that own energy pipelines, terminals and processing plants experience significant depreciation charges that don't reflect the actual cost of maintaining the infrastructure.
And GAAP bases these depreciation charges on these assets' book value, which creates additional distortions. For example, the book value of acquired pipelines would reflect the asset's purchase price-not the cost of building or replacing the pipeline-producing an even larger disconnect between depreciation charges and the actual expense of repair and maintenance.
Distributable cash flow (DCF), a non-GAAP metric that adds back noncash charges such as depreciation and subtracts maintenance CAPEX, provides the best insight into an MLP's distribution power.
Hedgeye Risk Management and other bearish commentators argue that because DCF is a non-GAAP measure, individual MLPs have ample opportunity to game the system by calculating this metric in a self-serving manner that obscures the partnership's underlying health.
In its hit piece on Kinder Morgan Energy Partners, Barron's likens the calculation of DCF and associated quarterly distributions to "sausage-making," implying that the MLP and its peers manipulate this non-GAAP measure to inflate their distribution power and unit price artificially.
Of course, generally acceptable accounting principles also give companies leeway to massage their quarterly results in an effort to smooth out lumpiness and meet Wall Street analysts' consensus estimates.
And a closer examination of how Kinder Morgan Energy Partners calculates its DCF suggests that the parties pursuing their unsavory campaign against the MLP have engaged in sausage-making, manipulating numbers from regulatory filings and corporate presentations to raise questions about the partnership.
Calculating Distributable Cash Flow
Most MLPs calculate DCF by adding back noncash charges to net income and subtracting the maintenance CAPEX needed to keep these assets in good work order. This metric encompasses expenses related to testing pipeline integrity, performing routine maintenance and safety inspections, and replacing a pipeline's damaged segments.
These investments differ from capital expenditures related to acquisitions or extending an existing pipeline, spending that aims to expand the MLP's asset base and grow DCF; unlike growth CAPEX, maintenance spending is necessary for the business to remain an ongoing concern.
The basic theory behind MLP accounting assumes that cash flow generated by the business should be sufficient to cover the cost of routine maintenance and repairs, with much of the remainder disbursed to unitholders in the form of a monthly or quarterly distribution.
Partnerships finance growth CAPEX via a combination of internally generated funds, debt and/or issuing new units.
Hedgeye Risk Management claims that Kinder Morgan Energy Partners and other MLPs habitually understate maintenance CAPEX to inflate their DCF figures artificially and support the distribution.
An MLP has two options to reduce its maintenance CAPEX: allocating less capital to keep their existing assets in working order or improperly classifying these expenditures as growth CAPEX.
Publicly available evidence suggests that Kinder Morgan Energy Partners has engaged in neither of these of these dubious practices.
A Strong Record of Safety
An MLP that fails to allocate sufficient capital to maintain its pipeline and processing plants would suffer an increase in the frequency of spills, fires, employee injuries and other accidents.
In the case of pipelines, the Pipeline Hazardous Materials Safety Administration (PHMSA), part of the US Dept of Transportation, collects data on pipeline incidents and publishes this information on its website.
Kinder Morgan Energy Partners tracks 31 separate safety and environment metrics, as well as how its performance stacks up relative to its peers. The MLP reports these statistics in monthly updates posted on its website.
In 2013, the partnership outperformed the industry average by a significant margin in 29 out of 31 of these safety and environmental metrics.
For example, Kinder Morgan Energy Partners recently reported on the performance its natural-gas pipelines through Jan. 31, 2014.
PHMSA defines an incident as an event that involves a release of gas from a pipeline, or of liquefied natural gas, liquefied petroleum gas, refrigerant gas, or gas from an LNG (liquefied natural gas) facility, and that results in one or more of the following consequences:
A death, or personal injury necessitating in-patient hospitalization;
Estimated property damage of $50,000 or more, including loss to the operator and others, or both, but excluding cost of gas lost;
Unintentional estimated gas loss of three million cubic feet or more;
An event that results in an emergency shutdown of an LNG facility; or
An event that is significant in the judgment of the operator.
On a rolling 12-month basis, Kinder Morgan Energy Partners has experienced 0.36 incidents per 1,000 miles of natural-gas pipeline it operates-slightly less than the three-year rolling industry average of 0.37 incidents per 1,000 miles.
For liquids pipelines, PHMSA defines an incident as a spill more than 5 barrels of hydrocarbons and accidents involving a death, explosions or fires.
Between 2010 and 2012, the industry averaged 0.45 incidents per 1,000 miles of pipeline.
In every year since 2006, the number of incidents suffered by Kinder Morgan Energy Partners has come in well below average.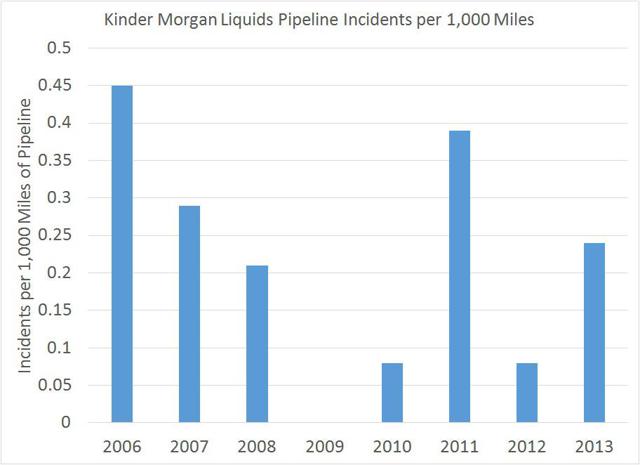 Source: MLP Presentation
Despite Hedgeye Risk Management's suggestions to the contrary, the MLP's alleged skimping on its maintenance CAPEX hasn't shown up in the safety and environmental performance of its asset base.
Rather than maligning the Kinder Morgan Energy Partners' safety record, the Barron's article cites an analyst report indicating that the MLP spends about half as much maintenance CAPEX per mile of pipeline as fellow MLP Portfolio holding Spectra Energy Partners LP (SEP).
Let's take a closer look at this assertion.
On Nov. 1, 2013, Spectra Energy Partners paid almost $4.3 billion to its general partner, Spectra Energy Corp (SE), for pipelines and storage assets. The transformative deal means that the MLP's maintenance CAPEX in quarters after this transaction closes won't be directly comparable to previous quarter.
The 10-K that Spectra Energy Partners filed with the SEC for 2012 indicates that the firm's maintenance CAPEX totaled $21.3 million; with about 3,500 miles of natural gas pipelines, the MLP invested about $6,085 in maintenance CAPEX per mile.
Kinder Morgan Energy Partners' natural-gas pipelines segment last year allocated about $112 million in maintenance CAPEX on 40,000 miles of pipelines-an average of $2,800 per mile. In 2012, the MLP spent roughly the same amount of sustaining CAPEX per mile, suggesting that this year's results weren't an aberration.
However, this analysis doesn't tell the whole story.
As Kinder Morgan Energy Partners' management team has explained on multiple occasions, comparing a particular company's sustaining CAPEX per mile of pipeline to other operators doesn't factor in the age and location of these assets-factors that drive maintenance-related expenses.
More important, Kinder Morgan Energy Partners' sustaining CAPEX fails to capture all the money that the MLP spends to maintain and repair its pipelines; this metric only includes spending to replace damaged pipeline segments.
The partnership includes the majority of expenditures related to integrity testing and third-party damage prevention in its operating expenses-a metric that the MLP also includes in its DCF calculation.
To ensure pipeline reliability, operators insert a pipeline integrity gauge (PIG) to clean the pipe and detect potential weaknesses.
Kinder Morgan Energy Partners has patents for several proprietary pipeline evaluation tools, including the Kinder Morgan Assessment Protocol (KMAP) - a solution that detects faults in pipeline welds. Not only does the MLP use KMAP on its own pipelines, but the firm also supplies this solution to third-party operators.
Repairing pipeline anomalies detected by these tools involves digging up a section of pipe, inspecting it more thoroughly, determining the severity of any issues and completing any necessary fixes. This work entails significant expense and includes the cost of labor, parts and operating equipment.
Although Spectra Energy Partners spends twice as much sustaining capital per mile of natural-gas pipeline as Kinder Morgan Energy Partners, the latter's operating expenses come in much higher because of how the firm defines this accounting metric.
In 2013, Kinder Morgan Energy Partners' natural-gas pipeline segment's operating expenses totaled $123,125 per mile of pipeline, while Spectra Energy Partners in 2012 spent $33,885 per mile of operated pipeline.
The vast difference between Kinder Morgan Energy Partners' operating expenses and those of Spectra Energy Partners, coupled with the former's stellar safety record, strongly suggests that Kinder Morgan Energy Partners doesn't skimp on maintaining its asset base to inflate its DCF artificially.
Rather that indicating something untoward on the part of Kinder Morgan Energy Partners, this apparent discrepancy reflects differing definitions for non-GAAP accounting metrics.
Kinder Morgan Energy Partners' management team has addressed this issue in quarterly earnings calls, special alerts on its website and conferences organized by major brokerage firms.
However, Andrew Bary's one-sided hit piece in Barron's gave these rational explanations short shrift in favor of Hedgeye Risk Management's dubious claims.
Unfortunately, Barron's has discovered that sensationalism garners more page views than rational discourse.
Maintenance CAPEX on Newly Acquired Assets
In a widely publicized research report, Hedgeye Risk Management cited publicly available information to show that Kinder Morgan Energy Partners allocated less sustaining capital to newly acquired pipelines than their former owner, El Paso.
This discrepancy underpinned Hedgeye Risk Management's claim that Kinder Morgan Energy Partners deliberately understates the cost of maintaining these pipelines to boost its DCF and make the acquisition appear more accretive than in reality.
Richard Kinder, Kinder Morgan Energy Partners' CEO, addressed these concerns at length, sharing non-public information to explain this spending gap.
In 2011, El Paso's sustaining CAPEX on the pipelines in question totaled $499 million. We exclude the $160 million spent on the Citrus Pipeline, which transports natural gas between south Texas and Florida, because Energy Transfer Partners LP (ETP) operates this asset and determines the level of sustaining CAPEX needed.
CEO Richard Kinder has indicated that El Paso spent another $15 million to maintain smaller pipeline systems. El Paso in 2011 allocated $354 million ($499 million minus $160 million plus $15 million) worth of maintenance capital to the pipelines that Kinder Morgan Energy Partners now owns and operates.
In contrast, Kinder Morgan Energy Partners in 2013 spent $132 million in maintenance capital on these same pipelines, a difference of about $222 million.
However, this ostensible CAPEX shortfall doesn't appear unusual or nefarious when you dig a little deeper.
Launchers and Receivers
In 2011, El Paso spent $41 million as part of an effort to install launchers and receivers--equipment used to insert and remove PIGs and other maintenance and monitoring equipment--on all its pipeline systems.
This long-term investment limited Kinder Morgan Energy Partners' need to invest in launching and receiving equipment; the MLP last year spent $6 million in maintenance capital on these items.
Anomaly Repairs
When a midstream operator detects an anomaly in a pipeline segment, this section is dug up for inspection. Badly damaged pipelines may require replacement, while sometimes no repairs or only modest fixes are needed.
El Paso in 2011 spent $40 million on anomaly repairs, compared to the $5.3 million allocated by Kinder Morgan Energy Partners to the same assets in 2013.
In this instance, the discrepancy once again boils down to divergent definitions of sustaining CAPEX and operating expenses.
Including operating expenses, Kinder Morgan Energy Partners last year spent $102.1 million ($5.3 million in sustaining CAPEX to remediate pipeline anomalies and $96.8 million in operating expenses) on its operated pipelines formerly owned by El Paso.
Two years earlier, El Paso spent $40 million in maintenance capital to address pipeline anomalies and tallied operating expenses of $33.9 million-a grand total of $73.9 million.
In other words, Kinder Morgan Energy Partners spent about $28 million more to maintain these pipelines in 2013 than El Paso did in 2011.
Kinder Morgan Energy Partners and Spectra Energy Partners define maintenance capital and operating expenses differently, but both firms factor these metrics into their DCF calculations.
Information Technology
In 2013, Kinder Morgan Energy Partners' capital expenditures on information technology (IT) for these pipelines came in at about $36 million less than El Paso had spent in 2011.
Two years earlier, El Paso had invested $24 million in Foresight, a long-term plan to create a unified system to monitor and control all the partnership's pipelines. Because the company had acquired these assets in a series of acquisitions, the firm had used a hodgepodge of different systems.
When Kinder Morgan Energy Partners acquired these pipelines, the MLP shifted their monitoring and control systems to DART-the software that the partnership uses for all its natural-gas pipelines. This decision eliminated the need for further investment in Foresight, saving Kinder Morgan Energy Partners' $24 million in sustaining CAPEX relative to 2011.
CEO Richard Kinder also indicated that IT-related synergies delivered another $12 million in cost savings-not too much of a stretch.
Together, these two items account for the entire $36 million difference in IT-related maintenance CAPEX.
Mechanical and Equipment Savings
Relative to El Paso, Kinder Morgan Energy Partners saved about $30 million in sustaining CAPEX related to mechanical repairs and equipment replacement. This line item includes overhauling pipeline compressors and maintaining a fleet of trucks, cars and other vehicles to support the business.
Management attributed this cost reduction to its policy for replacing vehicles, compressors and other equipment.
Whereas some partnerships repair or replace a compressor after certain amount of time in the field, Kinder Morgan Energy Partners monitors its units on an ongoing basis and repairs or replaces them when operational issues emerge.
Kinder Morgan Energy partners also runs its vehicles for 160,000 miles, a policy that management suggested saves the firm a few million dollars relative to competitors with a faster replacement cycle.
Although the MLP's explanation for the divergence in maintenance CAPEX on this line item appears less compelling, investors should note that a faulty compressor or pick-up truck won't affect pipeline integrity.
Company Policy and Regulatory Compliance
Kinder Morgan Energy Partners in 2013 spent about $29 million less on this line item than El Paso did in 2011. CEO Richard Kinder indicated that some costs in this category-pipeline replacements and coating applications-appear as operating expenses, not sustaining capital.
Adding it Up
In summary, the difference between El Paso's maintenance capital spending in 2011 and Kinder Morgan Energy Partners' CAPEX on the same assets in 2013 reflects synergies related to the merger, the elimination of one-time costs, efficiency initiatives and differences in the way that the two MLPs define capital expenditures and operating expenses.
Of course, Barron's one-sided hit piece rehashed Hedgeye Risk Management's warmed-over arguments from last fall and pretended as though the MLP's detailed rebuttal of these criticisms never occurred.
Maintenance vs. Growth
What about allegations that Kinder Morgan Energy Partners improperly classifies some of its maintenance CAPEX as growth CAPEX?
Because maintenance-related spending reduces the cash available for distribution and growth CAPEX does not, such an accounting trick would artificially inflate an MLP's DCF and distributions to unitholders.
But this argument doesn't hold water.
MLPs usually finance growth-related CAPEX by issuing bonds or additional common units. A partnership that reclassified its some of its maintenance-related expenditures as spending on growth initiatives effectively uses debt and new units to fund its distribution-an unsustainable situation over the long term.
If Kinder Morgan Energy Partners were engaged in this accounting sleight of hand, the MLP's reported numbers would show a spike in debt relative to earnings before interest, taxation, depreciation and amortization (EBITDA).
But the ratio of Kinder Morgan Energy Partners' net debt to EBITDA has held steady in recent years and has declined over the past six quarters, suggesting that new borrowings have gone into projects and acquisitions that have driven incremental EBITDA and cash flow growth.
The Verdict
Management calls for Kinder Morgan Energy Partners to grow its distribution at an average annual rate of 5 percent over the next few years -- less than the 5 percent to 7 percent pace targeted by Enterprise Products Partners.
Arguably the highest-quality name in the MLP space, Enterprise Products Partners boasts a superior distribution coverage ratio, limited exposure to commodity prices and an extensive asset base that's exceptionally well-positioned to thrive in North America's shifting energy landscape.
Units of Enterprise Products Partners also sport a current yield of 4.2 percent, compared to the 7.3 percent offered by Kinder Morgan Energy Partners. These 300 basis points of additional yield more than compensates for Kinder Morgan Energy Partners' lower growth rate and tighter distribution coverage.
Learn more about our favorite MLPs in Two Under-the-Radar Master Limited Partnerships.
Disclosure: I have no positions in any stocks mentioned, and no plans to initiate any positions within the next 72 hours. I wrote this article myself, and it expresses my own opinions. I am not receiving compensation for it (other than from Seeking Alpha). I have no business relationship with any company whose stock is mentioned in this article.