Look at the widening gap between UK financial sectors.
I think this first chart gives you a good idea of why I am not keen on UK-listed banks at the moment - the stock market has been falling out of love with them over the last 10 months, following a series of frankly poor results (Figure 1).
1. UK Banks Go Down, While Insurance and Real Estate Gain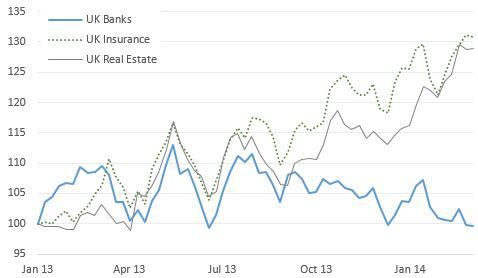 Source: Author, Bloomberg
If you had been invested in UK Bank stocks HSBC (NYSE:HSBC), Barclays (NYSE:BCS), Lloyds TSB (NYSE:LYG), RBS (NYSE:RBS), Standard Chartered (OTCPK:SCBFF) since January of last year, you would today have seen precisely zero price appreciation on average to today - your only gain has been in dividends paid.
Contrast this with the stellar performance of two other UK financial sectors: Insurance and Real Estate, both of which have gained around 30% over the same period. That is a big difference!
But there are of course some very good reasons for the relative under-performance of Banks - most notably from:
Their poor sets of results, generally missing analysts' estimates for profits and earnings;
The ongoing sagas of tighter banking industry regulation and also continual provisions for the costs of various mis-selling and price-fixing scandals, which seem to linger like a bad food odor and taint the industry.
Banking scandals do not go away
I haven't got enough space in this short article to list all the "bad stuff" that the banks have been caught doing over the past few years - just note that we now have a potential Gold price scandal centered around the daily London pm gold price fix, which involves Barclays and HSBC amongst others. So this latest scandal can potentially be added to the long list of issues that the banks are already paying for, in the form of fines and compensation to victims.
And bank results have not been good
On the results front, these have been somewhat disappointing; even today Standard Chartered has announced results, another bank undershooting analysts' profit forecasts for end-2013 (net income reported of $3.99bn versus an average analyst estimate of $4.25bn).
UK banks, particularly those like Barclays, HSBC and RBS that still retain substantial investment banking activities are struggling to bring down costs (principally salaries) sufficiently to reach their targeted cost-income ratios (a measure of banking efficiency). Put simply, if they do not pay high salaries and bonuses to investment bankers who are performing well, these employees will simply jump ship and work elsewhere. And an investment bank is really the sum of its talented individuals - if they all leave, what value is left?
Contrast all this with the generally positive results for full-year 2013 announced by UK insurance companies. Just today, Legal & General (OTCPK:LGGNY) (LGEN in the UK) reported that they grew operating profit by 7% to £1.16bn for last year (in line with average analyst estimates), plus surprised by growing their dividend a hefty 22%. Very nice for those seeking income growth, as the shares now yield a projected 4.5% for 2014.
Where to look for value and momentum in UK Financials
So where would I look to put my investment capital instead of banks? There are a number of insurers and property companies that I think are interesting from a value (i.e. offering a decent yield and reasonable valuations) and momentum (i.e. the share price is in a rising trend) perspective:
1. Aviva (NYSE:AV) - Property & Casualty and Life Insurance:
Not far off a multi-year high, Aviva sits at a reasonable 10x 2014 P/E ratio and 1.4x Book value, well below the average valuations for FTSE 100 stocks. The dividend yield at 3.4% may not be the highest currently, but is forecast to grow by a steady 10+% over the next couple of years at least.
2. Resolution (OTC:RSLLF) - "Closed" Life Insurance:
This life insurer specializes in running legacy "closed life funds" that are no longer life insurance policies for sale, managing to squeeze better performance and profitability out of them than their previous owners had managed. It trades on just 1x Book Value and offers a very generous 5.6% dividend yield.
3. Legal & General - Life Insurance and Asset Management:
This life insurer continues to generate solid profit growth and is also increasing returns to shareholders via an aggressive dividend payout policy, now offering a 4.5% prospective dividend yield. In addition, Legal & General is now targeting the US for expansion via bolt-on acquisitions, so this could well become a better-known name in the US in the near future.
I am also a big fan of UK large-cap REITs, particularly those with high exposure to the booming London property market such as British Land (BLND in the UK), however they are not all liquid Stateside. So if you have the ability to trade directly in European and UK shares, I would suggest that British Land and Hammerson (HMSO in the UK) look very interesting, both trading at or just over book value and offering dividend yields in the 3.5-4.0% range.
Disclosure: I have no positions in any stocks mentioned, and no plans to initiate any positions within the next 72 hours. I wrote this article myself, and it expresses my own opinions. I am not receiving compensation for it. I have no business relationship with any company whose stock is mentioned in this article.