Cisco (NASDAQ:CSCO) recently posted fiscal 2Q 2014 results that proved to be the worst we've seen for a while. This comes despite that company beat earnings expectations by 2%. However, revenues came in at $11.2 billion, down 7.8% year-over-year, and net profit was down 54.5%.
Earnings per share declined from $0.59 per share in the same quarter of the previous year to $0.27 per share. Of the seven business segments, five showed negative growth with the largest segment, which is switching, showing a revenue decline of 12%. Its second largest, NGN Routing, was down 11%.
What's worse is that the order book, which is a key indicator of future growth, has continued to decline. Order book fell 4% in 2Q, after falling 4% in 1Q. Fiscal 3Q guidance was disappointing.
However, within it all, I believe that the pullback is presenting investors with a buying opportunity.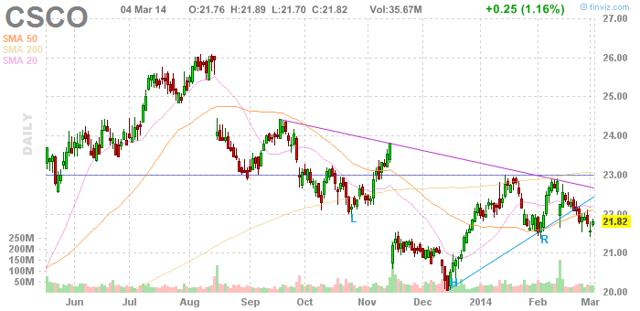 Looking past the short-term outlook
I'd look for the company's performance in the short-term to be lumpy. The markets in developing countries have been inconsistent with orders from emerging markets. However, despite the fact that emerging markets are competitive, the opportunities in these markets are very real.
Cisco could well miss a number of opportunities if it stays away from low margin businesses. 2014 will be a pivotal year for the company, as it needs to sacrifice margins to spur growth. What I look to as positives is that Cisco has a dominant presence in its businesses, which means it can easily survive the bad times, with performance improving with the improvement of its underlying markets.
Cisco can't seem to get a grip on growth. Smaller, more nimble companies, are quickly eating into market share. Cisco's key segment, routers, is being attacked by Juniper (NYSE:JNPR) and Alcatel-Lucent (ALU). Alcatel's revenues have grown at double digit rates over the last three years, where the company has a partnership with large telecom players, such as AT&T (NYSE:T), China Mobile (NYSE:CHL) and Sprint (NYSE:S) for their 4G LTE Network expansion.
Juniper is a bit smaller, and half of its revenues come from routers. Its total revenues were up 17% last quarter. This suggests the router market continues to grow. Which, as difficult as it might seem, is a positive for Cisco. It suggests that Cisco still has the opportunity to capture new participants coming to market.
Yet, Cisco's buyback program and dividend will offer downside protection
Cisco recently raised $8 billion in bonds, which is a key move to take advantage of low interest rates. Allowing it to refinance debt at lower rates and help finance its robust buyback program. Its effective interest rate is about 2% on these new bonds.
Cisco's dividend yield is around 3.5%. The company has been aggressively pursuing buybacks and announced an addition of $15 billion to the program in November, 2013. It bought back shares worth $4 billion last quarter. Its buyback program will continue to add value to as long as the price remains below $50.
Driving growth in 2014 and beyond will be wireless and the Internet of Things
I look for Cisco to turn to the Internet of Things as its next major business opportunity. Cisco is investing heavily in providing solutions to customers. It anticipates a business opportunity worth $2 billion from 50 targets customers.
And another promising area is in cloud and networking computing, which includes its platform, Meraki. This platform doubled revenues last quarter, as well as its number of customers.
On the other side, wireless telecom networks will be long-term growth opportunities. These opportunities will come as major carriers look to upgrade their networks to cope with the expected explosion in data demand it. The company has tried to exploit these opportunities by making acquisitions such as Intucell, BroadHop, Cognitive Security, Cariden, ClearAccess and Ubiquisis. Companies that can provide cost effective and efficient traffic management solutions will always have a place in this market.
The investment thesis is still intact
Investors were "put off" by the decline in the order book. And Cisco's recent string of less-than-stellar earnings reports has kept the stock price stagnant. The company has been compensating with its aggressive share buyback program and generous dividend policy. Its 11x forward price-to-earnings multiple is decidedly low for a company with this kind of leadership in its industry. The dividend yield of around 3.5% is icing on the cake.
Disclosure: I have no positions in any stocks mentioned, and no plans to initiate any positions within the next 72 hours. I wrote this article myself, and it expresses my own opinions. I am not receiving compensation for it (other than from Seeking Alpha). I have no business relationship with any company whose stock is mentioned in this article.