U.S. mid-caps have impressed this year. For example, the SPDR S&P MidCap 400 ETF (NYSEARCA:MDY) gained 8.7% last month compared to just under 7% for the S&P 500. Year-to-date, MDY is up more than twice as much as the S&P 500.
Investors should also consider global mid-caps, particularly if those stocks come with a dividend kicker such as the one offered by the WisdomTree International MidCap Dividend Fund (NYSEARCA:DIM). The unheralded DIM surged 8.5% in February, bringing its year-to-date gain to almost 4.7%. DIM tries to reflect the performance of a fundamentally weighted index, which tracks dividend paying stocks outside North America that are weighted by annual cash dividends paid.
Being a developed market play with exposure to the Asia-Pacific region implies that DIM has some exposure to Japan and it does. The world's third-largest is DIM's largest country weight at almost 16.6%. Although DIM is not a currency hedged ETF, that does not make it immune to a strong yen. However, the fund has looked sharp this year even though the CurrencyShares Japanese Yen Trust (NYSEARCA:FXY) is up nearly 3%.
DIM's strong yen defense is easy to spot: Europe. Fifteen of the 21 countries the ETF offers exposure to are European nations, including a combined 30.5% weight to the U.K., France and Germany. Of those 15 European countries, 10 are Eurozone members and four of the five PIIGS nations are represented in DIM with Greece being the outlier.
Japan usually is not considered a top-tier developed markets dividend destination, but DIM makes up for it with a combined 25% weight to the U.K. and Australia, two of the better ex-U.S. developed market options in terms of dividend history and expected payout growth in 2014.
The WisdomTree International MidCap Dividend Index (WTIMDI) has a dividend yield of 3.84% and over the past five years has outperformed the MSCI EAFE Mid-Cap Index, according to WisdomTree data. The WisdomTree International MidCap Dividend Index has, since inception in June 2006, had a beat of 1.03 against the MSCI EAFE Mid-Cap Index and annualized volatility of almost 21%.
WisdomTree International MidCap Dividend Fund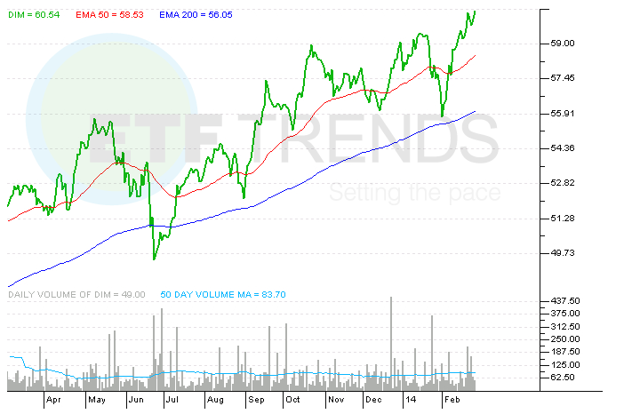 ETF Trends editorial team contributed to this post.
Disclosure: I have no positions in any stocks mentioned, and no plans to initiate any positions within the next 72 hours. I wrote this article myself, and it expresses my own opinions. I am not receiving compensation for it. I have no business relationship with any company whose stock is mentioned in this article.