Halcón's East Texas Eagle Ford Well Performance Data
Below is a summary of Halcón Resources' (NYSE:HK) East Texas Eagle Ford production performance through January 2014. The data are visually summarized in the form of a cumulative production graph and also offered in full detail in the table. (The cumulative production graph excludes two non-commercial wells that were located in Madison and Grimes Counties, far outside of the play's core). The data presented includes oil volumes only, given that natural gas is a relatively small percentage of the total production stream.
The vast majority of the wells are concentrated within a compact area in the north-central portion of Brazos County, Texas which, as shown on the map below.
The production data indicates that Halcón's most recent wells have performed in-line or better than the average for the 43 wells that Halcón has brought on production to date. Notable wells include:
Diebel #2H and #3H produced ~37 MBo, on average, in less than three months online;
Hawk-Falcon #4H produced ~54 MBo in less than five months;
McDonald #1H, Bison #1H and Okapi #1H produced ~70 MBo, on average, in the first six months;
Stasny-Honza #1 remains Halcón's best performing well to date, with ~100 MBo produced in six months.
Of note, the percentage of wells that will likely have non-commercial EURs remains low, underscoring the consistency of well results to date.
In its most recent presentation, Halcón estimated oil EUR per well in El Halcón at ~420 MBo. Well data provided below supports the estimate. The result is certainly encouraging given that the play is still in its infancy. However, further improvement will be required so that El Halcón can compete with core areas of the established shale oil plays such as South Texas Eagle Ford and Bakken.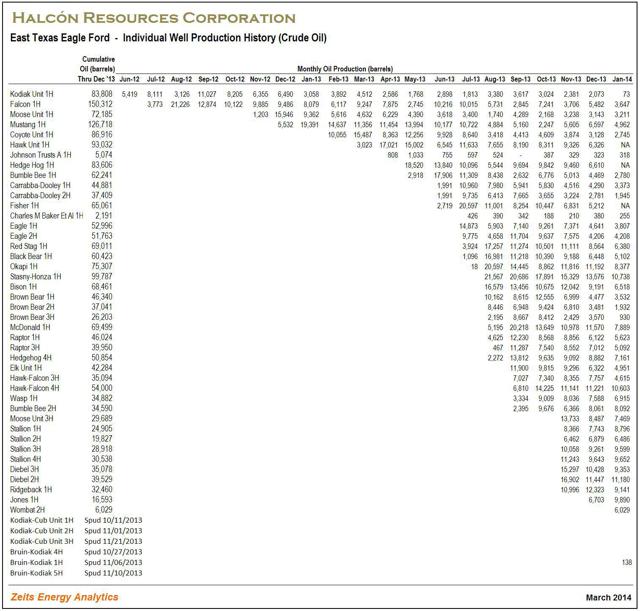 (Source: Zeits Energy Analytics, March 2014)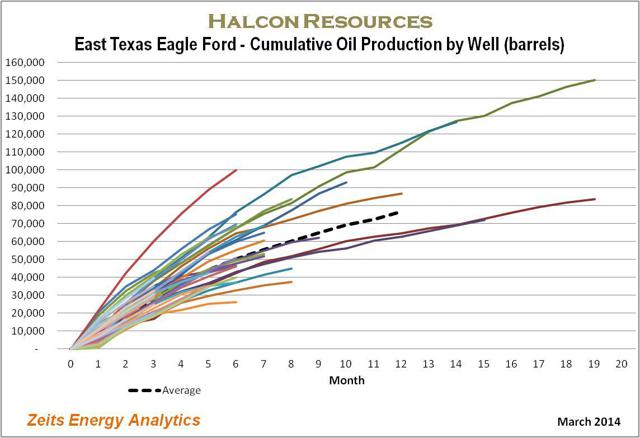 (Source: Zeits Energy Analytics, March 2014)
January production data available at the time of this note's submission shows only two new completions (the Wombat #2H and Bruin-Kodiak #1H). At least five additional wells are pending on the Kodiak-Cub Unit and Bruin-Kodiak leases. Assuming no un-reported completions, production volumes may show a decline in January due to the timing of well completions.
El Halcón Is Expanding Boundaries
The map below illustrates increasing drilling activity in the East Texas Eagle Ford. Among recent participants who entered the play or re-initiated drilling effort are Apache (NYSE:APA), Anadarko (NYSE:APC) and Comstock (NYSE:CRK) are the most notable. SM Energy (NYSE:SM) has established a meaningful position to the south of El Halcón and has drilled its first highly successful Eagle Ford test.
SM's acreage appears to be located in the wet gas window.
Clayton Williams Energy (NASDAQ:CWEI) is another significant participant with acreage in the oil window to the north.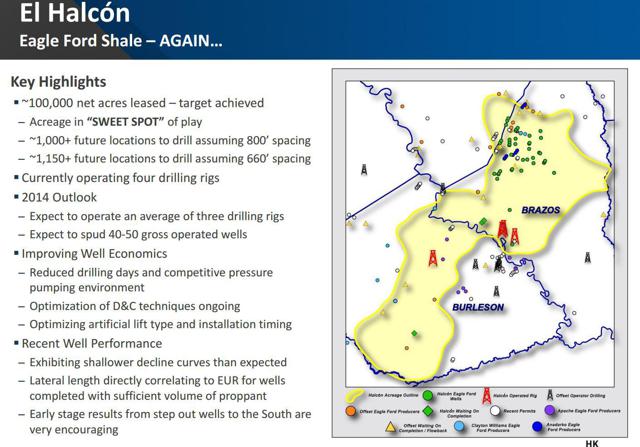 (Source: Halcón Resources March 2014 Investor Presentation)
Of note, new permitting indicates that the play's delineation has moved to the central and east-central Brazos County as well as to the southern and central Burleson County.
Normalized Production Data
The graph below shows cumulative production by well "normalized" (pro-rated) to 7,400' lateral length, which is the estimated average lateral length for the 43 wells drilled by Halcón to date. The normalized cumulative production graph looks noticeably tighter than the graph above that showed raw cumulative production data. The tightness of the production trajectories reflects the consistency of well performance that Weber Energy and Halcón have been able to achieve essentially from their very first wells. The "improvement" in the average cumulative production per well is explained by the fact that some of the early wells have in fact performed very strongly despite having relatively short laterals.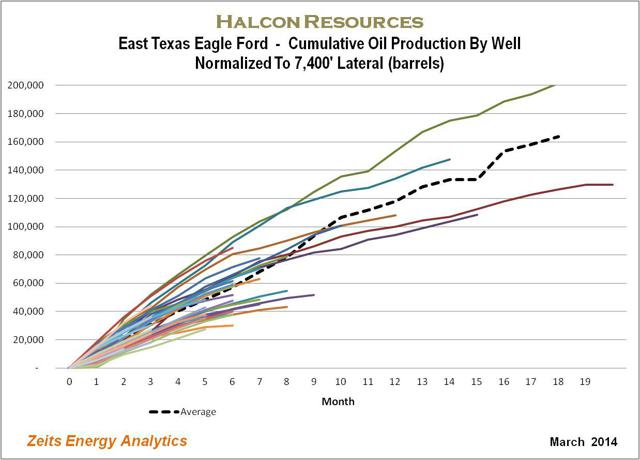 (Source: Zeits Energy Analytics, March 2014)
The "average" cumulative production line - which is shown on the graph above for reference - should not be misinterpreted as the "typical" production curve: a different set of wells contributes to the average during each month, as illustrated on the graph below.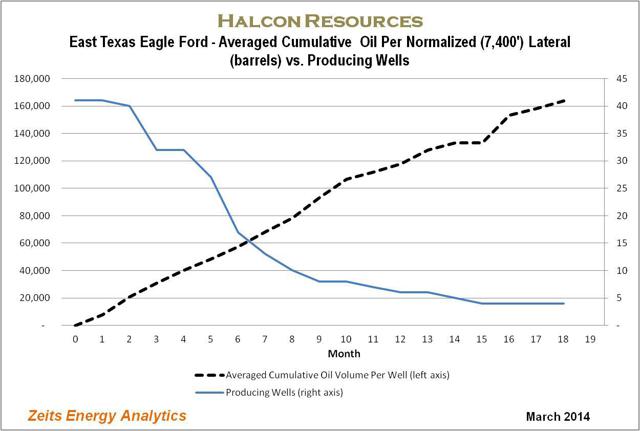 (Source: Zeits Energy Analytics, March 2014)
Disclaimer: Opinions expressed herein by the author are not an investment recommendation and are not meant to be relied upon in investment decisions. The author is not acting in an investment advisor capacity. This is not an investment research report. The author's opinions expressed herein address only select aspects of potential investment in securities of the companies mentioned and cannot be a substitute for comprehensive investment analysis. Any analysis presented herein is illustrative in nature, limited in scope, based on an incomplete set of information, and has limitations to its accuracy. The author recommends that potential and existing investors conduct thorough investment research of their own, including detailed review of the companies' SEC filings, and consult a qualified investment advisor. The information upon which this material is based was obtained from sources believed to be reliable, but has not been independently verified. Therefore, the author cannot guarantee its accuracy. Any opinions or estimates constitute the author's best judgment as of the date of publication, and are subject to change without notice.
Disclosure: I have no positions in any stocks mentioned, and no plans to initiate any positions within the next 72 hours. I wrote this article myself, and it expresses my own opinions. I am not receiving compensation for it (other than from Seeking Alpha). I have no business relationship with any company whose stock is mentioned in this article.