It's no secret that Amazon (NASDAQ:AMZN) got its start as an online bookseller. Now, it's revamped the entire publishing industry. And the TV industry could be next. And I'm not talking about the Amazon Prime Video offering. There has been plenty of speculation that Amazon is building an Internet TV device. Based on the latest rumors, it looks like the launch of such a device could be very soon.
This will be a complementary product to its Amazon Video -- a service that's under marketed, where with an Amazon Prime membership, not only do you get two day shipping for all the physical purchases, but you also get unlimited access to a large movie and TV show library, which you can stream over the Internet.
Amazon has already shown that it can produce and sell hardware to cater to its own television service and this experience can be immeasurably enhanced if you can hook up an Amazon device to a large screen TV in your living room.
As retailing appears to be slowing down, this TV could be the new catalyst that Amazon needs for top line growth. If they can produce a device that connects directly to the TV, and then stream high quality content, the television business could also move the profitability needle for the company.
Don't mistake the importance of Amazon Prime
Prime members spend up to twice as much on purchases from Amazon than non-members. Amazon recently raised the prices in the U.K. and Germany, but added a free subscription to a streaming video service, which makes it the same as the Prime Instant Video service available in the U.S.
The free subscription might draw in a few more members but it is really the free shipping that attracts heavy users. There is also speculation that Amazon may be adding a free music streaming service to sweeten the price hike but whether this is sufficient inducement remains to be seen.
The real reason investors should buy below $400
Fiscal 4Q revenues were up 20% Y/Y, with operating income up 26%. As well, full year 2013 sales were up 22% and operating income was up 10%. Amazon is down 5% over the last six months, while the S&P 500 is up 5%. Its recent earnings miss was a point of concern for some investors, and finally gave squeamish investors a reason to sell.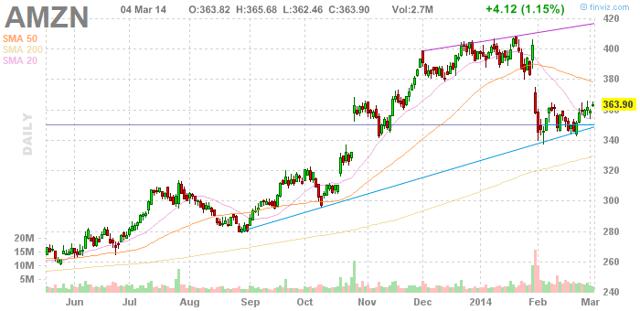 Amazon's greatest asset is Jeff Bezos. He's a visionary CEO, one that has devoted all his energy to building a formidable long-term moat. Online commerce remains one of the fastest growing industries in the world.
And margins have continued to grow from 22.4% in 2011 to 27.2% in 2013. It's true that the fulfillment costs (as a percentage of revenues) have been rising, but Amazon is committed to finding high tech solutions to its problems. Amazon is focusing on increasing digital services where shipping cost is not an issue.
Although the move into the packaged consumer goods was criticized last year, the opportunity is large. 2% of the packaged consumer goods currently purchased online is still a $16 billion market growing at 25% every year.
The company is quickly becoming more of a tech company and global ecommerce company than anybody ever imagined. While its valuation is debatable, there's no debating the company's growth potential. That's where analysts I and are looking. No analyst, out of the near 40 following the stock, have a sell rating. The average price target is 20% higher than where shares currently trade, with the lowest price target suggesting 10% downside, and highest price target suggesting 35% upside -- a 4-to-1 risk reward ratio.
Disclosure: I have no positions in any stocks mentioned, and no plans to initiate any positions within the next 72 hours. I wrote this article myself, and it expresses my own opinions. I am not receiving compensation for it (other than from Seeking Alpha). I have no business relationship with any company whose stock is mentioned in this article.