By Scott Freeze
If you have followed our market calls and macro views, you know that we have been incredibly bearish since mid-April. During that time we have stressed VXX as a hedge for your portfolios, not because it tracks better than VXZ but because it was generating significant alpha vis-à-vis the market.
While S&P short products, like SH, offer 1:1 movement on the downside, and SDS offers a 2X leveraged product on the downside, the VXX was moving 5-8% up on a 1% downward move in the market. This outperformance was the result of the incredibly low valuation of VXX , the VIX index and the overwhelming global predicament that was to hamstring our markets.
As VIX has gone from 18.65 to 35.80 over the last month, you are seeing a reduction in the amount of excess alpha generated by the position. No longer will VXX throw out 5-8% gains for a 1% move in the market, and it is not even close to a 1:1 correlation on price movement, falling closer to a 3:1 ratio.
This degenerating return is likely to continue as the VXX moves closer to 40, and while it may still be appropriate to hold VXX as a position, the excess return you will see by using it as a hedge will be significantly reduced as the VIX moves higher.
Another topic that has been popular with our client base is the trading of Oil, specifically the OIH. The commodity bubble that seemed to be forming at the end of the first quarter was destroyed by the imploding euro, and the resulting flock to the US dollar has kept and should continue to keep a cap on commodities. This results in a double bearish reaction for the price of oil.
While supply has increased and demand seems to be decreasing keeping the price lower, the strengthening dollar is also going to put pricing pressure on oil and should keep prices lower as the euro problems stretch from Greece, to Spain and shortly to Portugal.
This downward pressure on oil not only keeps resistance on the OIH, but also presents another issue with OIH that some of our clients did not seem to realize. OIH is an Oil Holder. It does not own the commodity but is made up of common stocks of companies that provide drilling, well site management and other services in the oil industry. Transocean (NYSE:RIG) and Halliburton (NYSE:HAL) are two of the top four holdings in OIH.
If the US Government does go through with fines for BP, RIG and HAL as a result of the gulf disaster, then those common stocks will fall and the OIH will fall with those common stocks. Thus, you could potentially see a gain in the price of crude oil but see the OIH fall precipitously, as a result of large fines on two companies that make up 24% of the OIH ETF.
(Click to enlarge)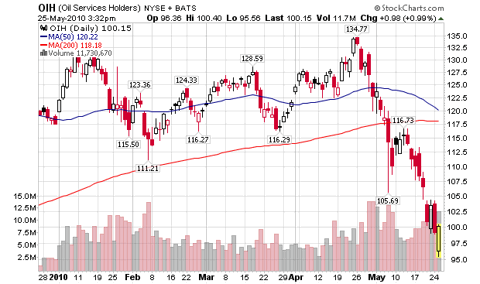 (Click to enlarge)
Disclosure: No positions