Overnight Trade: Exide Technologies (XIDE)
Analysis: As the earnings season for Q1 is coming to an end, we are on the last strain of the April - May reporting season. Earnings have not been as conducive to successful movements over this quarter due to the European crisis that has overshadowed a very strong reporting season that should not be overlooked. Companies, across the board, are hitting their top lines, beating EPS estimates, and looking bold to the future. For this reason, overnight trades have mostly been avoided. It would take a special company that I thought could really turn the corner to make something special happen.
That company would be Exide Technologies (XIDE). Exide is a leader in lead acid battery production, and it scheduled to report earnings tomorrow morning with an average EPS of 0.11. The company is one of the largest battery makers and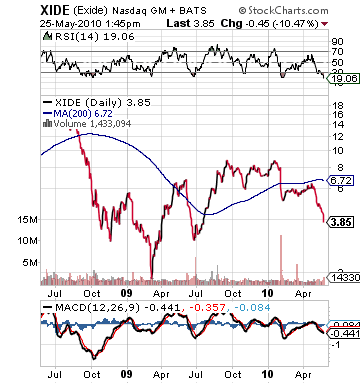 is currently coming out of a major restructuring that saw the company lose 66% of its value in the past year and a half. One year ago, the company was in the red with a loss of 0.85 EPS. Last quarter, the company turned its first profit since 2008, but it still missed high estimates and reported that the company had lost Wal-Mart as a major distributor, though the distributor was only 5.5% of its total revenue. This quarter, Wal-Mart (NYSE:WMT) is no longer figured into the earnings, the company is completely back on its feet, and it looks to swing to a profit, year-over-year, by a margin of 112%.
The battery market has been doing rather well in this Q1 of 2010 thus far, which makes me more excited about XIDE. As the market continues to recover it helps XIDE, but at the same time, as less people buy new cars, they are continually trying to make necessary improvements to avoid new cars and hang onto their current cars - replacing batteries. Of Exide's main competitors, Enersys (NYSE:ENS), Advanced Battery Technologies (OTCPK:ABAT), and Johnson Controls (NYSE:JCI), all three have reported EPS beats and strong earnings in the quarter.
Exide appears to be a company that has lost a lot of its value not because it is actually fundamentally weak, but it has simply lost a significant amount as a result of market momentum. The company in the past quarter reduced a lot of negatives, moving closer to having positive cash flow, increased revenue, reduced costs, and finally turned a profit. The company is finally on the right path again, and I am expecting big things from them tomorrow.
The entire industrial electrical equipment sector has been doing very well with 10/14 of the companies in the industry reporting surprise profits over the past month. While this means nothing directly for Exide, it shows that this is another industry that is doing very well in this reporting season and is not struggling like retail from a lack of consumer spending on clothing.
Exide, additionally, today has seen a 10%+ in its price taking it back to the levels it dropped to after reporting earnings last quarter. Selling into earnings is worrisome at this level, but it is understandable given the late history of losses and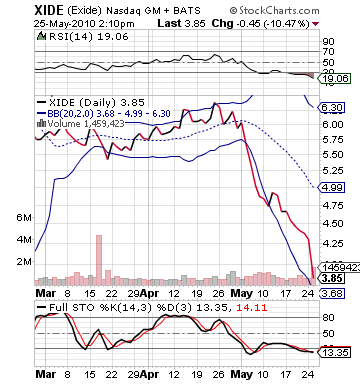 disappointment. I am confident though that even beating earnings and reporting some reaffirmed or positive outlook would do wonders for this stock tomorrow, which is good news because this stock has a lot of upside.
Looking at the stock's technicals, it is bumping right along that lower bollinger band with about 75% to the upside to its upper band. Some great earnings could really be huge for Exide. The stock has lost a lot lately, but it is just fallen out of favor. A great quarter could do a lot to get this company back into the upside.
This is definitely more risky, but the market simply is not reacting to just earnings beats. It needs more now. I think we have found much, much more.
Entry: We are looking to get involved with Exide at the 3.80 - 3.85 range.
Exit: We are looking to exit at the beginning of tomorrow's market within the first few minutes.
Stop Loss: None