JPMorgan Chase (NYSE:JPM) is a financial holding company headquartered in New York City. It is currently one of the largest and most diversified banks in the world today; offering investment banking, broad financial services, commercial banking, consumer banking, private equity, and asset management services.
The story of how JPMorgan became the bank it is today can be told through a series of mergers and acquisitions. In 1996 Chase Manhattan Bank was acquired by Chemical Bank (of New York), and Chemical Bank chose to keep the better known "Chase" name. Fourteen years and one financial crisis later JPMorgan Chase had come to include J.P. Morgan & Co., Bank One, Bear Stearns, and Washington Mutual. JPMorgan today retains Chemical Bank's pre-1996 stock price history and headquarters at 270 Park Avenue, NYC.
Key Statistics:
Market Cap: 218.4B
Book Value: 1.1x
PE Ratio: 13.3x
Yield: 2.6%
Dividend Growth Rate
2013: 27%
2012: 20%
2011: 400%
Share Buyback: Yes
JPMorgan currently has a $6B share buyback program in place. And though unlikely, there is the outside possibility that the current program could be slowed or halted due to an unseen loss or government fine. The halting of a JPMorgan buyback due to rising costs/losses is not unheard of for investors. As recently as 2012 JPMorgan suspended its $15B buyback program only two months after announcing it due to losses from its "London Whale" trade; a credit derivative "hedge" that cost the firm $6.2B. As of today, JPMorgan's current share buyback program is active.
The graphic below details JPMorgan's share buyback programs over the last three years. The graphic is from JPMorgan's February 20, 2014 10-K filing: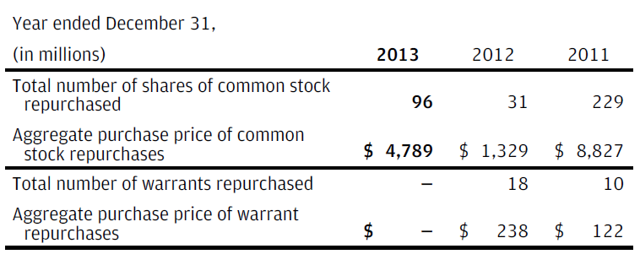 Institutional Shareholders of Note:
Warren Buffett:
Warren Buffet owns shares of JPMorgan in his personal account, however, Berkshire Hathaway does not. During a CNBC interview on February 27, 2012 Buffett was asked his thoughts on the US banking sector. The conversation reveals a personal investment in JPMorgan and positive comments for current CEO Jamie Dimon.
ANDREW: "Warren, I wanted to get some thoughts about the banking business... I noticed that you - and you've done this now several times, you've praised Jamie Dimon at JPMorgan, and yet I realize that you are not an investor in JPMorgan. And I'm curious why not."

BUFFETT: "...I'll let you in on a little secret. I own some shares of JPMorgan."

BECKY: "Personally, right?"

BUFFETT: "Personally, right, right. You just - you just got some news from me, Andrew. But what I - what I specifically reference, and this is important, Jamie Dimon, I think, writes the best annual letter in corporate America. I think you will learn - I think every viewer will learn something by reading his annual - they'll learn a lot by reading his annual report. He is a - he thinks well, and he writes extremely well. And he works a lot on the report, he's told me that. And that's an annual report worth reading. Most annual reports aren't worth reading, but that one is."
Recent Headlines:
"JPMorgan to cut 8,000 Jobs": USA Today February 25, 2014
-The Bank will eliminate 8,000 jobs in consumer banking as demand for refinancings drops.
-In total headcount at the Bank is expected to decline by 5,000 jobs in 2014, to 260,000.
"Hedge funds buy GM in fourth-quarter; Soros takes stakes in JPMorgan, Citi": Reuters February 14, 2014
-"Soros Fund Management LLC, founded by billionaire investor George Soros, purchased new stakes in banking giants J.P. Morgan Chase & Co. and Citigroup in the fourth quarter."

-Soros Fund Management bought 2.8M shares of JPMorgan, a moderately sized stake worth roughly $155M at current market prices.

-As a legendary investor worth upwards of $20B George Soros could also be considered an institutional investor of note. But it should could be said the position is not overly large for an investor of Soros wealth.
"Jeffries Starts JPMorgan at Buy": StreetInsider January 8, 2014
-Jeffries initiates coverage with a "buy" rating and a $66 price target.

-Analyst Ken Usdin feels the Bank offers an attractive P/E valuation, and "best in group ROE" (Return on Equity)

-Usdin goes on to offer more detail: "Litigation/regulatory risks remain, but JPM closed-out big legal items in 4Q, a spark for sentiment that could lead to further re-rating. We believe '14/'15 EPS estimates are achievable at $5.95/$6.30."
Earnings: Last Quarter
JPMorgan reported respectable fourth-quarter earnings of $1.40 per share topping analyst estimates of $1.35 per share. Overall for the quarter JPMorgan earned $5.3B in profit on revenue of $24.1B; and as expected by many analysts, revenue in JPMorgan's mortgage banking business fell due to falling loan volume.
Earnings: 2011 vs. 2012 vs. 2013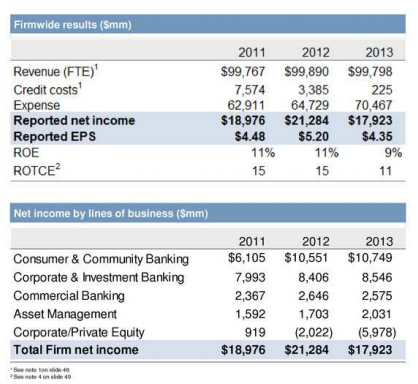 Earnings: Looking Forward
-From CNN Money
2014 EPS Forecast: $5.98
2015 EPS Forecast: $6.35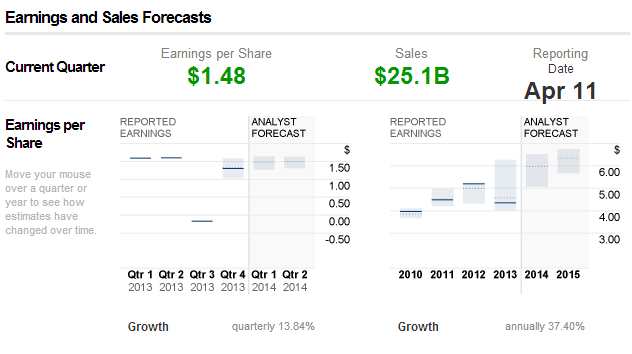 Online and Mobile Banking:
Online and mobile banking usage rates are growing steadily and are here to stay for the long term. This is good news for JPMorgan shareholders as the trend offers better service to customers, as well as significant cost savings.
-The graphic below is from the JPM February 27, 2014 8-K filing:
"A mobile redemption costs $0.01 vs. a call center redemption cost of $3."

"A QuickDeposit (mobile) cost $0.03 vs. $0.65 for a teller deposit."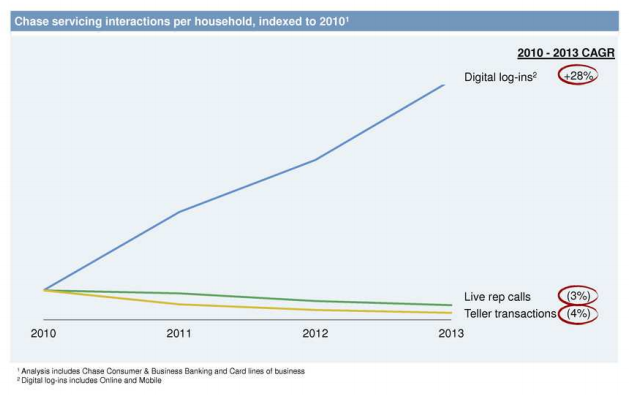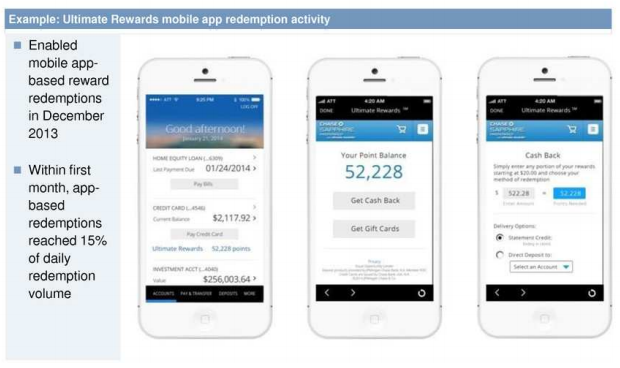 Deposit Balance Growth:
As can be seen below, JPMorgan deposit growth remains strong and outperforms its industry peers. Warren Buffett often praises Wells Fargo and other banks for their large deposit bases, as this is where sizable earnings are going to be driven from.
-The graphic below is from the JPM February 27, 2014 8-K filing: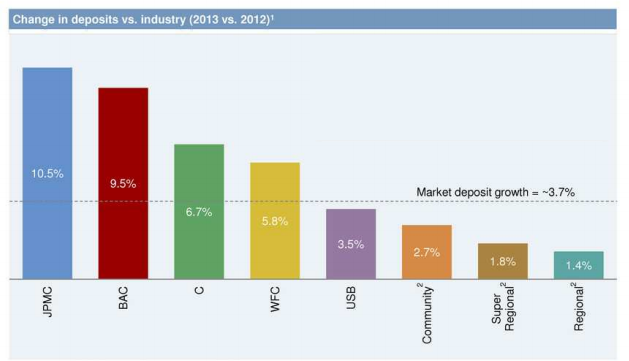 The US Housing Market:
The graphic below shows that US housing fundamentals have continued to improve since the financial crisis in 2008. Rising home prices, less underwater loans, and less inventory, are all bullish for JPMorgan earnings.
-The graphic below is from the JPM February 27, 2014 8-K filing: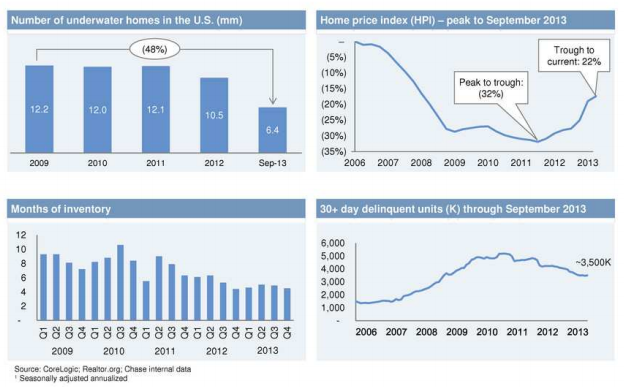 Conclusion:
JPMorgan trades near book value, offers investors a respectable yield, has multiple macroeconomic trends working for it, and the support of big name long term investors. Overall the bank is a high quality asset that should be bought on dips in the stock price.
Disclosure: I have no positions in any stocks mentioned, and no plans to initiate any positions within the next 72 hours. I wrote this article myself, and it expresses my own opinions. I am not receiving compensation for it (other than from Seeking Alpha). I have no business relationship with any company whose stock is mentioned in this article.