From $16 to $36.50 a share hasn't been an arduous journey for MacroGenics (NASDAQ:MGNX) - it achieved it in a matter of five months with nothing substantial to show for it. However, that is not unusual in the development stage biotech industry which is known for valuing companies for their potential rather than revenue and profits. The company started trading as a public company on October 10, 2013 after its initial public offer of 5 million at $16 a share to raise $80 million. On February 12, 2014, MacroGenics announced the pricing of a secondary public offering of 3 million shares at $36.50 a share.
MacroGenics
The primary focus of MacroGenics is on discovery and development of therapeutics based on monoclonal antibodies for treatment of cancer and autoimmune diseases. Its capabilities include three next generation proprietary technology platforms for discovering drugs beyond its leading compounds under development.
Dual-Affinity Re-Targeting (DART) that targets multiple antigens or cells by using a single molecule structured like an antibody;
Fc Optimization that boosts the immune system's ability to destroy cancer cells;
Cancer Stem Cell that helps in finding new treatments for cancers that do not respond to available therapies.
A successful IPO
The company's IPO was a success and on the first day of trading the share price jumped more than 50 percent -- up from $16 to $24.99 a share. However, the $80 million raised through the IPO was not expected to last long as the company planned to spend $70 million on clinical development for its two lead under-development candidates- Margetuximab (MGAH22) and MGA271. The fact that the company has come up with a secondary public offer - 1,800,000 shares by the company and 1,200,000 by certain stockholders the proceeds of which do not come to the company - reflects that it has indeed run out of cash despite certain milestone payments in between stock offers.
The money from the secondary stock offer, roughly $65 million, is to be used as under:
$10 million to $15 million additional clinical development expenses for MGA271
$20 million to $30 million for funding two previously undisclosed, DART-based oncology candidates
$5 million to $10 million for funding expansion of manufacturing facility
Rest for working capital requirements
Financials
According to a report filed with the SEC pursuant to Section 13 or 15(d), for the three months ended September 30, 2013, the company derived revenue of $20.23 million from collaborative research and grants. The company's burn out for the period was almost $13 million and $39.56 million for the nine months ended September 30, 2013.
Pipeline
MacroGenics' boasts of beneficial partnerships for development of its pipeline. The company retains major rights for most of its experimental compounds apart from those partnered with Pfizer, Gilead Sciences and Boehringer Ingelheim.
In November 2013, MacroGenics announced that it would be receiving $5 million as milestone payment from Boehringer Ingelheim as it had chosen an antibody therapeutic candidate developed by the company. Another $4 million was to be paid as research maintenance in Q4 2013.
On February 5, 2014, Servier, France's largest private pharmaceutical company exercised the option to commercialize and develop MacroGenics' lead DART molecule MGD006. This triggered a milestone payment of $20 million. MacroGenic however retains major rights for the molecule in major markets.
Status of the company's pipeline candidates looks like this: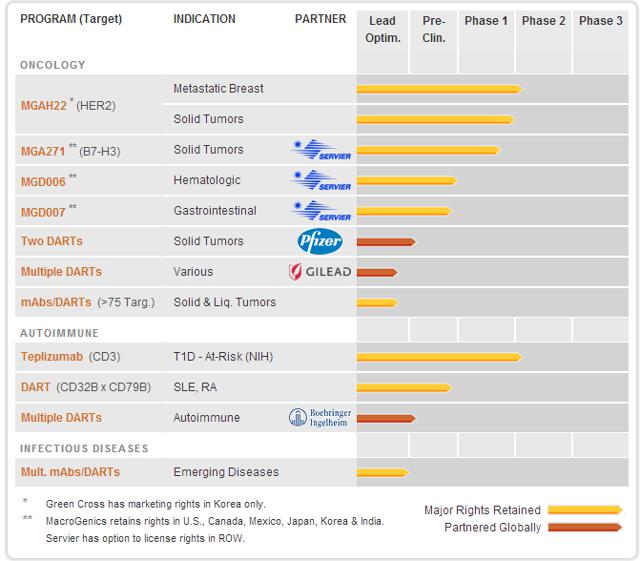 However, much of the excitement - the stock's journey from $16 to CMP $35 - is really about its lead pipeline candidates, MGAH22 and MGA271. MGAH22 targets tumors that express HER2 (human epidermal growth factor receptor 2). MGA271 is an Fc optimized first-in-class monoclonal antibody that targets B7-H3, a new member of B7 immune regulators. Currently there is no treatment available for solid tumors that express B7-H3, which is expressed in more tumors than CTLA4, the antigen targeted by Bristol-Meyers' (NYSE:BMY) potential blockbuster orphan drug, Yervoy. Like Yervoy, MDA271 also activates the immune system.
Conclusion
It is very likely that many investors wouldn't be aware of MacroGenics and its potential. However, biotech companies like MacroGenics have the potential of giving phenomenal returns. Considering the company's pipeline and the huge potential of cancer therapeutics, the company deserves to be on the radar of long term investors. A number of analysts have also recommended the stock with a price target of $50-52.
However, in my (humble) opinion it is still early days. The pipeline is mostly in early development stages and there is no telling how the data will pan out as trials progress. I am confident that investors are well aware of the binary nature of investments in early-stage biotech companies. Valuation of almost $1 billion and P/E of 90 (revenue only from collaborative research) appears to be too far-fetched for a stock that has nothing much to show. Regardless of the secondary stock offer at $36.50 and the CMP of $35, I think the potential of the pipeline would be credible only after some positive news emerges from clinical trials.
Disclosure: I have no positions in any stocks mentioned, and no plans to initiate any positions within the next 72 hours. I wrote this article myself, and it expresses my own opinions. I am not receiving compensation for it (other than from Seeking Alpha). I have no business relationship with any company whose stock is mentioned in this article.