True to recent form, the REIT sector, as measured by commonly followed indexes IYR and VNQ, has rallied this year in symmetry with an upwards move in the bond market. While REITs are obviously not fixed-income securities, most of them do have permanent, predictable cash-flow characteristics that investors are apt to equate as "bond-like."
If we look at the below chart we can see that over the past three months, REITs have returned double digits, handily outperforming the overall market measured by (NYSEARCA:SPY) . Typically considered a non-correlated asset when compared to traditional equities, REITs were amongst the worst performers last year, basically flat-lining versus a 30% move in equities. Interest rate fears were the prime culprit in the underperformance.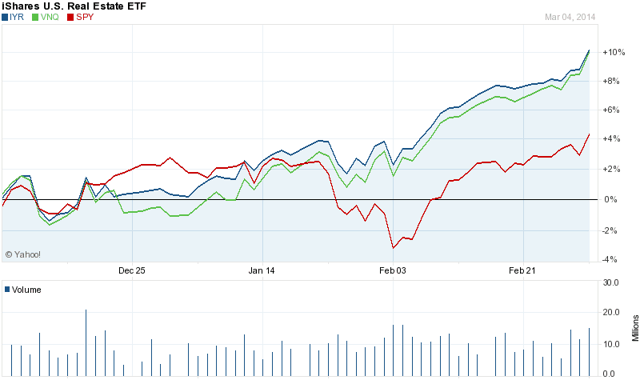 As I suggested in my 2014 REIT preview article, REITs could prove volatile once again as the forward macroeconomic picture takes shape. I wrote:
Sector pricing and yields will be further impacted by how the Fed proceeds with the "taper" and the consequent direction of the 10-year Treasury.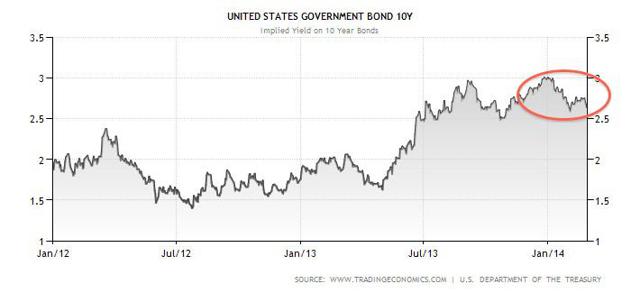 Taking a look at YTD performance from some of the larger, widely held REITs we see the following:
Realty Income (NYSE:O): Up 16%
American Realty (ARCP): Up 14%
Simon Property (NYSE:SPG): Up 8%
HCP (NYSE:HCP): Up 8.5%
Digital Realty (NYSE:DLR): Up 11%
Explaining REIT Volatility
To the innocent bystander, it may be difficult to understand why REITs trade around so much. Why in the world is Realty Income up 16% in the span of two months, when nothing substantive has happened at the company?
But there is much more to a REIT than just the real estate component. You have the debt load, ongoing operational issues, and the fickle market's view of the worth of the company's yield and quality of the sources of the REIT's cash flows.
And when you take a look at the left side of a REIT's balance sheet, consider the relative volatility that one can see in the real estate market. Similar houses in a neighborhood can sell for varying amounts depending on the time of year, the motivation of both the buyer and seller, and the side of the street the house sits on. It's easy to see 10-20% variance in selling prices of apples to apples real estate.
So given its 16% rise YTD, Realty Income's yield has dropped 100 basis points in the span of two months. Your personal cap rate on buying shares of O has dropped from 6 to 5 percent. If you were in the market for an individual investment property and knew you could get it for $100K, would you be acceptable to paying $116K for it two months later?
O - 1 yr.

Be A Smart REIT Buyer
Though I was negative on Realty Income through most of 2013, I changed my tune at the beginning of the year, stating:
Realty Income, now selling at 15X this year's FFO expectations, at a 5.9% yield has become a worthy consideration for income investors seeking a high quality, diversified source dividend stream.
Well, I'm changing my tune once again. I'm not willing to pay $116,000 for that $100,000 house. It may be a fair price, but I'm looking for a bargain and a better cap rate on my money. Don't make the same mistake investors did last year chasing after Realty Income during the spring months.
The current $100,000 house on the triple net block continues to be American Realty Capital Properties , possessing a more reasonable FFO valuation and better yield. I'll take a chance on the newer construction, even though the builder hasn't been around quite so long. But even the price for entry there has gotten steeper and is approaching levels where I might advise against accumulation.
Other diversified, reasonably priced REIT parcels where I'm currently putting my money where my mouth is include:
The Rest Of The Year
Though I'm reluctant to throw a yellow flag up against this recent REIT run like I did to last year's early year melt-up - since valuations are much less extreme - it is starting to feel like deja vu all over again. Since the macro-picture and bond market gyrations are guiding REIT pricing, you should have some sort of flat- to dovish-rate thesis in mind if you are buying wholesale at this juncture. Undoubtedly, if the taper proves successful and consensus starts to see 2015 as a year of "tightening," REITs, and other rate-sensitive fare will not perform well the second half of the year.
My advice to the average REIT investor is to be diversified amongst a basket of names and put the brakes on any aggressive buying. While values remain, the ghosts of group trading action last year should figure prominently in your decision making this year.
Disclosure: I am long ARCP, HME, OHI, LHO, LXP, EPR. I wrote this article myself, and it expresses my own opinions. I am not receiving compensation for it (other than from Seeking Alpha). I have no business relationship with any company whose stock is mentioned in this article.
Disclaimer: The above should not be considered or construed as individualized or specific investment advice. Do your own research and consult a professional, if necessary, before making investment decisions.