Today's ISM Non Manufacturing (Services) report came in considerably weaker than expected at a level of 51.6 compared to economist expectations of 53.5. While respondents to the survey cited weather as having a big impact on their businesses, one quote that stuck out pertained to how the new healthcare law is impacting business. According to the report, "The Affordable Care Act is creating significant financial uncertainty to healthcare organizations. With little warning, the negative impact on revenue has been unprecedented." While weather has definitely made its presence felt on the economy in the last three months, it is not the only factor at work.
The chart below shows the historical levels of the ISM Services report as well as the combined ISM, which takes both Manufacturing and Non Manufacturing into account and weights the two based on their share of the US economy. At a current level of 51.6, today's ISM Services was the lowest since February 2010. Likewise, on a combined basis February (51.8) was also the weakest since February 2010. If these two indices do not start turning around soon, the charts are going to start looking ugly.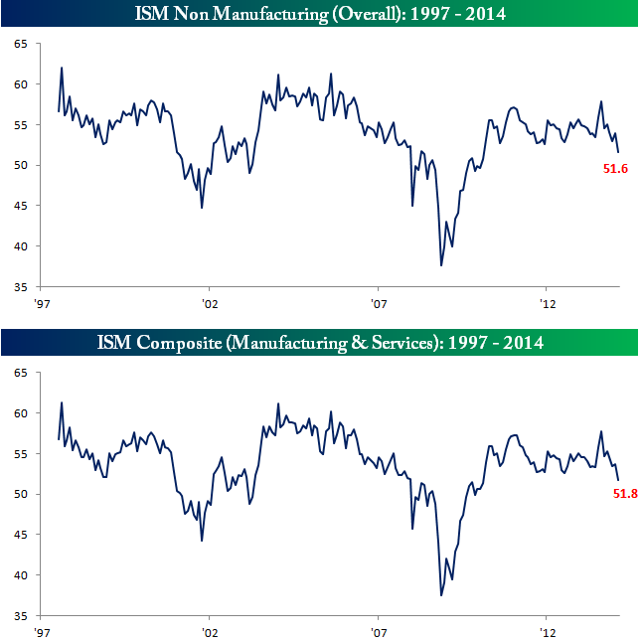 The table below breaks out today's ISM Services report based on each of the index's components and compares their levels to the prior month and one year ago. As shown in the table, there were not a lot of bright spots in today's report. Compared to last month, just three components (New Orders, Backlog Orders, and Supplier Deliveries) rose this month. Of the six components that declined relative to January, Employment saw the largest decline falling from 56.4 down to 47.5. This is the largest monthly decline since November 2008 and the second largest decline going all the way back to 1997 (see chart below). While the correlation with the monthly non-farm payrolls report isn't perfect, this reading does not bode well for Friday's employment report. Compared to last year at this time, the breakdown of today's ISM Services report was even weaker. Of the ten components, the only one higher now than it was last year is inventories.