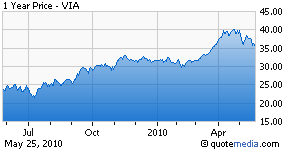 We notice an overall positive trend in recent Zacks Consensus Estimate Revision for Viacom Inc. (NYSE:VIA). Increase in advertisement expenditures by several enterprises benefited the media companies including Viacom. This trend is likely to continue in near-future. We believe analysts are primarily convinced by this favorable business environment.
First Quarter 2010 Highlights
Despite 38% increase in net earnings, Viacom's first quarter EPS falls short of the Zacks Consensus Estimate by 17 cents. Quarterly total revenue of $2,786 million was also below the Zacks Consensus Estimate of $2,929 million. Home Entertainment revenue, Theatrical revenue, and Television license fees declined in the reported quarter.
Nevertheless, first quarter result had several positive attributes. Viacom increased its ad sales for the first time in nearly two years. U.S. ad revenue increased 1% year-over-year and international ad revenue increased 3% year-over-year.
Viacom's cable TV networks posted solid performance as a result of considerable increase in ratings. Worldwide affiliate revenues grew 9% year-over-year. Although the Paramount Pictures division continued making loss, Viacom significantly reduced its operating losses through effective cost cutting measures and focusing on smaller slate of films.
Agreements of Analysts
Overall the Zacks Estimate Revision Trend is quite favorable. In the last 30 days, out of 17 analysts covering the stock, 5 analysts revised their estimates upward for the ensuing second quarter and 8 analysts raised estimates for the following quarter.
Furthermore, out of 15 analysts, 9 analysts moved up their full fiscal 2010 earnings estimates and out of 12 analysts, 8 analysts raised their full fiscal 2011 earnings estimates during the same time period.
The positive impetus for estimate revision stems from an improving U.S. economy and strong rating for the cable TV channels that helped Viacom to generate healthy revenue growth based on advertising and affiliate fees. After a gap of one and half years, it seems that enterprises are inclined towards advertisement spending in order to win consumers attention. Several automakers, toy companies, technology companies, and retailers are raising their advertisement budgets which in turn benefits Viacom.
Nevertheless, we also notice some reversals of the positive trend. In the last 30 days, 3 analysts reduced their earnings estimates for both second quarter and third quarter of 2010. Major risk of Viacom is the continuation of loss of its Filmed Entertainment segment. This was primarily due to fewer films released by Paramount movie studio and ongoing slump in DVD sales.
The current Zacks Consensus EPS Estimate of 56 cents for the second quarter indicates a growth of 15.3% year over year. Similarly, for full fiscal 2010, the current Zacks Consensus EPS Estimate of $2.77 is indicating a growth of 8.1% year over year.
Magnitude of Estimate Revisions
In synergy with the overall upward revision of estimates recently, the Zacks Consensus Estimate has moved up by 7 cents, in the last 30 days, for the ensuing second quarter and by 3 cents for the following quarter. Accordingly, for full fiscal 2010, the Zacks Consensus Estimate moved up by 5 cents in the last 30 days and for full fiscal 2011 Zacks Consensus Estimate also moved up by 12 cents during the same time period.
Our Take
Viacom benefits from a well-balanced asset mix with entertainment content at its core. The company enhanced its brands worldwide through the creation and acquisition of hit programming, new channels, successful motion pictures and other forms of entertainment, including video game offerings. An improving economic outlook together with Viacom's disciplined management team continues to make us optimistic about the company's future growth prospects.
The stock is currently trading at significant low multiples, with respect to several valuation metrics, compared to its peers, which we believe does not adequately reflect the true growth potential of Viacom and thus we maintain our Outperform recommendation as depicted by Zacks Rank #2 (Buy).