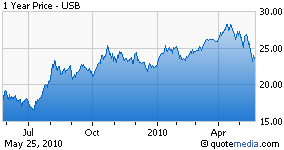 U.S. Bancorp (NYSE:USB) reported first quarter 2010 results on April 20, in line with the Zacks Consensus Estimate. Results compare favorably with both prior-quarter and prior-year earnings, primarily due to strong growth in revenues.
However, following the earnings announcement, the response from the analysts covering U.S. Bancorp has been mixed. While some of the analysts made upward revisions on the back of decent growth in revenues, others have revised downward citing the continuing stress in the commercial, commercial real estate, residential real estate and consumer loan portfolios of the company.
Earnings Report Review
U.S. Bancorp's first quarter 2010 earnings of 34 cents per share were in line with the Zacks Consensus Estimate. Revenues were strong at $4.3 billion, up 11.3% year over year, reflecting growth in interest income and fee income.
Credit metrics continued to deteriorate in the quarter, though the pace moderated. Net charge-offs (excluding covered loans) were 268 basis points (bps) of average loans outstanding, up 14 bps sequentially and 86 bps year over year.
Profitability metrics improved both sequentially and year over year. Return on average assets and return on average common equity were 0.96% (up 10 bps sequentially and 15 bps year over year) and 10.5% (up 90 bps sequentially and 150 bps year over year), respectively.
Agreement of Analysts
There were no major surprises in U.S. Bancorp's earnings. While management expects a relatively stable second quarter, the company made it clear that it would not increase its dividend until the economic recovery stabilizes and the regulators approve.
Of the 27 analysts covering the stock, 1 analyst raised while 2 lowered their estimates in the last 30 days. Also, for full-year 2011, 3 analysts have increased their estimates in the last 30 days, while only one has downwardly revised in the last 7 days.




Magnitude of Estimate Revisions
The first quarter's in-line results were neither encouraging nor glum. The Zacks Consensus Estimate remains unchanged in the last 30 days for full-year 2010. However, for full year 2011, the Zacks Consensus Estimate is up a cent to $2.26 per share over the last 30 days.



Our Take
Considering the trend and magnitude of the estimate revisions, we find that there is no clear directional pressure on the shares. This justifies the Zacks #3 Rank, which translates to a short-term Hold recommendation.
We expect U.S. Bancorp to post growth in core earnings and benefit from its diversified revenue base and strategic acquisitions. The company has weathered the economic downturn relatively well and was one of the first few companies to repay the TARP bailout money, along with JPMorgan Chase (NYSE:JPM), Goldman Sachs (NYSE:GS), BB&T Corporation (NYSE:BBT) and Morgan Stanley (NYSE:MS).
Nevertheless, we think that the stressed residential real estate markets and mortgage-related industries, as well as the impact of the U.S. economic issues on commercial and retail customers will continue to weigh on the shares in the coming quarters. As such, our long-term recommendation for the stock also remains "Neutral."