McDonald's (NYSE:MCD) is currently facing a challenging environment where it is seeing slowing growth and many investors are wondering whether this is a reversible short-term trend or beginning of a new long-term trend where growth will be lacking for years to come.
The chart below shows the company's annual revenues for the last 30 years. Notice that the slope of the line is getting smaller than usual after 2012 if we exclude the recession of 2008, which hurt the company's sales greatly.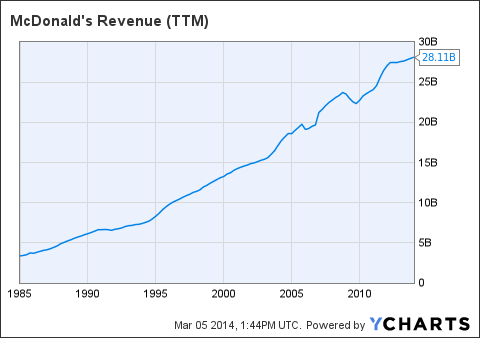 Historically, McDonald's has been growing its revenues every year with the exception of a few spots here and there, mostly caused by a slowdown in the global economy. Notice that after falling by about 13% in 2008, the company's revenues increased in the next year by about 40%, which signifies an impressive recovery. In the last couple years, the company's year-to-year revenue growth has been around 1-2%, which is far below historical averages (which tended to be closer to 10%).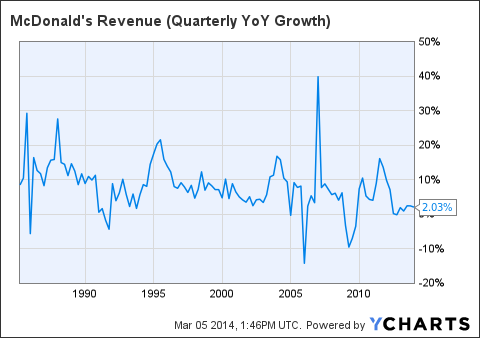 In the last 10 years, McDonald's was able to grow its net earnings by 237.4% while the company's earnings-per-share grew by 328.0% during the same period. Notice how the gap between the two metrics start getting wider and wider starting 2009. This is a result of the company's increased share repurchasing activity. Many times investors underestimate the power of share repurchases but in this chart, we can clearly see that these repurchases have been helping the company's bottom-line greatly by increasing net income per share nicely.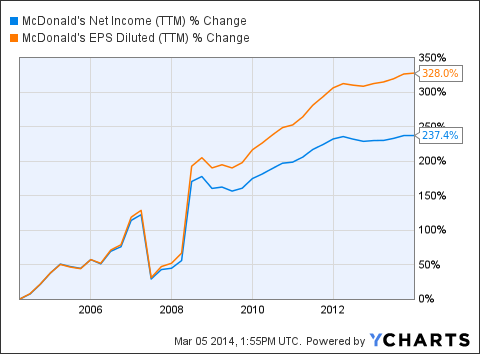 Then how much of the earnings growth actually came from margin expansions? When a company's profits grow faster than its revenues do, we can talk about a margin expansion. This could come from expansions in gross margins, operating margins or net profit margins. If we look at the last decade, we see that McDonald's was able to grow its net income by 237.4% while the company's revenues grew by only 58.43% during this period. Notice that the company's gross profit saw an even smaller growth of 22.96% in the last decade. It looks like the expansion of operating margins accounted for most of the earnings growth for McDonald's.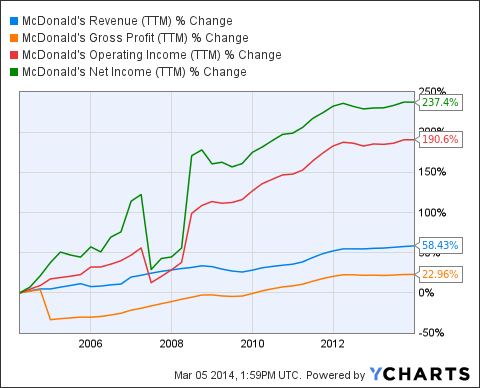 Looking further down the line, we see that McDonald's is currently enjoying an operating margin that is near (if not at) all-time high levels. As this trend has been going on for a few years, this may be sustainable; however, it is difficult to tell if there is room for any more margin expansion. The company might have to start accelerating its revenue growth or share repurchases in order to increase its earnings growth.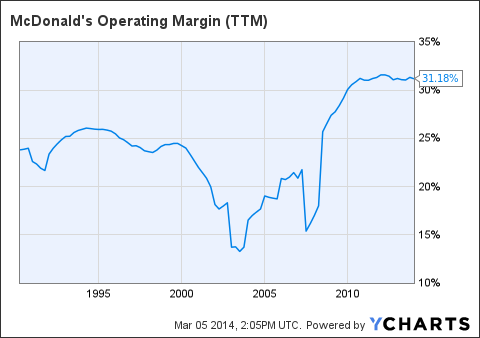 If we look at the company's effective tax rate, it always seems to trend between 30% and 35%. In the last 12 months, the company's average effective tax rate was nearly 32% and this is unlikely to change drastically anytime soon. As McDonald's operates in almost every country in the world, the company faces a very complex tax code even though its tax rate is usually predictable due to the long-term trend mentioned above. This is one area where McDonald's can't really show much improvement because if the company's profits go up, so will its taxes.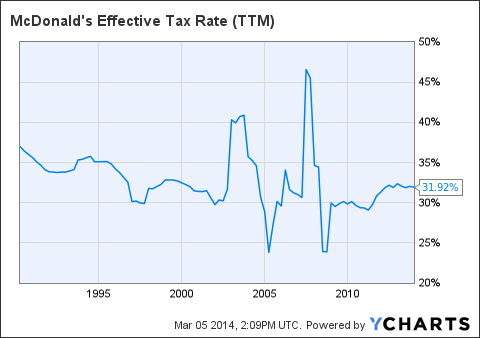 In the recent years, the food industry has been facing rising commodity prices as well as higher labor costs. Due to its massive size, McDonald's has been mostly out of trouble in both areas even though this affected the company's gross margins negatively. The company has at least some control over its commodity costs due to its size and global presence, however, commodity costs will continue to be an important factor to consider. As for labor costs go, there is still a lot of uncertainty about the future of healthcare reform (not only in the US but all over the world) as a lot of governments across the globe are trying to find ways to pass on healthcare costs to companies. Furthermore, there will be discussions regarding raising the minimum wage in the US in the next year or so, which may hurt McDonald's' bottom line, as the company mostly pays minimum wage to its staff.
In 2014 and 2015, McDonald's will be increasing the number of restaurants by about 3% to 5% and this should increase the company's revenues nicely even in the absence of a comparable-store sales growth. Recently, the comparable growth has been sluggish for the company but I wouldn't be surprised to see it grow by about 1% this year. As the economy improves in the US and Europe, more people will be able to afford eating out more often; however, some of this may be offset with a lot of newcomers in the fast-food industry. Many people are seeing the crowding in the industry as a lot of once-small chains are growing nicely (one example is Chipotle). Even though McDonald's has been improving its food offerings and adding healthier choices to its menu, many people still associate the company's name with unhealthy eating habits, and the company will probably invest in marketing more than usual in order to change this perception.
If we look at the company's historical P/E trends, we are seeing that the company is currently enjoying a ratio lower than historical averages, with the exception of early 1990s and a period in 2010 when the stock market was widely worried about Greece going bankrupt. Moving forward, McDonald's is expected to earn $5.85 this year followed by $6.34 in 2015 and $6.97 in 2016. If we apply an historical P/E of 19 to these estimates, we get price targets of $111 for this year, $120 for next year and $132 in 2016. If the company can actually meet these growth targets, these prices are pretty achievable but we will see how much success it has in growing its earnings and meeting expectations.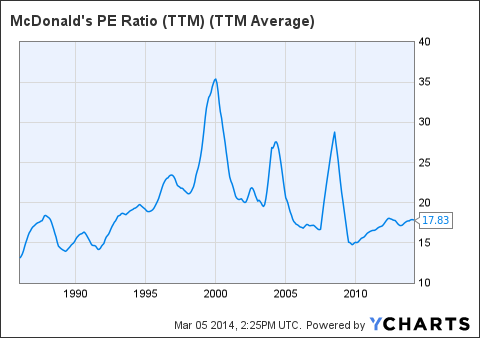 McDonald's is a decent investment that has a lot of potential, but at the end of the day, it will come down to how well the company can execute. It wouldn't be a bad idea to allocate a small position in this company as it has proven to be pretty reliable over the years.
Disclosure: I have no positions in any stocks mentioned, but may initiate a long position in MCD over the next 72 hours. I wrote this article myself, and it expresses my own opinions. I am not receiving compensation for it (other than from Seeking Alpha). I have no business relationship with any company whose stock is mentioned in this article.