G. Willi-Food International, Ltd. (NASDAQ:WILC) made an unexpected announcement earlier this week, whereby the company's founders agreed to sell their 58% interest in the company to Emblaze Ltd. (OTC:BLZSF), an Israeli-based company that trades on the London Stock Exchange (BLZ.L). Zwi Williger is WILC's Chairman of the Board, while Zwi's brother Joseph Williger is the firm's President of the company and a director. The two brothers have been with the firm since its inception more than 20 years ago and have held their majority stake in WILC through a holding company, Willi-Food, which also trades on the Israeli stock exchange.
On the surface, it may appear that the Williger brothers have decided to sell out. From a stock holding perspective, it is true. Emblaze has agreed to purchase the WILC shares held by the brothers in the Willi-Food holding company for $76.6 million, or about $10.15 per share for the 7.547 million shares held by the brothers. (Sources: 6-K and 20-F) It's obviously disappointing to see the majority owners sell out at a premium price in exchange for giving up control of the company, while the remaining shareholders see the price of WILC trade down on the news. However, it should be noted that the Williger brothers have agreed to remain in their current roles until September, 2017 (assuming shareholder approval). At that time, both of the brothers will be over 60 and perhaps ready for retirement. Emblaze also intends to provide the brothers with a put option on their recently granted stock options, allowing them to sell them at a price no lower than $12 over the next four years as they vest. These options represent another 7% of the fully diluted shares outstanding. WILC does have customer concentration risk in Israel, with two grocery chains accounting for a combined 32% of total 2012 revenue. I hope the change in ownership doesn't present a further risk to these important relationships.
Beneath the surface, investors will see that Emblaze Ltd. is controlled by Ukrainian businessman Alexander Granovsky, a reported billionaire with experience in food investments, who purchased a controlling stake in Emblaze last year. WILC and Emblaze were both involved late last year in efforts to reorganize IDB Holding Corporation, so presumably the two parties are very familiar with each other at this point. In a premium article on the Israeli news web site haaretz.com, a Granovsky spokesperson is quoted as saying "We think Willi-Food has the potential to expand in the United States." WILC management has talked about this same goal in the past. Perhaps Emblaze is in a better position to make it happen.
WILC's share price has traded down modestly following this week's news, and it is down more than 15% from its 52-week high in early January. I view this as a buying opportunity. WILC trades at less than 9 times my 2014 EPS estimate of $0.84, and the company had $4.75 in cash per share at the end of the third quarter. I expect management will provide assurances to shareholders on the fourth quarter conference call when results are released on March 18th. Given the soft revenue trends in the Israeli food market during the fourth quarter, I am looking for down earnings year over year, with an EPS estimate of $0.17 vs. $0.20 in the year ago fourth quarter. However, I remain optimistic about 2014 prospects, with estimated earnings of $0.84 on a slightly higher share count given recent option grants. Assuming steady exchange rates and no meaningful improvement in WILC's ability to convert net income into free cash flow over the next few years, I can still derive a near-term discounted cash flow price target of around $10 per share with a 10% annual growth rate assumption over the next five years. I can also get to prices around $13 if one assumes the company is successful in expanding internationally in 2015 and beyond. With upside potential of between 35-75% and a rock solid balance sheet, WILC is attractive, and I have added to my holdings with the recent price weakness. I look forward to hearing more from management in two weeks during the fourth quarter conference call. I also hope to learn about Emblaze's plans for their new investment after an expected closing later this quarter.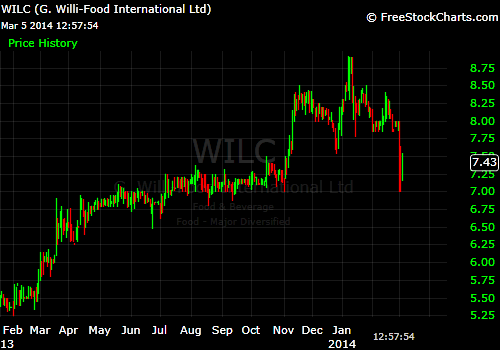 Disclosure: I am long WILC. I wrote this article myself, and it expresses my own opinions. I am not receiving compensation for it (other than from Seeking Alpha). I have no business relationship with any company whose stock is mentioned in this article.