Moelis & Co. (NYSE:MC), the independent investment bank, filed its IPO prospectus yesterday. The firm specializes in offering companies advice on mergers and acquisitions (M&A) and corporate restructurings; it's a classic investment bank. Recent big-headline deals that Moelis worked on include the purchase of H.J. Heinz Company by Berkshire Hathaway (BRK) and 3G Capital, the sale of NYSE Euronext to IntercontinentalExchange (NYSE:ICE), and the American Airlines (NASDAQ:AAL) Chapter 11 and subsequent merger with US Airways. One major difference between Moelis and firms with similar advisory businesses is that the company does not have a strong presence in issuance of securities (IPOs and debt capital markets) and also doesn't make markets in securities like many Wall Street firms' trading desks. In light of the IPO, we took a look at how other comparable firms did in the year following their opening trades. The below table includes a summary of each firm's IPO.
Moelis doesn't have any "perfect" comparables; because it is strong in a number of businesses that many Wall Street firms are active in, but does not have some of the other common lines of business. These aren't perfect comparables, but we believe looking at the performance of similar companies in the year following their IPO is an instructive exercise. For comparables, we selected Goldman Sachs (NYSE:GS), Evercore (NYSE:EVR), Lehman Brothers, Morgan Stanley (NYSE:MS) and Bear Stearns. Starting with the initial public offering, the chart below shows cumulative returns over the course of the first year of trading for each name.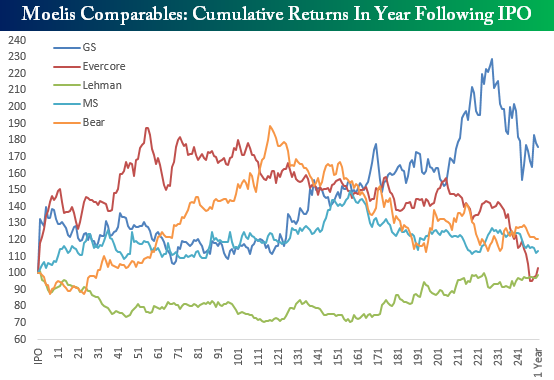 While some firms popped and stayed up (GS and Bear Stearns), others had a more difficult first year of public trading. Lehman Brothers had a very difficult first year, stumbling after its initial floatation and ending the year in negative territory. Keep in mind, these stocks were all IPO'd on different dates, so the date range for each name doesn't include the same broad market conditions.
In order to give an idea of how the market performed for Moelis' comparables, we show their composite cumulative returns relative to those of the S&P 500 over the same period in the chart below. While average performance versus the S&P was much higher, the strong returns from GS (up over 75% in its first year on the public markets!) masks volatility among the comparables. Three of the five underperformed the market, two of them by double digits.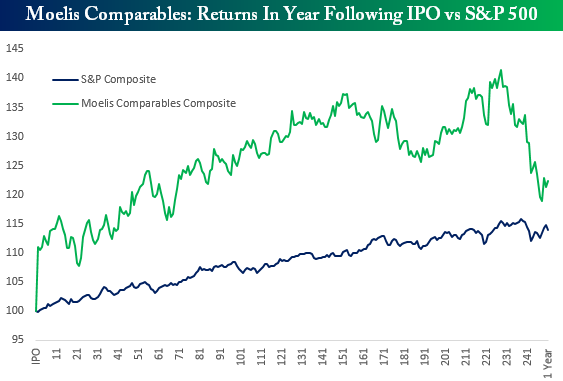 The takeaway: IPOs are hard to judge! All of these firms have had strong performances at different periods of their time on the public markets, but the first year of trading was definitely not uniform. If you decide to take a look at the Moelis IPO, do your homework. Moelis runs a business model that's a bit different from the firms described above, but it has lots of the same risk factors, so really understanding what you are buying is especially important here. Financial industry stocks can be big winners or big losers: keep in mind two of these firms were either bankrupted or acquired at a steep discount during the financial crisis.