Exxon Mobil (NYSE:XOM) shares were down over 2% Wednesday morning after the company offered disappointing guidance at its annual analyst day (presentation available here). Warren Buffett has taken a $4 billion stake in the company, which had provided shares with some momentum, but Exxon continues to struggle to grow production. Without production growth, shares are unlikely to keep pace with the broader market and competitors like Chevron (NYSE:CVX) and ConocoPhillips (NYSE:COP). Based on the company's guidance, Exxon shares are fully valued.
Exxon has been unable to grow organic production for over five years now as declines at existing wells more than offset the company's expansion efforts (financial and operating data available here). At the same time, the cost of extracting energy continues to increase as oil becomes scarcer. This leaves Exxon even more exposed to commodity prices to maintain its profitability. Unfortunately, I do not expect Exxon to grow production in 2014. As you can see from the following chart, Exxon has cut its production guidance and no longer is predicting growth in 2014 either.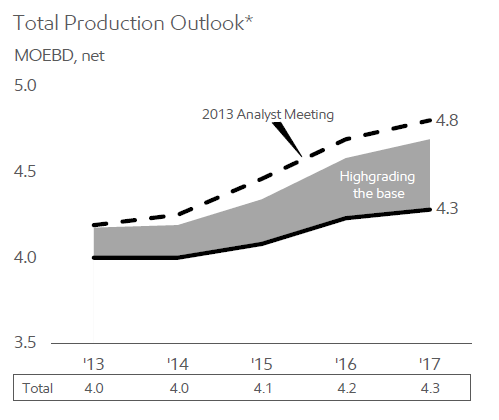 After 2014, Exxon expects to grow production at a 2-2.5% annual pace. While this would be nice growth, it does lag far below the production levels Exxon predicted last year. By 2017, Exxon's production will be 10% lower than it predicted a year ago. Now, Exxon is defending this drop by saying it is focusing on higher-margin opportunities. It will not drill for the sake of drilling and instead accepts lower production while generating higher margins. Even so, this is a very significant cut in the medium-term forecast. Exxon has also cut its cap-ex budget, which is partly responsible for the decline in output over the next few years. Here is Exxon's capital forecast: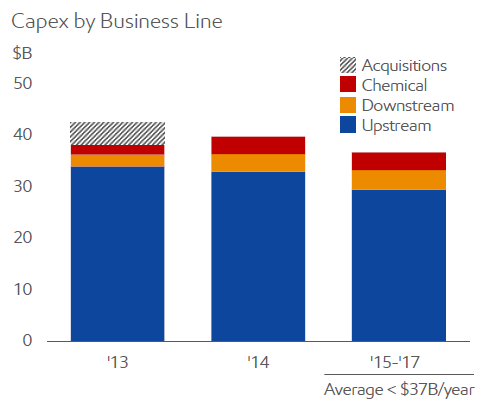 In 2014, Exxon will cut its cap-ex budget by about 6.4% to $39.8 billion. These cuts will continue from 2015-2017. Exxon plans on investing less in its business, which will slow production growth rates. However by spending less, free cash flow should improve, which will allow the company to buy more shares back. In a sense, Exxon appears to be sacrificing long-term growth for near-term capital returns. A lower budget also suggests that Exxon sees a limited number of profitable projects. If it had a lot of profitable options, it would be more likely to spend now like Chevron is and generate faster production growth. These results further suggest Exxon is a mature, slow growth company that can be owned for capital returns but not organic growth.
Despite this, Exxon shares actually trade at a relatively rich valuation. In 2014, I expect Exxon to earn about $7.60. At current prices, Exxon is trading at about 12.3x forward earnings. By comparison, I expect Chevron, which should grow production 1-3%, to earn $11-11.50, giving it a 10x multiple. ConocoPhillips, which should grow production by around 5% annually over the next five years, should earn about $6.15, for a 10.9x multiple. Thanks to a "Buffett premium," Exxon is now trading above peers despite a weak production outlook that the company just cut dramatically. While a lower cap-ex budget will help near term cash flow, it will make production growth even harder to achieve in the future. I continue to urge investors to rotate out of XOM and into CVX or COP. Exxon continues to be relatively overvalued.
Disclosure: I have no positions in any stocks mentioned, and no plans to initiate any positions within the next 72 hours. I wrote this article myself, and it expresses my own opinions. I am not receiving compensation for it (other than from Seeking Alpha). I have no business relationship with any company whose stock is mentioned in this article.