Black Monday in October of 1987 had a profound impact on the way I viewed investing. It didn't make me a perma-bear, nor did the 90s turn me into a perma-bull. Yet October 19, 1987, cemented in my mind the need to minimize downside risk.
Diversification via low-correlating assets may have been a key tool in the shed, but I didn't rely on it. I also considered stop-loss limit orders and a wide variety of "tale of the tape" signals. I favored put-call ratios, contrarian "magazine" indicators, volatility measures and moving averages.
In addition, I also tracked my "Atlas Shrugged" indicators. These included oil, railroads (transports) and industrials. Today, we can utilize key ETFs to see whether Atlas will shrug or continue bearing the weight of the world on his shoulder.
Specifically, United States 12 Month Oil (NYSEARCA:USL), iShares DJ Transports (NYSEARCA:IYT) and SPDR Select Industrials (NYSEARCA:XLI)… albeit quite imperfect… help us gauge what's happening to market-based securities. And right now, it's not particularly pretty.
1. United States 12 Month Oil (USL). If only Ellis Wyatt were running British Petroleum (NYSE:BP). Perhaps, then, the spill would be contained, drillers wouldn't be pariahs, and crude oil prices might be more stable.
Instead, we see a downtrend below the 200-day. Moreover, $70 per barrel is not exactly holding serve.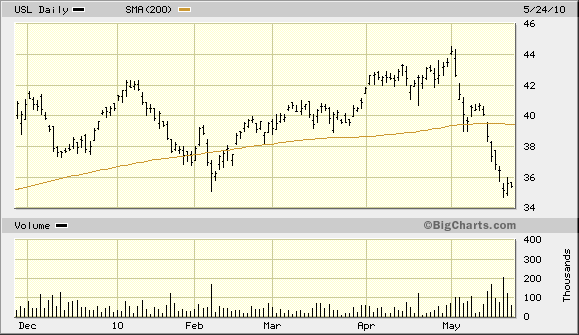 2. iShares DJ Transports (IYT). The DJ Transports Index includes truckers, shippers and air cargo… not just rail freight. Yet any reader of Ayn Rand would be keen on IYT as a measure of economic viability.
Surprisingly, transporters are one of the last bastions of hope, pleading for support from IYT's long-term trendline. Dagny Taggart would be momentarily pleased.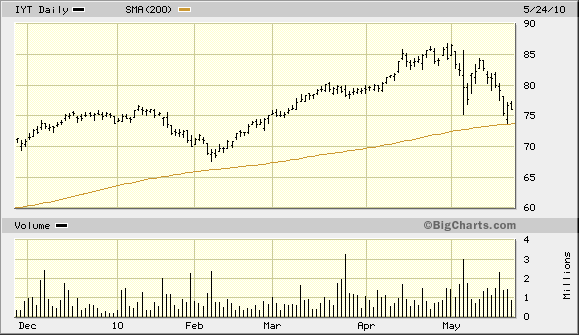 3. SPDR Select Industrials (XLI). Many people out there believe that… so goes General Electric… so goes the entire stock market. GE does have a 12% weighting here, and is by far the largest contributor. Yet I prefer XLI as a gauge since it also includes titans like Caterpillar, Boeing and 3M.
Alas, all may not be hopeless. Like IYT, the SPDR Select Industrials is still clinging to a 200-day. By the time this hits the blogosphere, however, who knows where things will stand. Atlas may simply decide to shrug.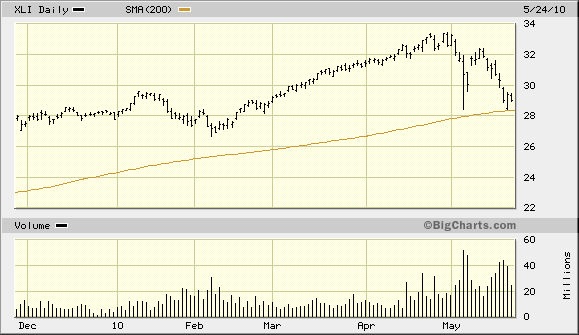 Disclosure Statement: Gary Gordon, MS, CFP is the president of Pacific Park Financial, Inc., a Registered Investment Adviser with the SEC. The company and/or its clients may hold positions in the ETFs, mutual funds and/or index funds mentioned above.The company receives advertising compensation at the ETF Expert web site from Invesco PowerShares Capital Management, LLC and Geary Advisors, LLC. The commentary does not constitute individualized investment advice. The opinions offered herein are not personalized recommendations to buy, sell or hold securities.