Macy's Inc. (NYSE:M), on Feb. 28, 2014, declared a regular quarterly dividend of $0.25 per share of common stock, payable to shareholders of record on April 1, 2014. Macy's has been consistently paying regular quarterly dividends as well as consistently increasing its dividends year over year. Since 2011, the retailer has increased its dividends by 400% to an annual dividend of $1.00/share. Its strong business strategy, solid business model and financial performance allowed it to return significant cash to share holders. This performance has also positively impacted its share price. Consequently, its stock has surged more than 630% over the past five years.
The key reason behind its success is the smart business strategy the company is working on. Macy's, with head offices in New York and Cincinnati, is one of the America's premier retailers with about 840 stores in 45 states, the District of Columbia, Guam and Puerto Rico. The company does business under the names of Macy's and Bloomingdale's, as well as the macys.com and bloomingdales.com websites. Let's dig into Macy's business strategy and financial position to see its ability to sustain returns.
Macy's Business Strategy
Like other retailers, Macy's is also coming up with smart business strategies along with investments in technology improvements, innovations and maximizing its real estate portfolio holdings. The company is implementing three key strategies for continued growth in sales, earnings and cash flow in the years ahead.
1. Maximizing the My Macy's localization initiative
2. Driving the omnichannel business
3. Embracing customer-centricity, including engaging customers on the selling floor through the MAGIC Selling program.
With My Macy's localization initiative, it is investing in marketing and technology. This strategy encourages size, ranges, shopping experiences and marketing programs that align with customer needs. My Macy's provides the company with better local decision-making in every Macy's community. Its second and most important strategy is to drive the business in an omnichannel approach. This strategy enables customers to shop flawlessly in stores and online.
A key part of this strategy is its ability to permit associates in other stores to sell merchandise that may be out of stock locally. Similarly, Macy's online fulfillment centers can draw on store inventories countrywide to fill up orders that originate on their retail website. This strategy has been working, as in the recent quarter, approximately 500 Macy's stores are fulfilling orders from other stores. Lastly, Macy's MAGIC Selling program is designed to engage customers in a way that helps the company to understand customers needs, over and above to provide advice and options. The MAGIC Selling program improves the overall in-store shopping experience and helps build customer loyalty.
Along with working on these strategies that enhance customer experience and allow customers to shop freely through multiple channels, it is also investing in order to expand the number of stores it operates countrywide. Over the year, it opened several new Macy's stores in Victorville, California and Gurnee, Illinois as well as expanded into an additional location in an existing mall in Las Vegas and Nevada. The company also opened a Macy's replacement store in Bay Shore, New York and opened Bloomingdale's Outlet in Rosemont, Illinois.
Financial Position, Cash Flow and Dividends
Macy's generated strong financial performance in 2013 with its ability to implement its strategies that are showing continued improvement in its ability to serve growing customer needs. The company's top line growth remains strong, with its fourth consecutive year of comparable sales growth. The company has grown its top line by nearly $4.4 billion over the last four years. With a solid top line growth and strong cost management, it has been able to generate double digit growth for the fifth consecutive year in its bottom line. Macy's has posted earnings per share of $4.00 excluding items, representing an increase of 16% over fiscal 2012.
This strong growth in both top and bottom lines further enhances Macy's cash generating potential. The company's operating cash flow reached $2.5 billion compared with $2.1 billion in fiscal 2012. Due to the size of the business and its operational structure, as opposed to other industries like drilling, petroleum and gas or some other capital intensive industries, it does not need to allocate a significant amount to capital spending each year. It has invested only $62 million recently and is looking to invest only $1 billion in this current year. Consequently, Macy's has a considerable amount in cash flows available to pay out dividends and continue share buy backs.
It is paying only $359 million in dividend payments. The company is aggressively working on its share repurchase program, as in the past year, it repurchased around $1.6 billion of shares, and it is looking to buy back $1.4 billion of common stock this year. I firmly believe the aggressive buybacks by the company will affect share price and dividends in a positive way. Its cash flows provide cover to both dividend payments and stock buybacks that make both activities completely safe.
Does Nordstrom stand over Macy's?
Nordstrom (NYSE:JWN) is a leading fashion specialty retailer and operates more than 260 stores in most US states. Somehow, it is also working on a similar strategy that Macy's is applying. Nordstrom is seeking to improve customer shopping experience by making use of all possible channels. Its business plan is to expand its online retailing presence, investing in existing stores as well as reaching new markets, particularly Canadian markets. In order to enhance shopping experience, there is an effort being made throughout the company where it continues to leverage technology, its Nordstrom Rewards program, inventory access, supply-chain logistics and marketing.
The strategy seems to be working for the company so far as it is achieving strong growth in both its top and bottom lines. Recently, Nordstrom announced full year results with top line growth of 3.4% and earnings per diluted share at $3.71 per share, which exceeded the company's full-year expectation of $3.65-$3.70. Even though both companies' top line growth is strong, Nordstrom has not been able to turn higher revenue growth into higher earnings as quickly as Macy's. Based on Morningstar figures, on average in the past three years, Macy's has been able to grow earnings by 59.9% where Nordstrom's earnings growth only stood at 18%. Macy's has been generating double digit growth in its bottom line over the past five consecutive years.
Both companies look solid when looking at their cash-generating potential. I have explicitly talked about Macy' potential; now let's compare it with Nordstrom's.
Nordstrom has been consistently increasing its dividends; the latest increase which occurred a few days ago was 10%, which took its annual dividend to $1.32/share. Its potential to generate strong cash flows enables it to make consistent increases in its dividend as evidenced by its operating cash flows which have enabled it to fully cover its dividend payments. In 2013, it generated $1.32 billion in operating cash flows, capital expenditures were at $803 million and dividend payments were only at $234 million. Therefore, it had a large amount of free cash flows in the range of $324 million.
Thus, after paying out its dividend and making investments in growth opportunities, Nordstrom has sufficient cash for share repurchases. The company continues to work on a buyback program after having repurchased 2.5 million shares in Q4. Both companies look strong in terms of cash generating potential. However, Macy's looks a little better here as well. Macy's has been increasing its operational cash flows at a faster rate than Nordstrom, mainly due to its ability to generate a much higher growth rate in its earnings. Nevertheless, with the predicted growth in their top and bottom lines, these companies' cash generating potential should continue the trend of increasing dividends.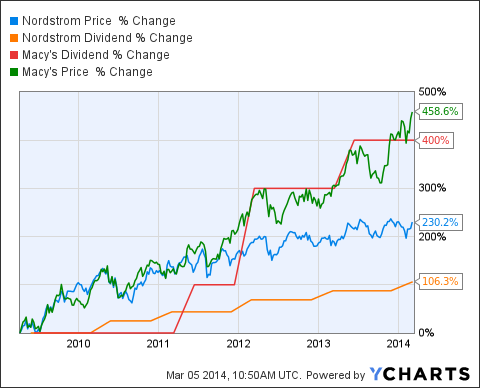 Looking at the above chart, we can observe the difference between both companies' cash generating potential which I mentioned above. Macy's has been able to increase its dividend by 400% in past two year alone, while Nordstrom has managed to increase dividend by 106% in the past five years. In addition, over the past 5 years, Macy's has generated higher value for investors in terms of price appreciation, as it has risen 458.6% as compared to Nordstrom's 230.2% rise. The reason might be Macy's better financial performance as a result of a strong implementation of its strategic goals. At the moment, both companies are trading at similar multiples with M trading at a PE of 14.87x and JWN trading at 16.61x. Macy's again has the edge on value as it trades at a slightly lower multiple.
In my opinion, if I were to add one of these companies to my portfolio, I would go with Macy's. It looks to have better market share and has as better relationship with customers due to its omnichannel approach. It is also generating high double-digit growth in its earnings which puts it in a better cash position to positively impact the growth of its dividends as well as investor confidence.
Disclosure: I have no positions in any stocks mentioned, and no plans to initiate any positions within the next 72 hours. I wrote this article myself, and it expresses my own opinions. I am not receiving compensation for it (other than from Seeking Alpha). I have no business relationship with any company whose stock is mentioned in this article.