NetEase (NASDAQ:NTES)
shares have declined 7% since the company reported 1Q10 results on May 19, driven by four factors: weaker-than-expected Q1 earnings, overall market weakness due to euro-related concerns, lack of positive news on World of Warcraft approval process, and change of investor relations policy to no longer disclose game operating metrics. Among these share price drivers, I believe the move to stop releasing game metrics will hurt NetEase's stock valuation the most in the long term.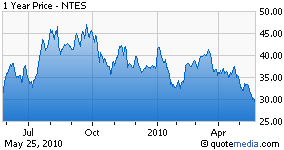 NetEase used to be the most investor-friendly Chinese online game company: It was the only one in the industry to disclose quarterly Peak Concurrent Users (PCU) and Average Concurrent Users (ACU) for its flagship games (Fantasy Westward Journey (FWWJ), Westward Journey 2 (WWJ2)).
As FWWJ and WWJ2 are time-based games, disclosing their ACU numbers is almost equivalent to disclosing how much revenue these two games have generated, based on this formula: Average Daily Revenue = Price per Hour x 24 x ACU. Such information allows investors to accurately see the revenue trends of NetEase's key games, which is a "mission impossible" for other Chinese game companies. However, in the 1Q10 earnings release and conference call, NetEase suddenly became the only major Chinese online game company that does not disclose any operating metrics.
This dramatic change has made it difficult for investors to figure out what has been the drivers of NetEase's disclosed revenues. In the long term, the lack of information disclosure increases the uncertainty and risks related to NetEase shares, and creates downward pressure to the stock's valuation multiple.
Disclosure: No positions