On 28 July, 1914 -- one hundred years ago this summer -- Austria-Hungary declared war on Serbia, a much smaller state with little means to defend itself. The Austrians thought the war would be over before Christmas. Europe had, on the whole, been at peace since Napoleon was defeated at Waterloo, and by the end of the 19th century, the "balance of power" seemed so stable, Europe's leaders thought it was natural.
Though Germany, Russia, France, Great Britain and Austria-Hungary had been beefing up their militaries for decades, from the perspective of May 1914, the First World War was what we might today call a "black swan": an event so catastrophic and implausible it even took very intelligent people by surprise.
The current crisis in Ukraine shares some eerily similar qualities to the situation that devolved into hostilities a century ago. Central Europe and the Urals are in many ways the crossroads of the world, from the days of the Silk Road to the modern strategic oil pipelines crisscrossing the region. (Of the fifteen major energy conduits in use or under construction, Russia controls seven.) And since Peter the Great, Russia has not been shy about extending its global influence.
Markets have largely shaken off the conflict, until last Monday when the Global Dow closed down 1.5%. There are three options for resolution that will have a profound impact on stocks in the short and long runs.
A quick resolution
The crisis isn't only about freedom-loving Ukranians' desire to toss out a corrupt leader. The crisis is an ethnic conflict between Ukrainians (who speak Ukranian) in the west and ethnic Russians in the east. Vladimir Putin might see this as an opportunity to annex eastern Ukraine and the Crimean peninsula, but in the face of concerted and determined effort by Western powers, he might back down. If this scenario comes to pass, European and emerging market stocks will rebound fast and the rally may have long legs.
American and international companies that do business in Eastern Europe, the Urals and Central Asia will also probably see a stock price bounce, as the limits of Putin's strongman politics are defined. EMC (EMC) hires software developers in Moscow, Kimberly-Clark (KMB) is building one of its largest factories nearby, and General Electric (GE) signed an agreement last month with Russian state oil company Rosneft (LSE:ROSN) to create scientific and engineering centers in Russia. A peaceful resolution will mean business -- and growth -- as usual. More importantly, it will be a victory for the West and international business over the largest and most powerful practitioner of authoritarian crony capitalism.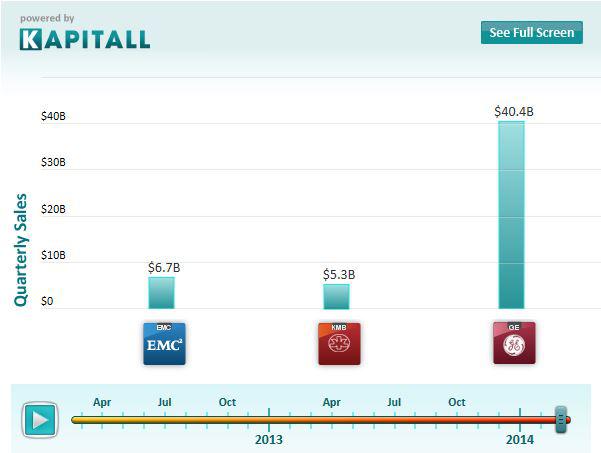 Click here to get more information on these companies' financials.
War on a small scale
War on a small scale between Russian (or Russian-backed) and Ukrainian forces will send the price of gold and energy soaring. American energy production is already reaching levels not seen since the early 20th century. If global supply is constricted -- especially the supply to Europe and China delivered by Russia through Russian pipelines -- the US may become, once again, a net exporter of oil and gas.
Bloomberg reports that two major Russian oil and gas oligarchs, Gennady Timchenko and his partner Leonid Mikhelson:
lost a combined $3.2 billion of their wealth after their gas producer OAO Novatek tumbled 18 percent
in the wake of Russian military action earlier this week. That's good news for International giants like Exxon-Mobil (XOM), Chevron (CVX) and BP (BP) and gas exporters like Cheniere Energy (LNG) and Chart Industries (GTLS). These companies could see a short-term stock price boost from a limited war.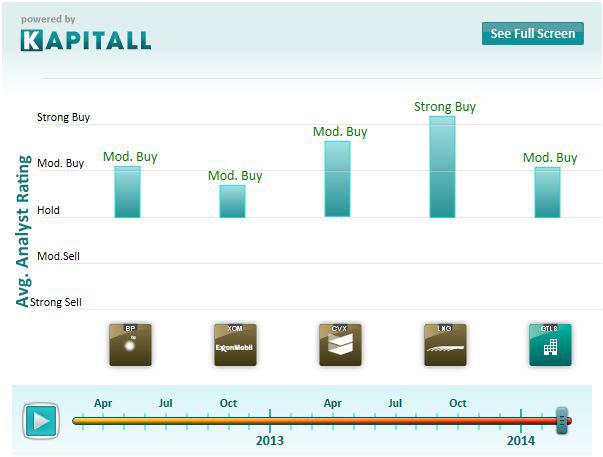 Click here for more analysis of oil and gas producers' exposure to Russia.
Gold isn't just for jewelry; it is a trusted store of value all over the world since the beginning of time. Whenever crises erupt, investors rush into gold. Gold ETFs like SPDR Gold Shares (NYSEARCA:GLD), iShares Gold Trust (NYSEARCA:IAU) and Physical Swiss Gold Shares (NYSEARCA:SGOL) and mining ETFs like Market Vectors TR Gold Miners ETF (NYSEARCA:GDX), Global X Pure Gold Miners ETF (NYSEARCA:GGGG), Powershares Global Gold and Precious Metals Portfolio ETF (NASDAQ:PSAU) might also see a significant boost.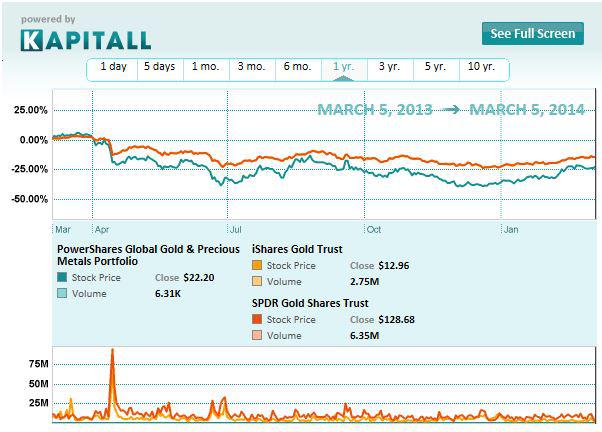 An extended military operation
A protracted military confrontation could look like Vietnam or Afghanistan, where major powers seeking to avoid direct action fund, arm and train local forces on the ground. In this scenario, the only winners are weapons manufacturers and military consultants. The top three American defense contractors (who are in the top four global contractors) are Lockheed Martin Corp (LMT), Boeing Co (BA) and General Dynamic Corp (GD). Lockheed Martin and General Dynamic are not cheap, however; both of them now trade close to their 52-week highs, and their two-hundred-day simple moving averages (SMA200) of LMT and GD are 29.91% and 28.29% respectively.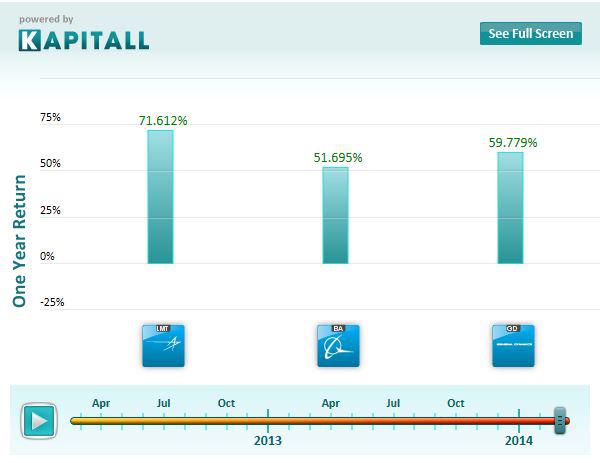 Click here for more information on the valuations of these companies.
A better (and safer) way to invest in defense may be ETFs like PowerShares Aerospace and Defense (PPA), SPDR Aerospace and Defense (XAR) and iShares US Aerospace and Defense (ITA). These funds cover not just arms suppliers but also a host of smaller technical support and domestic defense firms.
The real black swan is a war in which NATO allies and Russia and her allies engage in open combat. Given the news that Russia just test fired a new intercontinental ballistic missile, the appropriate action is to hope this doesn't happen.
Disclosure: I have no positions in any stocks mentioned, and no plans to initiate any positions within the next 72 hours.
Business relationship disclosure: Kapitall is a team of analysts. This article was written by Will Kenton, one of our writers. We did not receive compensation for this article (other than from Seeking Alpha), and we have no business relationship with any company whose stock is mentioned in this article.