Introduction
In one of my latest articles and when the natural gas price was hovering at $6.1/MMbtu, I made a bearish call on natural gas. In that bearish article, I presented the big picture of the natural gas market that translated into 12 reasons why the natural gas bubble was about to burst. Furthermore, I put my money where my mouth was and bought the bearish ETFs (NYSEARCA:KOLD) and (NYSEARCA:DGAZ) at $39.5 and $2.93 respectively, as disclosed.
I also disagreed with some popular newsletter providers like Dennis Gartman, who publicly claimed that natural gas could rise to $10/MMbtu. In fact, I have disagreed with Gartman more than once, including his wrong calls on oil and gold in 2012.
The natural gas bubble burst quickly. The price has dropped approximately 25% since then, and the April 2014 contract lies at ~$4.65/MMbtu at the time of writing. As a result, the bullish ETF (NYSEARCA:UNG) that seeks to replicate the performance of natural gas, dropped from approximately $28 to $24.9 in just a few days, as illustrated below: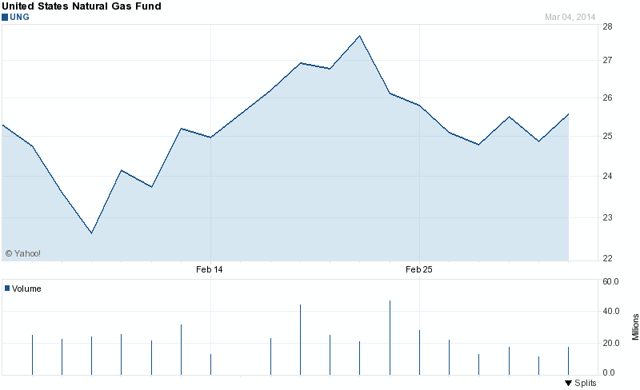 The other two bullish ETFs, (NYSEARCA:BOIL) and (NYSEARCA:UGAZ), dropped 10% and 25% respectively, as shown below: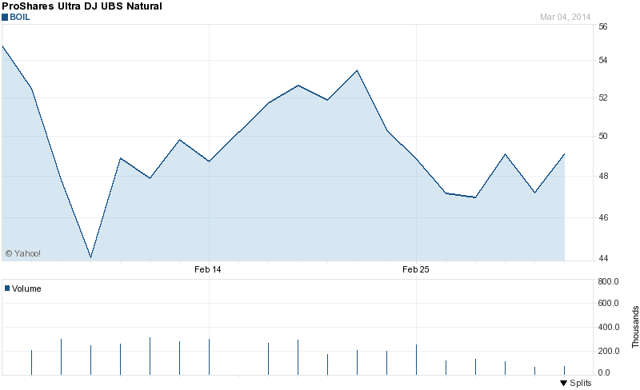 and: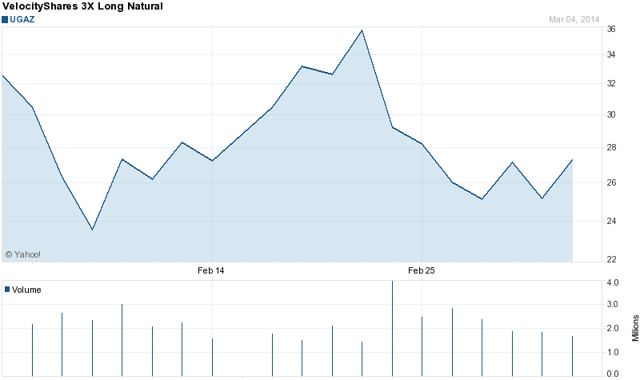 This plunge helped me sell both KOLD and DGAZ, locking profits of 10% and 30% respectively in less than one week.
How To Make The Right Call On Natural Gas
To make the right call on the future natural gas price when extreme upsides or extreme downsides occur, an investor has to know the big picture about the natural gas market, as presented in my linked article above. For instance, an extreme upside took place when the natural gas price surpassed $6/MMbtu a couple of weeks ago. Actually, that extreme upside was a typical case about how to make easy money.
Once the price stabilizes at lower levels, the right call on the natural gas price gets more difficult. To make the right call on the nat gas price within a one week time horizon, a trader has to bear in mind the following six parameters:
1) The weather on a daily basis.
2) The weekly storage number.
3) The weekly withdrawal or injection number.
4) The biggest natural gas consumers by state.
5) The biggest natural gas producers by state.
6) The UNG Rollover Dates.
In this article, there is no use discussing the first parameter. On the one hand, El Ninos and snowstorms are highly unpredictable. On the other hand, there are many TV channels and websites with up-to-date weather forecasts and useful insight on a 24/7 basis. As such, I will focus on the remaining five parameters in the next paragraphs.
The weekly storage number is directly related to the weekly withdrawal/injection number, which is a crucial figure that moves the needle on all the bullish or bearish ETFs every week. Will Energy Information Administration's (EIA) weekly numbers fall short of analysts' estimates? A bearish inventory report can push natural gas prices lower, while a bullish report can fuel a short-term rally.
The fourth and fifth parameters shown above can significantly help a trader estimate the weekly withdrawal/injection and storage numbers, and guess the move of the nat gas price on the short term. Although these two numbers are also dependent on a couple of additional factors (i.e. nuclear generation and outages, disrupted pipeline flows), the aforementioned fourth and fifth parameters are the heavyweights that impact most the final outcome every week.
Natural Gas Consumption in the U.S.
I have been reading numerous bullish projections over the last couple of years about the nat gas, its potential and how the nat gas use will spread rapidly all over the U.S. and Canada. Many natural gas bulls also believe that natural gas will dominate North America, sending the nat gas price at $7/MMbtu or higher much quicker than anticipated.
Since the speculation never helps us make the right calls, let's stay with the latest facts. According to the latest data from EIA (February 2014), the natural gas consumption by end use in the U.S. from 2008 to 2013 is illustrated below:
Lease &

Plant

Fuel (BCF)

Pipeline &

Distribution

Use

Residential

Commercial

Industrial

Electric

Power

Vehicle

Fuel

Total

Consumption

2008

1,220

648

4,892

3,153

6,670

6,668

26

23,277

2009

1,275

670

4,779

3,119

6,167

6,873

27

22,910

2010

1,286

674

4,782

3,103

6,826

7,387

29

24,087

2011

1,323

688

4,714

3,155

6,994

7,574

30

24,477

2012

1,396

728

4,149

2,895

7,224

9,111

30

25,533

2013

1,413

742

4,940

3,289

7,463

8,153

33

26,034
Here are some conclusions arising from the table above:
1) Natural gas consumption has been rising less than 5% on a year over year basis. This is obviously a very low annual increase.
2) It is surprising that natural gas use for power generation falls as industrial sector's use continues to rise, as also illustrated below: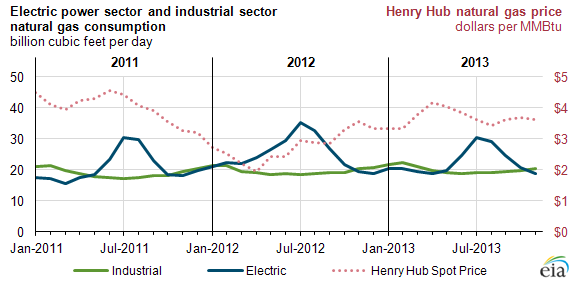 In fact, 2013 electric sector consumption of natural gas accounted for 35% in 2013 and was down from 40% in 2012, as shown below: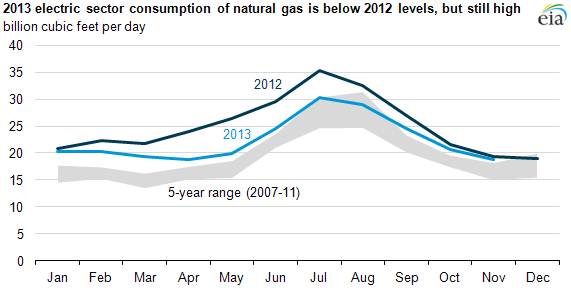 Taking into account that the average price for natural gas price in 2013 was approximately 30% higher than in 2012, we conclude that many fossil fuel power stations "reacted" to this significant increase of their operating costs by switching back to coal during 2013. Any investor can guess what is going to happen in case the nat gas price continues to rise in 2014.
3) The industrial consumption of natural gas has been increasing in recent years. In 2013, industrial consumption of natural gas was at or above 2012 levels, as also shown below: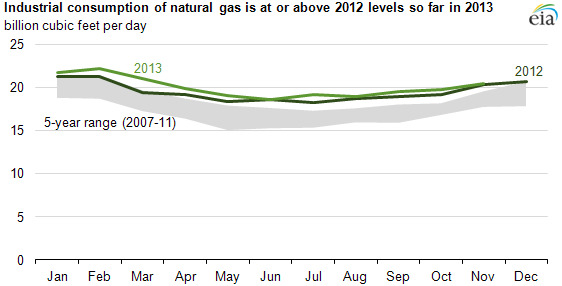 Many facilities have switched from oil to natural gas as a fuel or feedstock, given the large cost advantage of natural gas. Talking about the industrial sector's use, this chart below is another very interesting chart that demonstrates how the low natural gas prices in the U.S. have boosted the domestic plastic production, after a decline from the 2008 recession: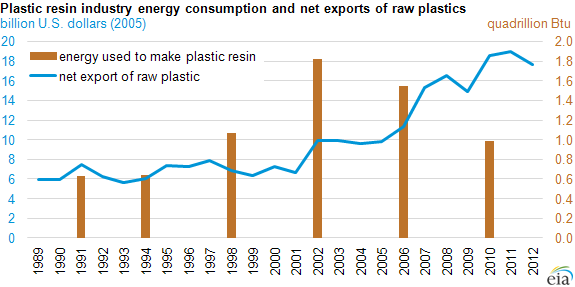 The plastics industry includes the production of bulk plastic resin (often as pellets) as well as the production of plastic products. Plastic resin and metals-based durables production are two of the largest energy consumers in the manufacturing sector.
Many U.S. plastic manufacturers use natural gas as their primary fuel source and natural gas-sourced liquids as a feedstock, and have a strategic advantage compared to their foreign peers, given higher foreign energy prices. Continued low prices for natural gas could increase further raw plastic U.S. production and exports over the coming years.
4) Commercial sector's and residential sector's use rose approximately 10% and 20% respectively compared to 2012. In fact, the residential sector's use returned back to the 2008-2011 levels, while the commercial sector's use had a slight annual increase of 4% compared to 2008-2011 levels.
Biggest Natural Gas Consumers By State
To estimate whether a snowstorm in sparsely populated North Dakota or Wyoming has a substantial impact on the U.S. consumption and the weekly storage report, we need to know first the biggest natural gas consumers by state. In this case, it will also be helpful if we know the residential portion of the total consumption for each of the Top-10 biggest natural gas consumers by state. As shown here, the residential consumption for the states of New York, Illinois, Ohio and Pennsylvania ranges from 20% to 40% of the total consumption for each state.
The table below shows the biggest natural gas consumers, based on the most recent dataset:
| | | |
| --- | --- | --- |
| Rank | States | Amount |
| 1 | Texas | 4,322,214 |
| 2 | California | 2,464,565 |
| 3 | Louisiana | 1,304,277 |
| 4 | New York | 1,171,919 |
| 5 | Illinois | 951,638 |
| 6 | Ohio | 802,024 |
| 7 | Pennsylvania | 634,792 |
| 8 | New Jersey | 564,922 |
| 9 | Florida | 543,143 |
| 10 | Oklahoma | 533,458 |
| 11 | Indiana | 501,704 |
| 12 | Alaska | 408,961 |
| 13 | Colorado | 380,022 |
| 14 | Wisconsin | 359,783 |
| 15 | Georgia | 351,108 |
| 16 | Massachusetts | 349,102 |
| 17 | Minnesota | 340,911 |
| 18 | Mississippi | 332,474 |
| 19 | Alabama | 331,028 |
| 20 | Washington | 312,746 |
Here are some conclusions arising from the table above:
1) Texas and California consume approximately 20.3% and 11.5% of the total U.S. consumption respectively.
2) Louisiana consumes approximately 6.1% of the total U.S. consumption.
3) The cold and densely populated state of New York together with Illinois, Ohio and Pennsylvania consume only 17% of the total U.S. consumption.
4) Each state shown between the 10th and the 20th position of the table above, consumes less than 2% of the total U.S. consumption.
Biggest Natural Gas Producers By State
Texas is by far the biggest natural gas producer in the U.S., followed by Louisiana, Pennsylvania and Oklahoma, as illustrated below: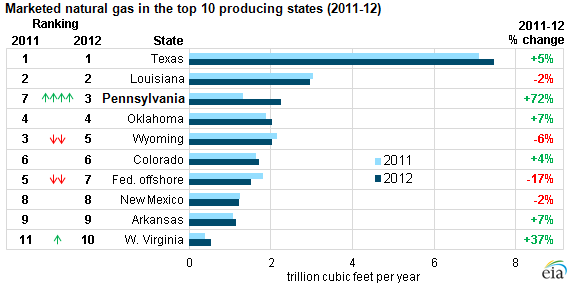 In terms of sheer volume of production, Texas will continue to hold the top spot over the coming years thanks primarily to the Eagle Ford region, where the nat gas production has been consistently rising on a YOY basis.
Pennsylvania is clearly the fastest growing natural gas producing state. The primary reason behind Pennsylvania's rise is the Marcellus formation, which produced less than 2 Bcf/d in 2010 and provided approximately 18% of total U.S. natural gas production in December 2013.
And thanks to Haynesville and Woodford formations, Louisiana and Oklahoma stand at the second and fourth positions respectively. At its current pace, Pennsylvania will likely take Louisiana's spot as the second-biggest natural gas producer in 2014.
Furthermore, ongoing improvements in advanced technologies for crude oil and natural gas production will continue to reshape the U.S. energy economy, and EIA estimates that natural gas production will grow steadily, with a 56% increase between 2012 and 2040.
The UNG Rollover Dates
Now I will discuss the sixth parameter shown in the second paragraph of this article. Rollover dates are the expected dates on which the composition of the Benchmark Futures Contract is changed or ''rolled'' by selling the near month contract and buying the next month contract. The change occurs over four days.
What impacts UNG, BOIL, UGAZ, KOLD and DGAZ is the contango and the backwardation. Contango is a headwind for the first three bullish ETFs, while backwardation is a tailwind for them. The steeper the contango is during the rollover dates, the bigger decay UNG, BOIL and UGAZ incur during the rollover process. This is why, the rollover dates in a contango case are also known as "the UNG, BOIL and UGAZ destroyers."
The opposite applies to the two bearish ETFs KOLD and DGAZ. Contango is a tailwind for KOLD and DGAZ, while backwardation is a headwind for them.
By knowing in advance the exact rollover dates, any potential buyer of UNG, BOIL, UGAZ, KOLD and DGAZ can find the respective contango or backwardation during the rollover period. The rollover dates for 2014 are shown below:
| | |
| --- | --- |
| Rebalance Start | Rebalance End |
| January 15, 2014 | January 21, 2014 |
| February 12, 2014 | February 18, 2014 |
| March 13, 2014 | March 18, 2014 |
| April 14, 2014 | April 17, 2014 |
| May 14, 2014 | May 19, 2014 |
| June 12, 2014 | June 17, 2014 |
| July 15, 2014 | July 18, 2014 |
| August 13, 2014 | August 18, 2014 |
| September 12, 2014 | September 17, 2014 |
| October 15, 2014 | October 20, 2014 |
| November 11, 2014 | November 14, 2014 |
| December 15, 2014 | December 18, 2014 |
Conclusion
Given that nothing has changed structurally in the North American gas market, I remain bearish on the nat gas price. However, there will be several short-term bullish moves over the next couple of years that will give us the chance to make some decent money. Needless to mention that I will try to guess these moves and jump aboard in a timely manner.
If you are also interested in jumping aboard the nat gas train and take a ride with me, stay tuned. I plan to disclose my strategy in my future articles.
Disclaimer: The opinions expressed here are solely my opinion and should not be construed in any way, shape, or form as a formal investment recommendation. Investors are reminded that before making any securities and/or derivatives transaction, you should perform your own due diligence. Investors should also consider consulting with their broker and/or a financial adviser before making any investment decisions.
Disclosure: I have no positions in any stocks mentioned, and no plans to initiate any positions within the next 72 hours. I wrote this article myself, and it expresses my own opinions. I am not receiving compensation for it (other than from Seeking Alpha). I have no business relationship with any company whose stock is mentioned in this article.