BlackBerry (NASDAQ:BBRY) will be due up to report earnings toward the end of this month. The stock has had an enormous run since John Chen took over as CEO. BlackBerry is up over 70% in the last three months (90 days mark to market), and is up nearly 36% for those that have invested in it year-to-date (since January 1, 2014). Additionally, it is one of my largest positions - I'm bullish on the technology and mostly, Interim CEO John Chen.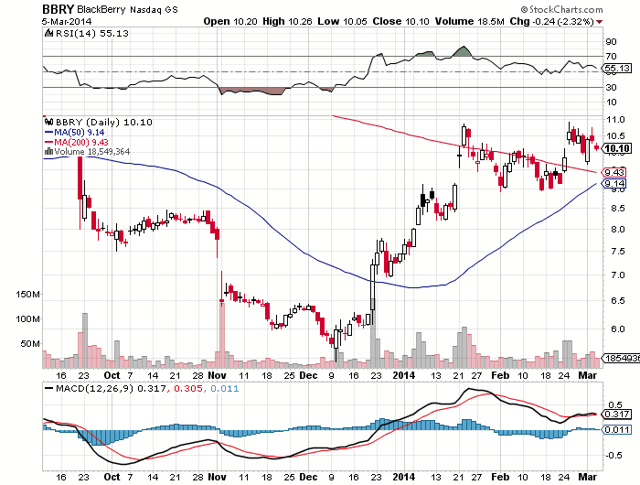 As BlackBerry moves through 2014, there has still been a fair amount of negative sentiment on the company by people who continue to think that it's dying, when that couldn't be further from the truth.
A lot of the bearish position to protect before earnings is due to:
the short interest decreasing significantly
a run up in the stock's price
no tangible evidence of the "transition"
What the bearish case doesn't understand is that BlackBerry has already been dragged through the mud as much as it possibly can. Analysts who are telling you to sell the company aren't paying attention to the fact that BlackBerry is now becoming an enterprise business, not a U.S. cell phone retailer, like it once was. Once that case is embraced, BlackBerry is likely to get more buy-side support and support for retail.
In Chen's open letter to shareholders, he affirmed that customers could continue to count on the company:
We understand the realities of the enterprise mobility market better than anyone, and we're in the game for the long term. We've been investing in enterprise mobility management - for any device - and thanks to customers like you, we're doing very well. Here's the proof:

Our EMM customer base is much larger than any of the other vendors in the Gartner Magic Quadrant for Mobile Device Management - and is growing.
We manage more mobile devices than any other vendor. Period.
We move more secure mobile data than anyone else.
We have substantial cash and are not a small VC-backed "pure play" MDM player seeking additional funds every year.
Additionally, the company continues to have rock-solid fundamentals. It sports a 5.24 billion market cap, and has a price/book ratio of just 1.33. It currently holds $5.91 in cash per share. Trading at $10, this is the definition of balance sheet strength. This company has exactly what it needs to give Chen what he needs to execute his transition. It then simply becomes a question of whether or not you think Chen is going to be the guy that gets the job done. Based on his miraculous turnaround at Sybase, I'd say he is going to be the man that gets the job done for BlackBerry.
All of that doesn't even factor in the good news that I've been writing about for the past couple of weeks - BBM's valuation in the face of the WhatsApp deal, BlackBerry's QNX going into Ford vehicles, and BlackBerry's QNX in vehicles being able to gel with Apple's (NASDAQ:AAPL) new in-car system. This is an instance of where BlackBerry could get a much needed boost from Apple enthusiasts that don't want Sync in their vehicles, but still want to run Apple's CarPlay app.
And this earnings report isn't really going to be about the numbers. If you're betting bearish going in based on the accounting the company is going to report - you can't see the forest for the trees. This is about the traction of the turnaround of the company. The stock is going to move according to Chen's comments and the way he delivers them. That, in and of itself, is a good reason to own the stock going into the report.
While I'm in no way guaranteeing a grand slam on earnings coming up, what I am sure of is John Chen's demeanor. Chen has appeared relaxed and nonchalant during his public appearances since coming on board. As if to say, "Relax. I got this."
Disclosure: I am long BBRY. I wrote this article myself, and it expresses my own opinions. I am not receiving compensation for it (other than from Seeking Alpha). I have no business relationship with any company whose stock is mentioned in this article.