Stifel Financial Corporation (NYSE:SF) has upgraded Baidu Inc.'s (NASDAQ:BIDU) stock from hold to buy with a price target of $238. This move came after Baidu reported strong fourth-quarter results late-February. In after-hours trading the stock surged 7.7% after the results were announced. In this article I will look at the company's potential growth prospects.
Glancing At Current Results
On one hand the company managed to grow enormously in terms of its revenues, both during the fourth quarter (50.3%) and fiscal year 2013 (43.2%), but on the other hand its operating profit declined. Fourth-quarter profits declined 3.8% while fiscal year 2013 profits surged 1.3%. Also, net income declined 0.4% during the fourth quarter and rose 0.6% during the fiscal year.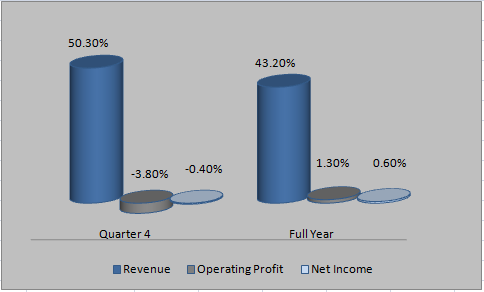 Source: Baidu News Release
The revenue increase uplift was driven by increased traffic volume; the seasonality factor as January has the same effects in China as December has in America due to the New Year celebrations. This makes advertisers spend more during the fourth quarter every year to lure customers shopping for the New Year. Baidu served 451,000 active online marketing customers at the end of the fourth quarter seeing an 11% uplift y/y despite the drop of 2.8% from the previous quarter. However, this could not impact the revenue per online marketing customer since this metric increased 34.8% y/y and 9.4% q/q.
Baidu has increased spending on developing applications for mapping and search services that increased R&D expenses by 80% y/y and 16% q/q restricting its earnings growth. Baidu is promoting its mobile products at an increasing rate and that elevated the marketing expense by around 135%. Given these rising costs, the revenue growth attributed to the company was not translated into earnings growth. Nonetheless, these efforts allowed the company to generate 20% of its revenue from its mobile segment for the first time.
The Road Ahead - Mergers & Acquisitions
Baidu remains the market leader despite the fact that its market share is being slightly poached by its competitors since its market share, by volume, dropped monthly by 0.31% in November.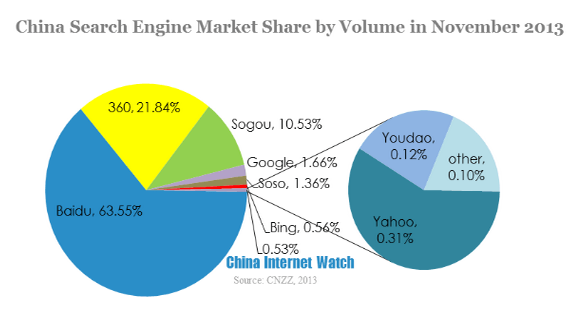 Source: China internet watch
Now Baidu is trying to navigate the shift from desktop computing to mobile devices. In China the importance of services accessible by customers on the move has increased. Almost 80% of the internet using population is accessing it via mobile devices. Users accessing the internet from mobile devices have reached a record level of 500 million out of a total 618 million internet users in China. Therefore Baidu is grappling to obtain status in the mobile ecosystem that is already influenced by big rivals like Tencent Holdings Ltd (OTCPK:TCEHY) and Alibaba Group Holding Ltd. Therefore the company aims to complete various mergers and acquisitions in order to affirm its foothold in the mobile space. The company bought app store 91 Wireless for $1.9 billion in 2013 and earlier this year the company acquired full ownership of its 59% subsidiary, Nuomi, a group buying site.
According to analysts, in 2014 mergers and acquisitions will remain the key theme for internet companies to bolster their market share in the mobile space. Three mega players in the industry have followed this strategy since 2012 as depicted in the graph below. Everyone is looking to close gaps in their business models and acquisitions remain the most used channel.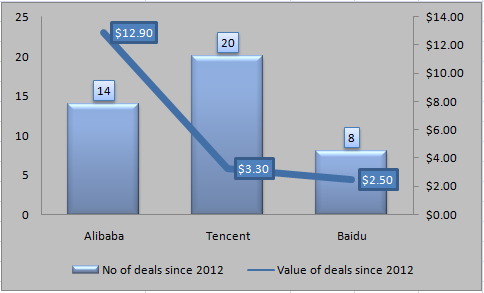 Source: Bloomberg
This aggressive strategy will make the competition between the three competitors more fierce and will also raise the value of anticipated acquisition targets. However, Baidu has a strong cash position of $6.3 billion, with which it can finance its M&A deals. Its cash flow generation from operations of around $2.1 billion is also robust enough to support the cause. Analysts at Pacific Crest have identified some reasonable targets for Baidu including the $3.2 billion 58.com and $6.2 billion SouFun Holdings Ltd (NYSE:SFUN). 58.com allows users sell various items while SouFun is China's biggest real estate information website.
Moreover, synergies from the acquisitions will also start paying off in 2014, as the company announced a better than estimated outlook for the first quarter of 2014. The company projected its revenues for the quarter ranging from $1.526 billion to $1.573 billion (9.240-9.520 billion Yuan), beating analysts' estimates of 8.697 billion Yuan. Profits for the quarter are anticipated to be flat given the company's spending on marketing and research and development will continue climbing in 2014. However this investment focus will open doors for the company to grow in the long term, at the expense of profit growth. Analysts expect the company will succeed in generating 30% of its revenue from its mobile segment and that it will also bring the benefit of diversification. This will be more evident when mobile traffic surpasses PC traffic in the coming years.
China's Advertising Market
The advertising market in China will grow at a rate of 6% in 2014 implying brighter opportunities for internet businesses. Digital and mobile media have grown as key mediums for advertisement in 2013 and their prospects seem promising. Advertisers are targeting the emerging Chinese middle class families that have more purchasing power.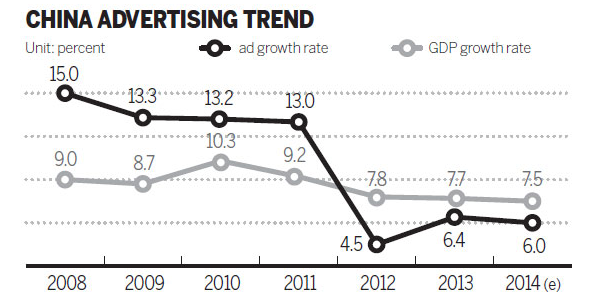 Source: USA China Daily
Smartphones have become the only screen that counts for the connected youth of today. Through mobile marketing, advertisers are targeting a higher-income class that can afford smartphones or tablets. The arrival of 4G technology will also contribute to the increase in advertising costs. This is because 4G technology offers higher user speeds and faster connection times and enhances the users' mobile phone experience. Market research by McKinsey confirms latent interest in 4G as 31% of smartphone users and 37% of non users would upgrade to a 4G smart phone package. Thus with 4G technology, advertisers will pay more for advertising on mobile phones rather than traditional modes of advertising. In short, we can say that Baidu is heading in the right direction by focusing on the mobile search market that has huge growth potential. Revenue from this segment is expected to reach $560 million by 2015.
Final Stance
Baidu's bullish forecasts are overwhelming when accompanied with the enormous growth potential the company is targeting. Without wasting time on organic growth the company is trying to penetrate into the smartphone market and that is deemed a wise approach keeping in mind the fickle nature of the internet industry. This scenario tempts me to rate this stock a buy, as it is well positioned to grow and secure upward potential. This stock can act as a corner stone for growth loving investors' portfolios.
Disclosure: I have no positions in any stocks mentioned, and no plans to initiate any positions within the next 72 hours.
Business relationship disclosure: The article has been written by a Blackstone Equity Research research analyst. Blackstone Equity Research is not receiving compensation for it (other than from Seeking Alpha). Blackstone Equity Research has no business relationship with any company whose stock is mentioned in this article.