AutoZone (AZO) has posted a profit of $4.12 per share for the third quarter of its fiscal 2010 ended May 8, 2010, far exceeding the Zacks Consensus Estimate of $3.59 per share and the year-ago profit of $3.13 per share. The absolute income improved 16.7% to $202.7 million from $173.7 million in the third quarter of fiscal 2009.

Net sales increased 10% to $1.8 billion during the quarter. Domestic same-store sales, i.e. sales for stores open at least one year, rose 7.1%. These can be attributable to the company's aggressive store expansion strategy and a recovery in the U.S. automotive industry.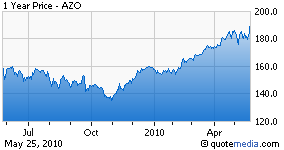 Gross profit as a percentage of sales went up to 50.7% from 50.2% in the last year's quarter. The improvement in gross margin was attributable to a shift in mix of sales to higher margin product and lower product acquisition costs. Operating profit rose to $355.9 million from $305.2 million a year ago.

AutoZone's inventory increased 2.1% due to the new store openings. Inventory per store declined to $506,000 from $516,000 last year. However, net inventory (merchandise inventories less accounts payable) decreased on a per-store basis to $12,000 from $33,000 last year.

AutoZone continued its aggressive store opening strategy, driven by an increasing cash flow. During the quarter, the auto parts retailer has opened 21 new stores, closed one store and replaced one store in the U.S. It has also opened 10 new stores in Mexico. As of May 8, 2010, the company had 4,309 stores in 48 states, the District of Columbia and Puerto Rico in the U.S. and 212 stores in Mexico.

Under its existing share repurchase program, AutoZone repurchased 1.5 million shares of its common stock for $266 million during the quarter, at an average price of $172 per share. At the end of the quarter, the company had $251 million remaining under its share repurchase authorization.

AutoZone had cash and cash equivalents of $95.8 million as of May 8, 2010. Total debt amounted to $2.7 billion as of that date. The company had a stockholder deficit of $462 million as of the above period, up significantly from the year-ago level of $45.1 million.

In the first nine months of fiscal 2010, AutoZone had a net cash flow of $589.7 million before share repurchases and changes in debt. This translated into an improvement from the year-ago level of $408.5 million.