Every now and then I like to offer my humble opinion on newsworthy events - this is one of them. Roughly a week ago, Samsung (OTC:SSNLF) unveiled the latest weapon in its arsenal - the Galaxy S5. Apple (NASDAQ:AAPL) and Samsung have been head to head over everything from global marketshare to minute details over design that have set the two industry behemoths apart. Although in my view, Samsung's latest model is a serious letdown, and it will allow Apple's coming iPhone 6 to thrive in the face of Samsung's Galaxy S5.
The news has been bloody, with Samsung becoming more profitable than Apple and the former's smartphone marketshare overtaking that of Apple's. It seemed that Apple reached a point in the industry where margins and sales had to recede. No one expected Samsung to reach such a point, as many were just thrilled with sales and marketshare growth. As the two companies have reached a more mature state, the Galaxy S5 can be the first notion that Apple's more mature state will be much more successful than that of Samsung's.
The Galaxy S5:
Samsung has made improvements over the company's S4, some relatively minor. With a screen just .1 inches larger than the S4 at 5.1" - the screen size is relatively the same. The resolution at 1080p is unchanged and fell short of reports of a 2K resolution. The camera has been enhanced with a 16mp version compared to the earlier 13mp version and supports 4K video recording. Lastly, the phone sports Qualcomm's Snapdragon 801 baseband/app processor, which is an improvement over the former Galaxy S4.
The devil may be in the details. The S5 is the first phone to support 802.11ac 2x MIMO, a technology that doubles peak download speeds compared to the S4. The phone's camera also supports an SLR type, on the fly, HDR processing with an autofocus time of 0.3 seconds that is unmatched. Samsung is launching Gear Fit to compete with Nike's (NYSE:NKE) Fuel Band as well.
While the S5 sports a fingerprint scanner, The Verge is not impressed with the technology. They are, however, impressed with the phone's heart rate monitor - a cool technology that has popped up largely in watches lately.
The Bearish View:
Samsung is no longer playing catch up - they have fallen behind. In the past, Samsung has been viewed as copying Apple's devices - but this time, they have announced one prior to Apple's iPhone 6. This leads Apple to offer its new device in a market that will receive it without Samsung playing catch-up.
Right off the bat, Samsung's S5 does not offer any real counterpart to the large ecosystem that Apple has encapsulated. There is no offering on a comparable level to iMessage or FaceTime - let alone in a manner that VirnetX's (NYSEMKT:VHC) technology makes secure. Apple's ecosystem is one of the key selling points that drives demand for its devices - a lack of competition on this front is sure to disappoint.
A larger MP camera is impressive - albeit lacking a comparison to any improvements the iPhone 6 packs. Keep in mind, Samsung has not offered a response to Apple's two-tone LED flash that customizes the lighting for the best possible outcome. Moreover, Samsung is again playing catch-up with fingerprint scanning technology - and it isn't even perfect (as per Verge).
That leaves a .1" screen enhancement and a heart rate monitor - two selling points that will not make me switch from an iPhone to an S5. In the ultra competitive smartphone marketplace, Samsung's S5 looks to be a complete dive.
The iPhone 6:
I would probably buy an iPhone 5s over the Galaxy S5. If you have seen the speed and graphics on it, you would be in agreement.
There are many expectations for the iPhone 6 - but as we saw with the iPhone 5s, Apple always trumps expectations. The screen size is set to grow with the iPhone 6 in the range of 4.7 inches to 5.7 inches. This was a key concern for Apple users - and Apple plans to address the problem.
Moving forward, the iPhone 6 is expected to sport a durable sapphire display with a bezel-free design, along with a thinner chassis. This will make the device itself not only strong, but thinner. Will the iPhone 6 have a curved screen or 4G LTE-A technology - maybe. As for now, the specifications for the iPhone 6 are just opinions.
NDTV has stated that the iPhone 6 could have a camera f/2.0 aperture, compared to the iPhone 5S's f/2.2 aperture, to take better low-light shots. Others have even stated that the new iPhone could feature a solar-charging sapphire glass screen - with an aim to boost the battery life of the device.
Reports have also surfaced that Taiwan Semiconductor Manufacturing Company, TSMC (NYSE:TSM), has begun production on Apple's A8 chip for the iPhone 6. The report claims that the new groundbreaking 20-nanometer A8 will include a quad-core 64 bit processor and quad-core graphics. That's right, Samsung will not be making this chip as they have dropped out due to low production yields.
Many are expecting an iWatch and iOS 8 to launch around the same time as the iPhone 6 - and with Samsung's bar set low, Apple is set to knock the Galaxy S5 out of the park.
Keep in mind that the iPhone 6 is building upon huge enhancements that the iPhone 5S offered - such as the M7 co processor and the 64-bit A7 chip, along with true-tone flash and a fingerprint scanner.
The Market:
(click to enlarge) (Source)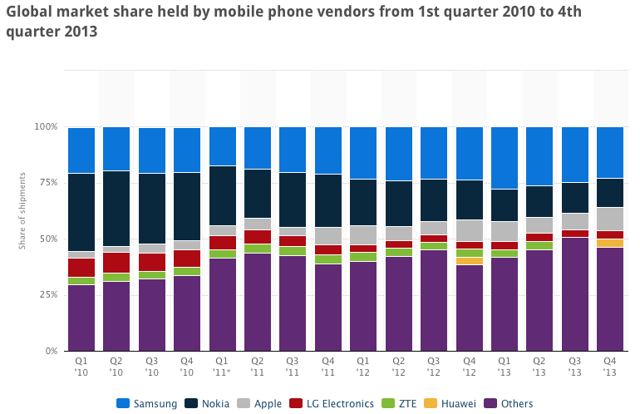 Samsung is losing ground, while Apple is gaining it. In 2Q 2013, Apple had a 7.2% marketshare and Samsung had 26.2%. In 3Q 2013, Apple's share remained flat and Samsung's shrank to 24.7%. Although in the most recent quarter, Apple's marketshare grew to 10.4% as Samsung's dropped to 22.9%.
The smartphone market is ultra-competitive. As such, each company has to put its phone ahead in the marketplace. I do not get the sense that the Galaxy S5 is groundbreaking nor could it displace what Apple puts out in the iPhone 6. As such, Apple will likely see its marketshare grow, or easily maintain its premium marketshare.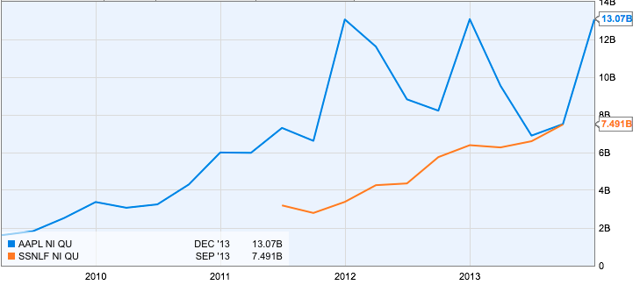 It is no secret that Samsung overtook Apple with regard to net income. Although how long will it last if they are putting out devices at the same consumer price as Apple (after rebates at providers like Verizon (NYSE:VZ)) without the groundbreaking improvements seen in Apple's devices that drive demand?
Conclusion:
The Galaxy S5 demonstrates nominal enhancements over the S4 that, in my opinion, do not warrant switching, even from an iPhone 5s. They are playing catch-up with many features - such as the fingerprint scanner -and have not even perfected them. They also did not offer even responses to Apple's technology seen in the iPhone 5S - such as ecosystem enhancements, camera flash response or the battery saving M7 co-processor. Samsung has caught up and will offer a 64 bit processor on its S5 - already evident in the iPhone 5S.
I am looking forward to Apple's iPhone 6 enhancements - such as the potential A8 chip, curved screen and use of iBeacons. James Yardley has an excellent piece on iBeacons - a groundbreaking technology that allows for contactless payments and interactions with the world around the user. A curved screen is a stretch on the iPhone 6, although an edge to edge display is expected.
Apple once reached the height in the marketplace ahead of Samsung. However, as Samsung has sped past Apple on profits and marketshare, it is evident that they have reached this point as well with the Galaxy S5. I expect the iPhone 6 to demolish the Galaxy S5, and am looking forward to any released specifications or details on the device. The nominal improvements Samsung put into the S5 do not put it ahead in the marketplace - not by a long shot. Again, I expect Apple to hit this ball out of the park.
The iPhone "6" will be more than just a numeral ahead of the Galaxy S "5". Not only based on opinion, but on the fact that Samsung's improvements on the Galaxy S5 do not create a distinguishable moat in the smartphone marketplace. Of course, that's just my opinion.
Disclosure: I have no positions in any stocks mentioned, and no plans to initiate any positions within the next 72 hours. I wrote this article myself, and it expresses my own opinions. I am not receiving compensation for it (other than from Seeking Alpha). I have no business relationship with any company whose stock is mentioned in this article.
Additional disclosure: Always do your own research and contact a financial professional before executing any trades. This article is informational and in my own personal opinion.