Best Buy Co (NYSE:BBY) is a provider of electronics and related products and services to consumers and companies worldwide. It announced its fourth-quarter and full-year 2013 results on February 27th. The earnings reported by the company surprised the market and beat Wall Street's expectations. Because of the earnings surprise the share price surged by 7% to $27.68 in pre-market trading. The company's revenue missed expectations falling 3% in the quarter while the company managed to report EPS of $1.24 even though analysts expected a figure of $1.01. In this article I will try to determine whether or not the company has the potential to gain luster in terms of the future outlook of the industry and the stock's current valuation.
Financial Review
For the quarter that ended Feb 1st, Best Buy reported revenues of $14.47 billion reflecting a 3% decline from the same period of the last year. Domestic sales dropped by 1.8% while international sales plunged by almost 10%. Gross profit margin for the quarter was 2.10% driven by squeezed margins in both domestic and international segments. Margin contraction was due to extensive promotions by the company during the holiday season along with a price matching policy to compete with Amazon.com Inc (NASDAQ:AMZN). However, the operating margin improved heavily in the international segment and increased from negative 34.6% to positive 3.5%. On the other hand, the operating margin contracted in the domestic segment by 200 basis points. Net earnings for the quarter increased to $293 million from a loss of $409 million during the same quarter last year reflecting an increase of 171%.
For fiscal year 2014, the company's revenues dropped by 3.5% whereas the gross margin fluctuated from last year's level by 80 basis points. The operating margin flattened in both the domestic and international segment on an annualized basis by 0.4% and 12% respectively. For the whole year the net income was $532 million and increased from a loss of $249 million in the comparable year. Quarterly dividends remained flat while on an annualized basis they increased 3% to $0.68 per share from $0.66 per share.

Click to enlarge
Source: Earnings Release
Overall the company saw its comparable store sales declining but the decline has since slowed its pace compared to year ago same quarter. However, comparable online sales have accelerated and gained momentum. For the 4th quarter of FY2014 online sales surged by 25.8% while for the whole year the uplift was 19.8%.

Source: Earnings Release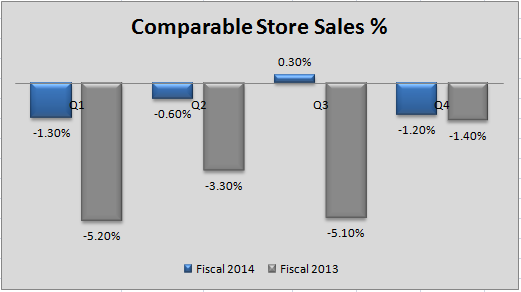 Source: CS Sales
Given the disappointing retail conditions in the domestic market the company expects negative sales and comparable store sales for the first half of fiscal year 2015.
Valuation
Back in January 2014 when Best Buy announced its battered results for the holiday season its stock price dropped heavily by almost 35%. In my opinion the stock price decline was due to the herding behavior of investors at that time. Worried investors started selling the stock and others followed them resulting in the huge depression in the stock price and analysts also dropped their estimates for the company. Now that the company is producing profits instead of losses the stock price has started rising. Fundamentally if we valuate the company's stock we discover some upward potential. The stock is currently trading at $25.57 and based on price multiples its fair value is $27 implying a 6% upward potential. For my calculations I have assigned more weight to the stock's price based on its sales and earnings keeping in mind the retail nature of the company.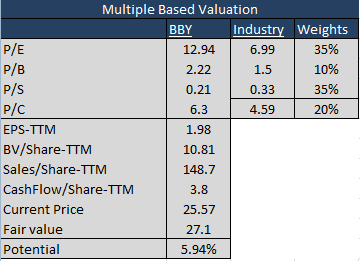 Data Source: Reuters & Morning Star
If we analyze the company on a comparative basis the investment returns BBY offers has a better dividend yield as well as stock price performance compared to its competitors. The return on equity that Best Buy is offering is also robust enough compared to Wal-Mart and Amazon.com. The company has an EPS and payout less than that of Wal-Mart but when compared to Amazon it is offering an enviable payout and EPS. In short, Best Buy is performing well on many metrics while in terms of others it is lagging behind.

Source: Reuters
The Road Ahead
Consumer electronics market has not yet improved as indicated by Best Buy's lackluster sales performance in December of last year. Best Buy generates almost 78% of its revenue from consumer electronics and computing and mobile phones. These two segments are bright spots and can gain momentum due to various innovations and technological advancements. TV sales are projected to increase by 2% from 2013's level to reach $21.3 billion in 2014. Smartphones will remain the sales leader of the industry in 2014 reflecting an increase of 4.6% reaching $41 billion reflecting an increase from $39 billion in 2013. Online sales can act as a catalyst and continue to add more to the company's top line even if the company faces reduced in-store customer traffic due to severe weather climate.
Price competition from other competitors like Amazon and Wal-Mart Stores Inc. (NYSE:WMT) will continue to squeeze the company's profit margins. In order to remain profitable the company is aiming to cut costs at a faster rate this year. The company increased its cost cutting target to 138% from the previous level increasing the amount saved to $1 billion. To accomplish this, the company aims to lay off 2,000 US managers and that will be the biggest lay off since July 2012. This way the company would continue to compete more effectively in a price war with other big-box and online retailers. However, how long will this approach pay off since it is not a sustainable base for the company to grow? Driving more sales both in-stores as well as online can lead the company towards profitability.
What to Do Next
Best Buy has managed to earn profits this quarter and may remain profitable in the near future. However, for the company to be profitable in the long term it must strive to bolster its sales despite the cut throat competition in the retail industry. The stock currently has an upward potential and can secure price appreciation. Apart from that the company is offering a dividend yield of 2.66 and the industry benchmark stands at 1.79. In my opinion the stock is a buy due to its tendency to move upwards in the short term.
Disclosure: I have no positions in any stocks mentioned, and no plans to initiate any positions within the next 72 hours.
Business relationship disclosure: The article has been written by a Blackstone Equity Research research analyst. Blackstone Equity Research is not receiving compensation for it (other than from Seeking Alpha). Blackstone Equity Research has no business relationship with any company whose stock is mentioned in this article.