History has shown that some of the strongest long-term investments are Dividend Growth Stocks. These companies, through long-term consistent and strong dividend growth, return superior total returns to investors, compared to stocks that don't pay dividends. While creating an experimental, real world dividend growth portfolio, (you can see the portfolio here) I came across the single fastest dividend grower in America.
Company Overview:
Stryker Corporation (NYSE:SYK) is a medical equipment provider founded in 1940 by Dr. Homer Stryker. Initially the company made hospital beds but through decades of strategic acquisitions and organic growth has grown into the 12th largest medical supply company in the world. It has over 22,000 employees working in over 100 companies and has 31 production and R&D facilities around the world. Today Stryker produces over 59,000 medical products covered by 4768 patents. Some of these products include:
-artificial hips and knees and other joints
-surgical tools and power accessories
-robotic surgery systems
-minimally invasive surgical systems
-spinal implants
-neurovascular stents
-medical waste disposal systems
-systems for preventing foreign objects being left in surgical patients
The company has grown both through a large commitment to organic growth and R&D. In 2012 Stryker spent $471 million on R&D. Historically the R&D budget has represented 5-6.3% of total sales.
In addition to organic growth, Stryker is famous for well executed and disciplined mergers and acquisitions. Here is a summary of the acquisitions Stryker has made over the years:
-1979, the company acquired Osteonics Corp of New Jersey establishing itself in the orthopedic medical supply industry.
-1981, acquisition of SynOptics marked the company's entrance into the Endoscopy market.
-1987, purchase of Adel Medical, a maker of labor and delivery stretchers.
-1992, through purchase of Dimso, Stryker enters the spinal fixation market.
-1994, Stryker acquires stake in Matsumoto Medical Distribution which increased its presence in the Japanese medical market.
-1996, the Osteo acquisition allows the company entry into the orthopedic trauma market.
-1998, Stryker purchases Bertec - Canada's leading hospital bed manufacturer. Also, Stryker purchased Howmedica (the orthopedic division of Pfizer) for $1.65 billion. This acquisition nearly doubles company sales overnight and helps the company establish itself in the trauma medical supply industry. It also gives the company a new presence in Greece and Italy.
-1999, Stryker acquires Infomedix a medical image communication company and forms a new communication business unit.
-2000, the company acquires Image Guided Technologies, gaining access to the Surgical Navigation market.
-2003, Stryker acquires Dekompressor and enters the interventional pain service market.
-2004, Spine Core Inc. acquisition gives company access to spinal discs and several products in clinical trials.
-January 2009, Ascent Healthcare Solutions acquired. Company is the market leader in reprocessing and remanufacturing medical devices in the US.
-November 2009, OtisMed is purchased. This acquisition enhanced the company's visualization products that allow surgeons to see inside joints while operating.
-December 2009, Stryker buys Sonopet the maker of the Ultrasonic Aspirator. This device uses ultra-high pitched sound waves to allow surgeons to cut away bone and other connective tissue with amazing levels of control. It is vitally important when performing surgery around vital organs, blood vessels and other delicate structures.
-October 1, 2010, Stryker acquires Gaymar, the maker of pressure ulcer prevention systems.
-October 29, 2010, Stryker purchases Porex Surgical, a maker of porous polyethylene products (PPE) which are used in reconstructive surgery.
-January 2011, the company acquires Boston Scientific's (NYSE:BSX) Neurovascular unit. With this purchase, Stryker acquires a large array of stents, as well as, stroke and aneurysm treating products.
-May 2011, Orthovita acquired. Orthovita is the maker of orthobiological and biosurgical services. These are products used by surgeons to place inside the surgical field and used to hold tissues and structures together. The items are designed as scaffolds over which patients' tissues will grow over and fix in place.
-July 2011, Acquisition of Memometal - a French maker of extremity monitoring systems. These are used to ensure blood flow to extremities after surgery to prevent catastrophic limb loss.
-October 2011, Stryker buys Concentric Medical, the maker of the Trevo clot removal system. This device allows surgeons to travel up through a patient's veins into the location of a blood clot and remove it. This is a revolutionary treatment for stroke patients which includes many who can't be placed on blood thinners for medical reasons.
-November 2012, Surpass Medical is bought for $135 million. This company is the maker of the NeuroEndoGraft family of stents. These are devices used for treating blockages and aneurysms in the brain and central nervous system.
-March 2013, Stryker buys Trauson Holdings (for $764 million) a Chinese Orthopedic company. It gains access to the large and fast growing Chinese Orthopedic market.
-December 17, 2013, Stryker purchases Mako Surgical the maker of orthopedic surgical robotic systems. These systems are used in the reconstruction of joints. The company was in the process of expanding out into other forms of surgery (such as prostate cancer removal) in an effort to compete with Intuitive Surgical (NASDAQ:ISRG).
-December 31, 2013, the company acquires Patient Safety Technologies Inc. for $120 million. Patient Safety is the owner of the Surgicount Systems, the maker of the Safetysponge and Surgicount 360 safety systems. These systems are designed to use barcodes on sponges and any surgical equipment that may be accidentally left inside a patient. These kind of incidents occur about 2500/year and cost approximately $400,000/incident to fix.
-February 18, 2014, Stryker buys Berchtold Holdings AG a German surgical equipment maker for $172 million. The company had 2013 sales of $125 million.
-February 19, 2014, the company announces the acquisition of Pivotal Medical, the maker of hip arthroscopic surgical systems. These devices allow surgeons to repair hips with minimally invasive techniques that minimize healing time and improve patient outcomes.
Catalyst for Future Growth:
The medical equipment market is anticipated to reach $228 billion in 2015 and be fueled by the fast growth in the population of the elderly around the world. China, in particular is a promising market for Stryker with the government planning to build 5,000 new hospitals in the next several years. To put this in perspective, the US has approximately 5,723 hospitals today. Filling these hospitals with surgical equipment could provide strong growth for decades to come.
The size and scope of the global medical equipment market means that Stryker has just 4.4% market share. This means a very long runway for expanding market share in a rapidly growing industry. An industry fueled by one of the strongest socio-economic mega trends in history; the aging of the world's population.
Past Performance:
Stryker is one of the best and most consistent growers of revenues, earnings and dividends.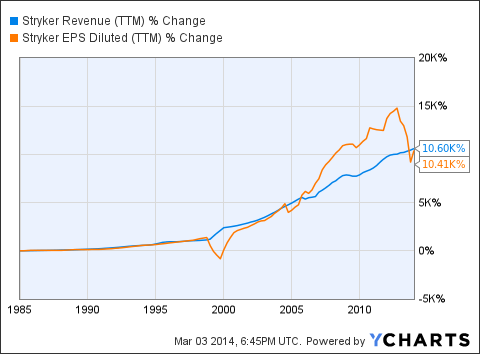 Over the last 28 years, the company has grown revenues and EPS by 18.2% and 18.1% CAGR, respectively.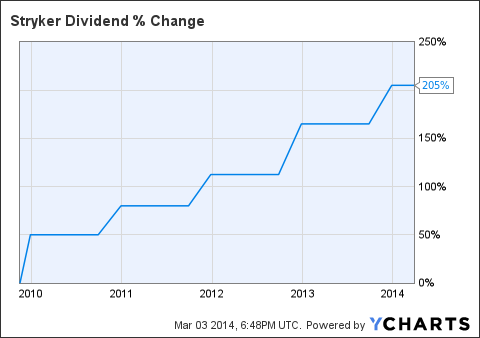 Meanwhile the dividend has experienced the longest and fastest growth rate of any dividend growth stock in America. Stryker has been increasing its dividend for 18 consecutive years, at a 27.29% CAGR. This represents a nearly 77 fold increase in less than two decades.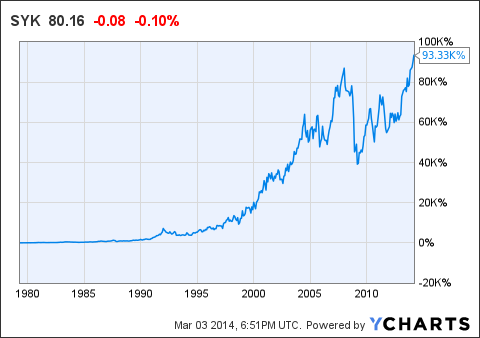 This amazing growth has rewarded investors with returns that averaged 50% stronger than the market's historical average. Over 33 years, Stryker returned 14.75% CAGR, a rate that increases to 16.5% with dividend reinvestment. This means that $10,000 invested in 1980 would be worth $933,300. Had dividends been reinvested that figure climbs to $1.55 million.
Valuation:
Regardless of how well Stryker may have performed in the past what investors want to know is what the company is worth today and what kind of returns to expect from today's prices. Well the current PE ratio of 30.5 seems high by historic standards. However, it is often necessary to pay a premium for great companies. It may be possible to still earn a market beating return even at today's historically high valuation.
By using the 5 year average PE ratio of 26.7, the current $2.63 EPS and the projected 8.85% earnings growth rate, I model 2018 EPS of $4.02. Assuming the PE ratio regresses to the mean rate of 26.7 this projects a 2018 price of $107.3/share. To this I add the projected $8.22 in anticipated dividends over the next 5 years to get a total value of $115.53/share. This represents a 7.7% CAGR which increases to 9.3% CAGR with dividend reinvestment.
By discounting the 2018 total value/share by 9% (the stock market's 1871-2013 CAGR) we can determine that the fair value today of Stryker shares is $75.07 which indicates that the shares are trading at a 6% premium to fair value.
However, we can also model future returns by looking at growth of the dividend. With the 5 year average growth rate of the dividend at 22.4% and last year's 15.5% increase I will model two cases - a conservative 15% annual rate over 5 years and an optimistic 20% growth rate.
In the first case, the 2018 dividend grows to $2.13/year and in the second to $2.53. With the average 5 year yield at 1.5%, if we assume the same yield in 2018, we get a projected share price of $142.25-$165.65. Add to this $8.23-$9.08 in dividends and the fair value becomes $150.48-$177.73. These returns represent 13.5-17.4% CAGR which rises to 15.2-19.1% CAGR with dividend reinvestment. Again, discounting by 9% annually we get a fair value of $97.78 to $115.48. This indicates that Stryker trades at a 24%-31% discount to fair value.
By taking an average of the fair values calculated above I get an conservative fair value of $96.11 which represents a 16.2% discount. This indicates that Stryker is undervalued and is likely to achieve market beating returns of 12.9% CAGR, 14.5% with dividend reinvestment (the averages of the 3 models above).
Technical Analysis:
The technical indicators are neutral on Stryker in the short-to-medium term. There is moderate price support at $76.24 with mild resistance at $80.95. This indicates that the stock is largely stable at this price although a strong move in either direction is still possible (such as during a market correction or rally). Long-term investors shouldn't hesitate to open an initial position now although existing shareholders may wish to wait to add on future dips.
Conclusion:
Stryker is an amazing company run by some of the best management in the industry. Over several decades, Stryker's management has proven to be masters at orchestrating well-disciplined and well executed acquisitions. In the process, management has transformed Stryker into a global medical equipment powerhouse and the greatest dividend growth stock of the last 20 years. Though Stryker may trade at historically elevated valuations, I feel that the pace of future acquisitions, organic growth and dividend increases will be sufficient to return market beating 15% total returns over the next 5 years. This makes Stryker a "buy" at today's prices and a "strong buy" if the price drops to $70 (at which point it would be trading at its historical PE of 26.7).
Disclosure: I have no positions in any stocks mentioned, and no plans to initiate any positions within the next 72 hours. I wrote this article myself, and it expresses my own opinions. I am not receiving compensation for it (other than from Seeking Alpha). I have no business relationship with any company whose stock is mentioned in this article.