As a reminder, I have been a bull on Fοnar (NASDAQ:FONR) ever since the $5 mark, but a while ago I told you to sell. After that call, the stock took a dive from about $25 a share all the way down to about $16, before recovering lately. The question is, what do investors do from here?
Let me show you a chart...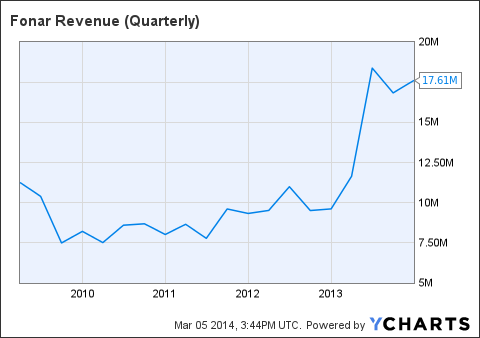 FONR Revenue (Quarterly) data by YCharts
The company's acquisitions last year put the company on the market's map and the market noticed by running the stock up five times. However on a q-o-q basis, things have now stalled a bit.
So while we will probably get one more quarterly report where on a y-o-y basis the company will see explosive growth, on a sequential basis, it seems that things have leveled off (for now).
Currently Fonar's market cap is about $140 million, with sales projected to be about $70 million for 2014 and EPS about $1.25 per share. So the stock is not expensive, but I would not call it a bargain either.
So unless we get guidance or substantiated proof of continues EPS growth, my take is that the stock will simply go up and down, depending on market sentiment from these levels.
Like I said on my last article on the company, I do not think the stock has the goods to double over the next 12 months, so it is not officially on my buying list (remember I only focus on stocks that have the possibility to double). However, I would be a buyer in a correction (like the recent correction), but for no other reason than a short term swing trade.
Bottom line
I like the company and for readers that follow my call before the stock went up, it was a great ride. However until we get more information about the future growth prospects of the company, I think Fonar's stock will probably be a current levels for some time.
So how do you play Fonar? I would a buyer below $20 and a seller (and possible short seller) above the recent highs of $28.
Disclosure: I have no positions in any stocks mentioned, and no plans to initiate any positions within the next 72 hours. I wrote this article myself, and it expresses my own opinions. I am not receiving compensation for it (other than from Seeking Alpha). I have no business relationship with any company whose stock is mentioned in this article.