International Business Machines Corp. (NYSE:IBM) reported 2013 revenue that was towards the upper end of my forecasted range, which comes as the company continues to transition to higher-margin, high-growth markets. From a strategic perspective, in my opinion, IBM is adapting to industry changes. The company should be shaping the services industry and acting as a visionary in software. IBM is a visionary in terms of its Watson platform, but the company was behind the market in cloud computing.
For 2014, IBM should report revenue growth relative to 2013's revenue, excluding the server business that was sold to Lenovo. The company's cloud computing offerings are starting to gain momentum, and the business analytics solutions are competitive in the market. The hardware business is likely to remain weak, but IBM could divest portions of the segment, such as its microelectronics business. The performance of the Global Services segment is a coin toss.
But management is calling for $17 per share of diluted EPS during 2014. Included in my model are share repurchases, margin expansion, and the gain on the sale of the server business; with all of that in the model, IBM would still need some revenue growth to get to $17 per share. Consequently, the forecast is for revenue growth, which would act as a catalyst to drive the share price to the intrinsic value estimate of $230.
Recent Developments
IBM completed the acquisition of Cloudant, Inc., a privately-held database-as-a-service provider that enables developers to easily and quickly create next-generation mobile and web apps.
IBM launched the Watson Mobile Developer Challenge, a global competition to encourage developers to create mobile consumer and business apps powered by Watson.
SoftLayer is integrating IBM Power Systems into their cloud infrastructure.
IBM invested more than $1B to deliver platform-as-a-service capabilities to connect enterprise data and applications to the cloud.
IDC named IBM a leader in Worldwide Business Consulting.
IBM may have laid off about 25% of its hardware/chip division as sales slumped.
Business Summary
International Business Machines Corp. is an information technology company. It creates business value for clients and solves business problems through integrated solutions that leverage information technology and knowledge of business processes.
For full-year 2014, management is expecting GAAP EPS of at least $17, which is an increase of almost 14% relative to 2013's GAAP diluted EPS. Management's forecast appears to imply revenue growth in 2014. Four percent of the increase in diluted EPS is attributed to the share repurchase program; thus, the remaining increase in EPS is attributed to net income growth.
A portion of the increase is also attributed to margin expansion. For 2014, revenue is forecasted to be $97B, with a gross margin of 52%. Operating income is forecasted to increase to $22.3B, with an operating margin of 23%. The net profit margin is forecasted to increase to 19% as the post-tax gain on the sale of a Server business to Lenovo augments 2014 net income.
The forecast is for revenue to increase by $2B, which excludes the Server business in the 2013 revenue calculation. Software revenue could increase by $2B as cloud revenue and business analytics revenue increase as a percentage of Software revenue. Cloud revenue grew to $4.4B in 2013, which is 69% Y/Y. The year is young, and adjustments to the forecasts are likely to be made.
Bigger picture, this would be the revenue growth that I think is needed to get IBM to $230 per share. Revenue for 2013 came in towards the upper end of my expectations of $98-$100B. But the Software segment has got to start showing some growth. Microsoft (NASDAQ:MSFT), Oracle (NASDAQ:ORCL), SAP AG (NYSE:SAP), salesforce.com (NYSE:CRM), and Workday (NYSE:WDAY) are increasing software sales. If HP (NYSE:HPQ) isn't selling much software, that's fine because they are a hardware company. But IBM's Software segment has to do better.
The quality of earnings during 2013 wasn't the best that I have ever seen. But IBM did collect about 100% of its revenues in cash from its customers. So, overall, earnings appear to be of high quality.
IBM has been adjusting its product portfolio to focus on the non-commoditized portions of IT, which enables the organization to generate healthy profits. Also, IBM's services relationships provide great insight into customer requirements, which benefits new product development and research initiatives. But although opinions of Watson are generally positive, opinions about the substantial number of IBM employees who need to be hired to operate Watson are generally less favorable. Overall, outstanding improvements in profitability, $11B of cash, and a superior patent portfolio are key reasons why my opinion of the company remains favorable.
Risks
The share price is likely to remain volatile, and investors could lose a portion or all of their investment.
Investors should judge the suitability of an investment in IBM in light of their own unique circumstances.
A decline in the global economic growth rate and/or a decline in the pace of economic growth in the United States could adversely impact the results of operations and the share price.
The technology industry is characterized by rapid technological change, which could materially adversely impact the results of operations.
Competition in product development and pricing could adversely impact performance.
Incorrect forecasts of customer demand could adversely impact the results of operations.
Higher interest rates may reduce demand for IBM's offerings and negatively impact the results of operations and the share price.
This section does not discuss all risks related to an investment in IBM.
Portfolio & Valuation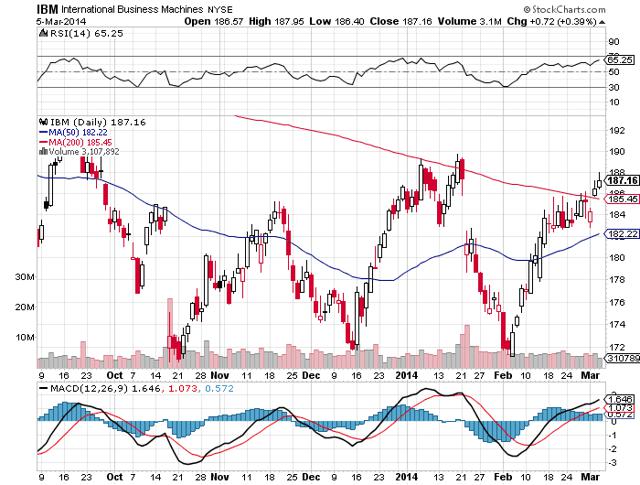 (Source: StockCharts)
This is the third bounce off of the $170 per share level, which is right in my buy zone. A top-side breakout above $190 per share would have a minimum implied measured move of $210 per share. The rising 50-day simple moving average adds strength to the bullish argument.
Based on the share price returns since 2009, the expected return for the next three months is 3.93%, which is a monthly return of 1.31% multiplied by 3. The standard deviation of monthly returns is 4.37%. So, the estimated total return for a one-quarter holding period is 4.43%.
The correlation with the broader market over the next three months could be between 0.42 and 0.84. Also, IBM is trading below its long-term trend line, which suggests a 3-month price target of $217.32. The 6-month and 12-month price targets are $222.92 and $234.13.
IBM has underperformed the broader market during the past several months, but the case for relative outperformance is becoming significantly stronger.
The intrinsic value of IBM remains at $230 per share. As a cross-check, a fundamentals-based model was employed. The model estimated IBM's intrinsic value at $423.50 per share under the pessimistic forecasts. That valuation is higher because of the equity multiplier; in other words, the book value of IBM's equity is low relative to the company's assets. The forecasted improvement in profitability adds confidence to the estimated intrinsic value. At $230 per share, IBM would be trading at 13.53 times 2014 EPS, and at $423.50, IBM would be trading at 24.9 times 2014 EPS. Bears would note the company's growth rate as a reason for caution.
Disclosure: I have no positions in any stocks mentioned, and no plans to initiate any positions within the next 72 hours. I wrote this article myself, and it expresses my own opinions. I am not receiving compensation for it (other than from Seeking Alpha). I have no business relationship with any company whose stock is mentioned in this article.