Intel (NASDAQ:INTC) has been criticized for "missing mobile" and compared unfavorably to its direct competitors for not seeing the potential growth in the smartphone and tablet markets, both of which have grown very rapidly in the past few years.
The criticism has substance but it is a bit overdone. It helps to put Intel's performance in perspective by comparing its revenues for the past 5 years to those of its key competitors - Qualcomm (NASDAQ:QCOM), Taiwan Semiconductor (NYSE:TSM), ARM Holdings (NASDAQ:ARMH) and AMD (NYSE:AMD).

Source: Company reports
In aggregate, these vendors had total revenues of $103 billion in 2013, an increase of $42.9 billion over 2009. Of that increase, Intel took $17.6 billion outstripping the other four vendors. After 5 years of massive growth in the smartphone and tablet processor market, the combined revenues of Intel's competition are still less than that of Intel.
Most forecasters think the smartphone and tablet markets are still growing but at a much slower rate, while the same forecasters indicate the recent decline in the conventional personal computer market is abating and new growth is emerging in demand for processors to power the connected car, wearable devices, connected TVs and the Internet of Things, illustrated in this chart from Business Intelligence.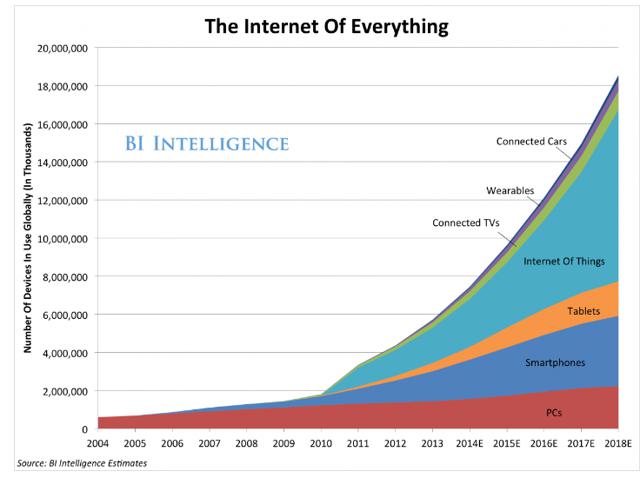 Despite pronouncements of the death of the PC, the global PC market has sustained annual volumes in excess of 300 million units the past 5 years. Intel earns revenues of about $120 for every PC with Intel inside which is about 5 times the revenue earned from the sale of a smartphone or tablet processor by Qualcomm. If Intel had been all seeing and all knowing, I think it would have preferred to work on keeping or increasing its massive share of the PC market in lieu of an all-out effort to penetrate mobile five years ago.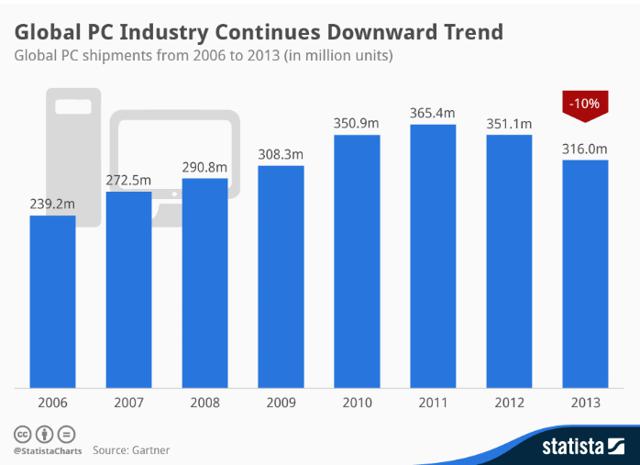 It seems likely that the PC market is going to stabilize somewhere around 300 million units a year. That provides a base of income for Intel that will remain larger than the income available to the competitors I have listed for the next five years as new competitors like Mediatek and Allwinner take a bite out of the smartphone and tablet markets targeted by Qualcomm at prices as low as $15 per processor. The arithmetic is simple - smartphones and tablets will comprise markets of about 1.5 to 2 billion units each year for the next 5 years with applications processors averaging about $20 per device, making the mobile application processor market somewhere between $30 and $40 billion each year. 300 million PCs per year with applications processors averaging $120 per device when combined with the $15 billion market for applications processors for servers comprise a $50 billion market where Intel similarly holds a massive share and where the market continues to grow.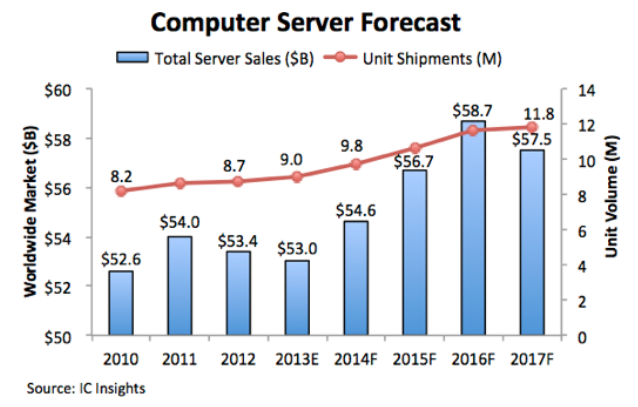 Intel's approach has served the company well even if it has disappointed growth-oriented investors. In the past 5 years, Intel has garnered $239 million of the $426 million combined revenue for the companies I listed, a 56% share.

With its base of income secure even if not growing, Intel has now turned its considerable capabilities to mobile and over time I am confident it will take a meaningful share of those markets beginning with 15% of the tablet market in 2014 presuming it ships processors for 40 million devices as it has publicly targeted. Its smaller competitors are going to find the competition tough in my view given the escalating costs of advancing through each node of the so-called "Moore's Law" shrink of process geometry and the increasing complexity of each node.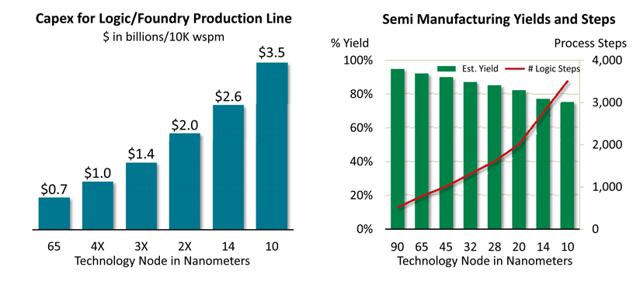 Source: Entegris
Intel may be off to a slower start in the growth sectors than many observers would like but in my opinion those observers fail to understand the time it takes to develop complex technologies and the robust strength that results from their development. Intel does not own the server or PC processor markets by accident and it will be a formidable competitor in mobile and in the IoT as time goes by.
Investors just need to relax, clip the dividend and try to avoid checking the stock price three times a day.
I am long Intel.
Disclosure: I am long INTC. I wrote this article myself, and it expresses my own opinions. I am not receiving compensation for it (other than from Seeking Alpha). I have no business relationship with any company whose stock is mentioned in this article.