As the memory market has changed, so too has the way that its products are priced. Many analysts are behind the times and are using the wrong data to compute Micron's (NASDAQ:MU) sales. An educated investor can profit from a more accurate model.
I'm going to talk specifically about DRAM pricing today, which was 69% of revenue for the most recently reported quarter. NAND and NOR have separate pricing issues, though the basic ideas at work are similar.
A decade ago PC DRAM made up more than 90% of the market, with other minor segments such as networking making up the rest. The DRAM market was highly commoditized and there were few product types, so pricing was cutthroat and margins were low. There were dozens of competitors and frequent supply gluts. The bulk of sales were either through spot prices (changing multiple times per day) or two week long contracts, so pricing was volatile and highly seasonal.
This past year marked the first year that PC DRAM was not the largest market segment, surpassed by mobile, with other segments making up a significant portion as well. PC DRAM is the simplest and cheapest segment, with generally lower margins.
The first chart below is from Micron's February 10th investor presentation and includes all revenue, and the second is from Investor Relations VP Kipp Bedard's DRAM numbers on Monday.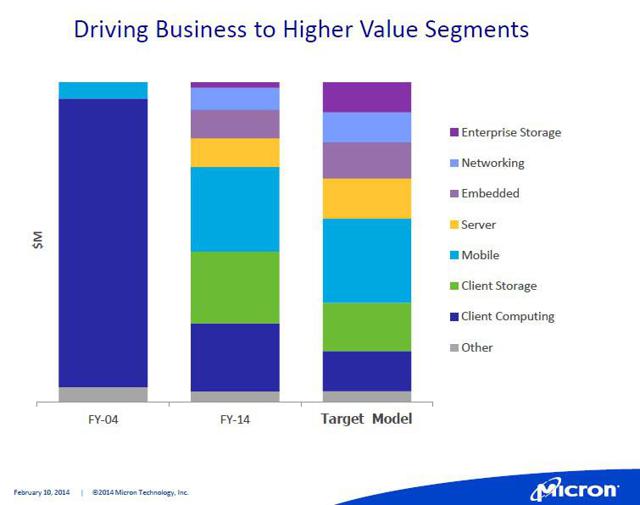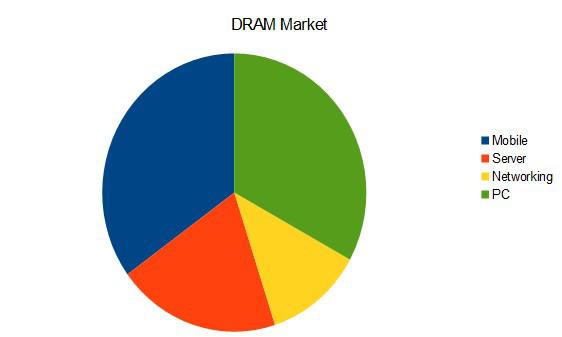 The trend away from cheap, low margin, commoditized PC DRAM will continue for the foreseeable future. Increasingly, there are niche, higher margin products. With only three remaining DRAM suppliers and some products on allocation, it's quite possible for only one supplier to have any available inventory, allowing them to demand a price premium. The charts below are long term growth trends, and 2014 growth projections from Kipp Bedard's last presentation.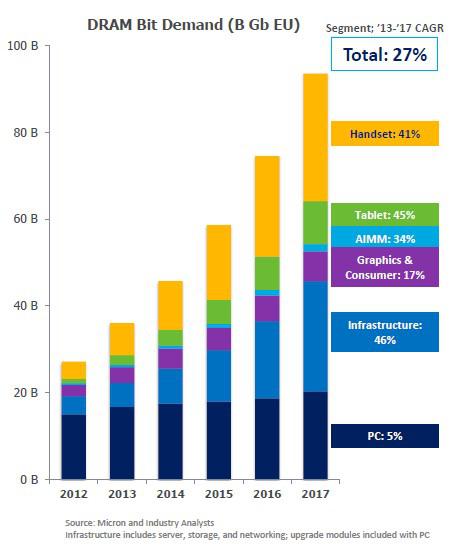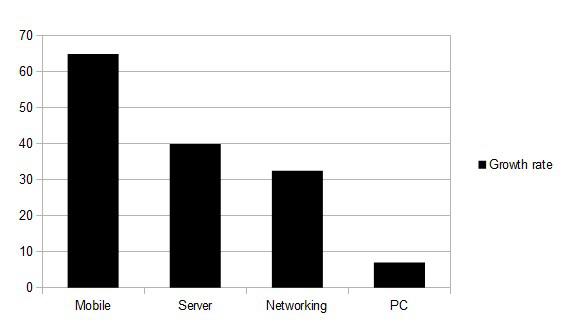 Gone are the days of spot pricing and two week contract business. With fewer suppliers and a supply shortage, OEMs want a dependable supply and will lock up product for extended periods. The products with the highest growth rates have the longest contract periods. Kipp Bedard:
"Haven't seen a lot of change in the length so far, PCs again if you're not that familiar we renegotiated with our tier 1 OEMs about every month, typically servers are about twice that length of time, mobile can be anywhere from a quarter to three quarters out in terms of pricing negotiations and/or trends that you're looking at. So haven't seen a lot of change in those negotiated contract lengths, I think there's always an interesting dynamic when pricing is stronger customers certainly want to lengthen the negotiations and of course when their prices are falling they want them pretty short, and the industry approach really and Micron's as well has been over the years we've just established, however often you want to renegotiate it's going to be the same no matter where we are in the cycle. So if you want to be 30 days, great, we'll negotiate with you in 30 days. If you want to be 90 days, great, we'll do that. But we're not going to change back and forth -- so not a lot of change."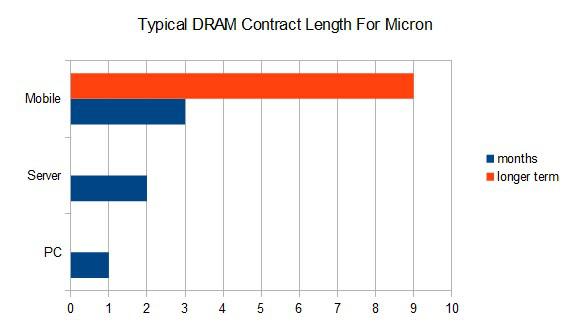 One OEM was so eager to lock up supply that they were willing to make a deposit of $250 million, which was announced this past earnings conference call. According to Ivan Donaldson at Micron, Micron didn't have to make any concessions to receive this pre-payment, and it did not come with a fixed price. It's possible we'll see more deals like this one, so supply is obviously a concern in the memory industry. Kipp Bedard:
"We could do more of that if we saw a benefit to it. That the appetite is there on the customer side, in particular those who are in a faster growth arena and worried about their ability to get bits and so yes, there are discussions around that. If we saw benefit to it then we'd probably execute a few more."
The most widely used data for DRAM is the spot price quoted on DRAMeXchange. 10% or less of Micron's DRAM trades on spot. Not only that, but spot is only available for PC DRAM, the boring commodity end of the business which is seeing the lowest growth. If you look at spot prices you'll see that they've fallen in recent days. Is this cause for concern? (It's important to realize that the long-term trend for price per bit is consistently down, and the long-term trend for number of bits is up.)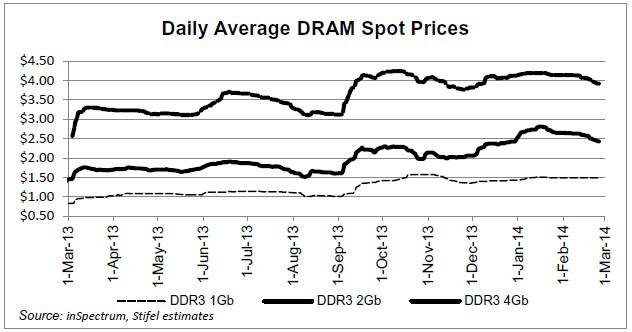 Hans Mosesmann - Raymond James
"Investors are worried about Hynix's Wuxi fab that had the fire and is coming back online here in the next several months. Any update there that you can see in terms of market implications?"

Kipp Bedard

"Yes, I think we're in the midst of seeing that product float around the spot, so I would suggest to your clients here to expect some volatility in the spot market here for the next 30 to 60 days primarily around PC and mobile which was the -- our largest percent of output that they had, product coming out of that fab, so that'll have, those two markets will have the most bit growth coming in here over the next 30 to 60 days. I think what we're seeing, and back to my original comments about where the demand pockets are I think PCs are again just kind of floating, they're not getting any worse but there's not a big growth rate there, so I wouldn't be surprised if we give a little bit of pricing back there, on the mobile side however tremendous growth. In fact we're seeing clients expedite requests for additional product real time, so I have a better feel for that but I think we're going to run through mobile without much impact even as Wuxi comes back on, so again just to kind of repeat, maybe a little bit of volatility in pricing around PC, certainly in the spot market, certainly in the spot, maybe we give a little back. Maybe we don't on the contract side, we will see. At mobile feels like there's an up demand, to probably get through it."
Hynix's (OTC:HXSCF) Wuxi fab had a fire in early September which temporarily removed around 10% of production capacity, but as of late January, it's producing again. The chips coming out now have yet to be qualified, which means they are not known to be of sufficient quality, and as a result are being sold on the spot market. Manufacturers that are willing to chance a faulty product can buy them at a discount price, and that's why we're seeing the spot market fall, while contract prices are staying firm.
With knowledge of growth rates, contract lengths, and pricing, we can conclude some interesting things. Spot prices are no longer very meaningful as they represent a small portion of a single lower end segment of the business. Publicly available contract prices are not even very meaningful because most prices will be kept confidential, and there are many different products. Mobile demand is skyrocketing (which is not a surprise if you look at the DRAM bit content from the new devices announced at Mobile World Congress a week ago), among other things, and supply of some segments will fall short of demand which will lead to pockets of high prices as the market will not be perfectly efficient. Long contract times are also a sign of increasing concern by manufacturers, and will occasionally lead to massive pre-payments to secure supply. Also, if you look at the typical contract times and use the information that contract prices have been steady, you can conclude that the average price has greatly increased as old contracts come up for renewal. Due to these factors, most sell-side analysts have significantly underestimated the earnings ability of Micron, both this quarter and in the longer term.
I write about Micron regularly. For future updates on this and other stocks, click follow at the top of the page. For email alerts, check "Author Alerts" under the "Alerts" tab.
Disclosure: I am long MU. I wrote this article myself, and it expresses my own opinions. I am not receiving compensation for it (other than from Seeking Alpha). I have no business relationship with any company whose stock is mentioned in this article.