Having published my "Misinformation and Facts" article, I felt that I did not have too much more to say about Clean Energy Fuels (NASDAQ:CLNE). The fact that the infamous Brian Powers video has been taken off their website is probably a good enough indication that my points are closer to reality than assertions from Brian Powers and CLNE.
I usually do not listen to CLNE's earnings calls, but I did listen to the most recent one and apart from finding it odd that "Redeem", which is a tiny part of CLNE's overall business, was discussed at great length, I was flummoxed by the following discussion:
Rob Bennett, Dougherty & Co. analyst, asked CLNE management about "…outlook on your profitability schedule or guidance for 2014…?"
CLNE management replied "No" and then laughed.
They then continued by saying "…we don't give guidance, but this is a volume game……we haven't said exactly when we will turn the corner, but it's a function of the volume".
Wow, I almost fell off my chair when I heard CLNE's answer. Both management's attitude and the "it's a function of volume" reply were astonishing. Laughing when being asked the most pertinent question on the entire earnings call, and one that all shareholders are desperate to get an answer to, is not only disrespectful, but indicates to me that CLNE management is out of touch with CLNE shareholders and the investment community. Dougherty & Co. not unsurprisingly provided an update the next day and stated:
…Clean Energy was not able to give insight into its expectations for 2014 results. We have been believers in the natural gas adoption story, and defenders of CLNE's stock, since late 2012. But progress in natural gas engine adoption does not seem to be translating into increased visibility into CLNE's path to profit. It would be an intellectual fallacy for us to assert that we have more visibility into CLNE's future results than CLNE management itself has…
As already mentioned I thought I was done with writing CLNE articles, but management's attitude toward providing guidance in response to Dougherty & Co.'s question inspired me to conduct my own research and analysis. After the earnings call I decided to read CLNE's 10-K and some issues soon became apparent. I will go through these below, but first please study this table closely.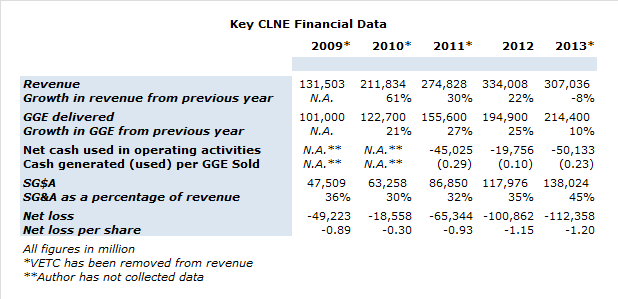 Source: Clean Energy Fuels 10-K and author's analysis
General comments about the table
The table above is based on CLNE's 10-K report, but I have made some amendments to better illustrate the operational performance of CLNE's business. You will see that I have removed VETC (federal fuel tax credits) revenue from the years 2009, 2010, 2011 and 2013. 2012 was a year without VETC revenue. The reason for removing the VETC revenue is twofold:
This is a source of revenue that is completely outside CLNE's control and masks CLNE's operational performance. CLNE will only achieve sustained profitability if they can generate a profit without federal credits.
The VETC scheme has been discontinued from January 2014 onwards and there is no guarantee that it will ever be reinstated
CLNE's revenue is down 8% for 2013
CLNE's 2013 revenue is actually down 8% compared to 2012. This is anything but impressive for a company that takes pride in being the leading company in an industry where growth is taking off and Cummins Westport, the dominant natural gas engine supplier, increased deliveries by more than 50% in 2013 and NGV equipment suppliers such as Hexagon Composites (OTC:HXGCF) and Quantum Fuels Systems (NASDAQ:QTWW) are growing exponentially and are running their production facilities 24/7 to satisfy demand.
Anemic growth for GGE delivered in 2013
It is also noteworthy that CLNE only manages to grow GGE delivered by 10% in 2013, when the NGV industry, as mentioned above, is expanding at breakneck speed. OK, so growing from a larger base is harder than from a lower base. Well, this argument doesn't stack up either as the 19.5 million increase in GGE delivered in 2013 is the lowest increase in GGE terms since 2009. Once again, this is completely out of sync with what is going on in the rest of the industry.
Cash flow
At the end of 2013 CLNE reported $385 million in cash and short-term investments. For 2014 a CAPEX budget of $135 million has been outlined and it seems fair to assume that an operational cash burn of approx. $0.2 per GGE will continue. Taking all of this into account, CLNE's cash pile could shrink to approx. $200 million by the end of 2014. If this trend continues through 2015 CLNE could be out of cash by 1H 2016, just as the debt maturity date for $145 million is reached.
CLNE's SG&A expenses are growing faster than revenue
From an overall point of view it is reasonable to assume that SG&A expenses will increase on an absolute basis as a business expands, and shrink as a percentage of revenue as economies of scale are developed. Well, for CLNE this is not the case as SG&A currently eats up 45% of the revenue and it has been on an upward trend as a percentage of revenue for the past 3 years.
Having noticed this trend I assumed CLNE's headcount must be growing rapidly as they are busy building and commissioning their LNG stations. Wrong again. Their headcount has grown by 48 from end 2011 until end 2013, from 1,036 to 1,084. In the same period SG&A has increased by more than $51 million, or more than $1 million per additional employee. This trend cannot be sustainable and I am really wondering where all of this cash is being spent, and how it is benefiting shareholders.
Net loss per share is increasing, not shrinking
CLNE has been telling people that profitability is just a matter of time. Sorry, that should of course read a matter of volume, not time. The reality is that net loss per share has steadily widened since 2010 when CLNE was relatively close to breaking even, despite volume growing by 75% in the same period.
Summary
I fully understand the frustration expressed by Dougherty & Co. and find it amazing that management of a publicly listed company flippantly answers a fundamental and serious question about profitability.
Anyone with half a brain would know that CLNE's profitability, or lack thereof, is closely linked to the volume it sells at its stations. CLNE management providing the "it is all about volume" answer is an insult to the intellectual capacity of shareholders and analysts, especially when my simple analysis shows that CLNE's loss per share has been widening, not shrinking, as volume has expanded. The important question about profitability deserves so much more than a dismissive answer, but then again CLNE management might not want to provide more details as it could lead to pertinent and uncomfortable follow-up questions.
CLNE management's cavalier attitude during the most recent earnings call sends one very clear message to shareholders; they are happy to take your cash, just don't bother them with questions about future earnings or the company's path to becoming a profitable enterprise.
Disclosure: I am long HXGCF. I wrote this article myself, and it expresses my own opinions. I am not receiving compensation for it (other than from Seeking Alpha). I have no business relationship with any company whose stock is mentioned in this article.