The emerging markets have been lagging the developed world's markets for several years now; as can be seen on the most popular emerging markets ETF (NYSEARCA:EEM) trading at the same level as in September 2009. So while the S&P500 (NYSEARCA:SPY) has been gaining 80% in value, EM-investors were stuck with flat returns for four-and-a-half years.
But a closer look reveals that a couple of individual countries were able to stem against this trend and post a convincing performance over the same period like Malaysia, Mexico, the Philippines and even Thailand (despite its recent troubles). This suggests that maybe the broad Emerging Market Indices are too diversified to capture some of the well-performing countries and that a stock- or market picking approach should lead to better results.
Therefore I decided to pick three individual countries that should profit from secular tailwinds throughout the coming years. All three are located in South- and Central America and have been showing positive developments for a while now. Each of those countries have unique factors on the risk and reward side of the equation, but should be able to outperform a majority of the EM-bunch; especially in the long run.
One thesis at the heart of this analysis is the assumption that the leading financial institutions in those countries should be profiting from economic upswings, no matter what the catalysts are. This is why I chose to use them as vehicles to invest in those countries, avoiding too broad spread ETFs. The kicker to those three choices is a juicy dividend yield of over 4% that should reward investors while waiting for the long-term story to pan out; plus all three stocks are liquid and trade on US exchanges.
I will touch on individual factors later on, but it generally has to be mentioned that Emerging Markets are particularly sensitive to risk off environments, and events like social unrest and political turmoil can hit any country at any time. Natural disasters can hurt economic development way stronger than in developed countries too, and the effects of a tapering FED are still out in the dark, so there is no shortage of risk factors.
I tried to eliminate some of the taper-related downside risks by picking countries that show surprisingly low Debt/GDP ratios, but of course there are no guaranties.
All three countries ended up high on Bloomberg's ranking of the most favorable investing climates in emerging markets for the next two years; Chile rank 4, Panama rank 6 and Colombia rank 11, all in front of countries like Turkey (12), the Philippines (16) and Mexico (17). You won't find in depth value analysis of the companies mentioned here (which can be a difficult task with financial institutions, especially foreign ones), but all of them show convincing numbers and have proven that they can capitalize on their home country's growth potential.
One more thing to bear in mind is the fact that dividends paid to foreigners are subject to withholding tax that ranges up to 35% in Chile, but different tax credits can be claimed.
Chile: Still one of the safest bets in South America
Chile has been one of the most stable countries in the Americas and an investor's favorite for a while. Its vast mineral resources made it one of the big winners in pre-financial crisis times, but dependence on the commodity sector has been fading with its economy slowly turning into a consumption driven one.
Risks:
There have been education related student protests over the past years, but those are unlikely to cause much turmoil in the future.
| | | | | | |
| --- | --- | --- | --- | --- | --- |
| Chile | | | | | |
| Population (million) | 17.4 | | | | |
| GDP ($ billion) | 270 | | | | |
| Public Debt/GDP | 12% | | | | |
| Unemployment | 6% | | | | |
| Inflation | 2.5% | | | | |
| Interest Rate | 4.75% | | | | |
| | 2012 | 2013 | 2014 | 2015 | 2016 |
| GDP growth | 5.6% | 4.4% | 4.5% | 4.7% | 4.9% |
Banco de Chile (NYSE:BCH) is the largest financial institutions in the country with around 20% market share and probably the most conservative of my three picks.
BCH's loan book grew 11% in 2013

only 1.1% of loans were nonperforming

the tier 1 capital ratio came in at 9.9%

operating revenues grew 26% yoy

return on average equity of 21.3%

EPS of $6.62 (TTM); P/E of 11.5

cash dividends of $4.5 per share; Yield of 5.9%

$11 billion market cap
Management emphasized that they will continue to focus on profitability rather than top line growth which should be comforting for investors as EPS and dividends will be set to increase again in 2014. BCH has been yielding between 4 and 8% every year since it started trading on the NYSE in 2002, nine-folding its payout over the same period.
A look on the following chart shows that even without dividends the stock has been outperforming the Chilean index by a good margin.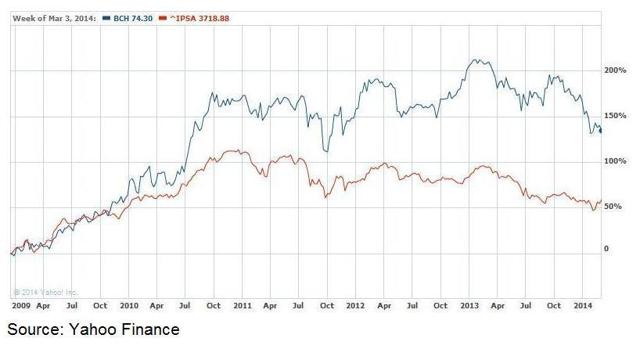 Click to enlarge
Accounting for reinvested dividends, the stock's total return over the same period increases to +212%.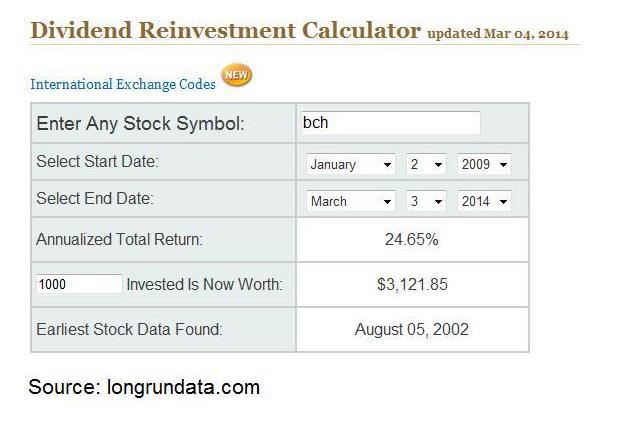 Colombia: A rising star with an expanding oil sector
Colombia has caught a lot of investor attention over the past years, as it is on the path to become a meaningful oil producer. Hopes are centered on a growing middle class and the prospects to morph into a consumer-driven economy.
Risks:
The FARC guerilla is still the major threat to the country's stability, but a lot of progress has been made.
| | | | | | |
| --- | --- | --- | --- | --- | --- |
| Colombia | | | | | |
| Population (million) | 48 | | | | |
| GDP ($ billion) | 370 | | | | |
| Public Debt/GDP | 32% | | | | |
| Unemployment rate | 11% | | | | |
| Inflation | 2.7% | | | | |
| Interest rate | 3.25% | | | | |
| | 2012 | 2013 | 2014 | 2015 | 2016 |
| GDP growth | 4.2% | 4% | 4.3% | 4.2% | 4% |
Bancolombia (NYSE:CIB) is the country's leading bank, but experienced some negative developments which lead Moody's to change its rating outlook to negative from stable. Earnings estimates too have been coming down lately, which pushed the stock close to four-year lows. The company just announced the acquisition of HSBC's Panama unit for $2.1 billion, which got financed by a dilutive share sale. With those effects fading, the pressure on the stock should be past its high point.
loan growth rose a convincing +22% in 2013

2.8% nonperforming loans

tier 1 capital ratio of slightly below 12%

estimated 2014 P/E of 11

CIB has been paying cash dividends since 1995; only one decrease since 2001 (2009)

yields a little over 3%, but a raise in 2014 is unlikely

$12 billion market cap
CIB has been slightly outperforming the Colombia ETF (NYSEARCA:GXG) even without dividends.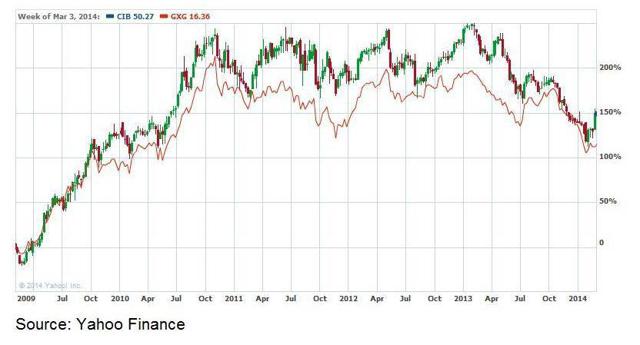 Click to enlarge
And with dividends; +205%.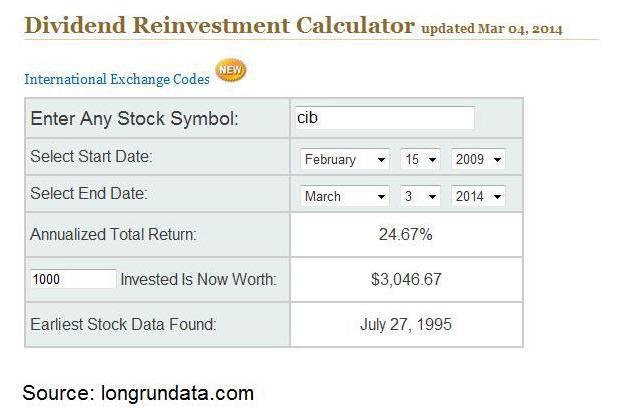 Panama: Canal expansion and high growth
Even though there have been delays due to strikes, the Panama Canal expansion will allow for much larger ships to pass and will continue to spur growth in this hidden Lat-Am gem. Fundamentals look great for years to come and Panama's administration aims to develop the country into a Singapore-like trading hub.
Risks:
Corruption and the lack of transparency are still main issues; elections in May could be disruptive.
| | | | | | |
| --- | --- | --- | --- | --- | --- |
| Panama | | | | | |
| Population (million) | 3.8 | | | | |
| GDP ($ billion) | 36 | | | | |
| Public debt/GDP | 36% | | | | |
| Unemployment rate | 4% | | | | |
| Inflation | 4% | | | | |
| Interest rate | 1% | | | | |
| | 2012 | 2013 | 2014 | 2015 | 2016 |
| GDP growth | 10.5% | 7.9% | 7.3% | 6.9% | 6.5% |
Banco Latinoamericano de Comercio Exterior (NYSE:BLX) is a leading trade financier (and commercial bank) in Panama, poised to profit from the canal expansion without actually being involved in the financing of the canal. Fundamentals have been really strong over the past years with revenues and EPS growing at a rapid pace.
The stock is a real dividend machine, and management has confirmed its commitment to continue its dividend policy on the last conference call.
EPS of $2.21 for a P/E of 12

2014 EPS of $2.8, forward P/E of 9.5

tier 1 capital ratio of 15.9%

0.1% non performing loans; this number has been that low for years

more than doubled its dividend since 2010

yields 5.3%

$1 billion market cap
As with CIB and BCH, BLX too has been vastly outperforming its benchmark index. Even though the Panamanian market has been retreating for the past half a year or so, BLX continued its uptrend.
The following chart too does not account for reinvested dividends.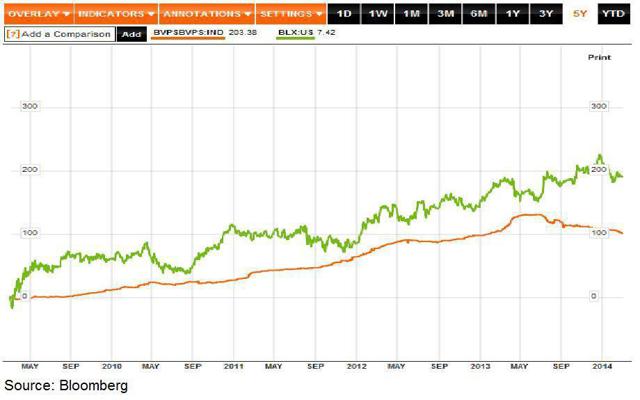 Click to enlarge

With dividends reinvested, total return for the same period would come in at +276%.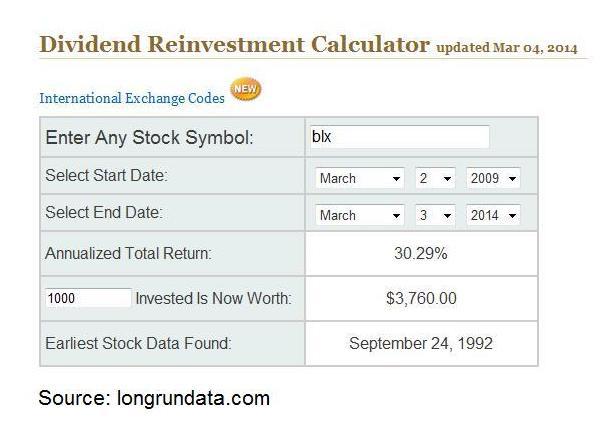 Conclusion
Emerging markets have been lagging for years, but by selecting countries that enjoy specific tailwinds, one can actually beat this underperformance.
For Latin American exposure, don't look any further than CIB, BCH and BLX. All three have a proven track record and juicy yields. While CIB might be the fundamentally weakest at the moment, a lot of negativity has been priced in already and the stock could be an interesting contrarian play.
BCH would have to be the most conservative pick and BLX seems to have the most immediate (one to two years) upside. If combined in equal parts, this basket of leading Latin American Financials would sport a 4.7% yield that is likely to grow further.
Country Sources: worldbank.org
Company Sources: Filings, annual reports, IR
Disclosure: I have no positions in any stocks mentioned, and no plans to initiate any positions within the next 72 hours. I wrote this article myself, and it expresses my own opinions. I am not receiving compensation for it (other than from Seeking Alpha). I have no business relationship with any company whose stock is mentioned in this article.
Additional disclosure: As always; do your own due diligence before investing.