Walt Disney Company (NYSE:DIS) is the largest media conglomerate in the world, in terms of revenues. Disney is best known for its film studio, The Walt Disney Studios, and the company also owns and operates the ABC broadcast television network, cable television networks, such as Disney Channel, ESPN, A&E Television Networks and ABC Family. Disney also owns and operates 14 of the most popular theme parks around the world. The Walt Disney Company has flourished its growth year over year. During fiscal year 2013, the company delivered another consecutive year of record results, and the performance is reflected in the company's recent acquisitions, capital investments and long-term focus on exceptional creativity and innovation by taking advantage of the growing film and entertainment industry.
Segment Performance Analysis
The revenues for the quarter increased by 9% to $12.3 billion and topped the estimates of $12.24 billion, primarily due to healthy tickets sales from theatrical releases as well as a rise in the top line of its theme parks. The diluted earnings per share increased by 34% to $1.03 from $0.77 in the prior year, and Disney had strong quarterly performance combined with double-digit operating income growth in all of its business segments.
The media network remained the major segment, representing 43% of total revenues, and grew by 4% to $5.3 billion; the operating income grew by 20% to $1.5 billion. The key growth drivers for the media network were higher equity income from the A&E Television Network, increased rates and units of the affiliate and advertising at ESPN, and to some extent, improvement from the domestic Disney Channels. However, the higher programming costs, lower program sales and decreased advertising revenues from broadcasting partially offset the positive growth.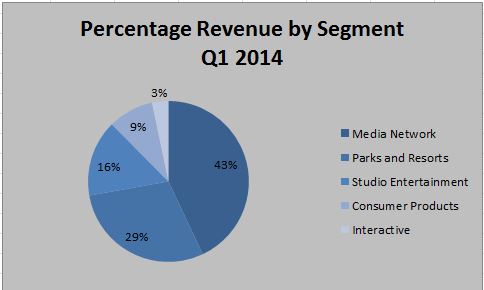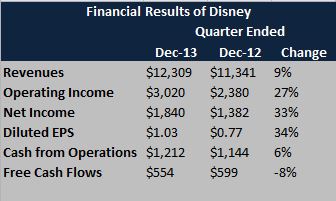 Source: Earnings presentation
The parks and resorts contributed 29% towards Disney's total revenues for the first quarter. The improved guest spending at the domestic parks and resorts, combined with higher average ticket prices and food and merchandising spending led the parks and resorts' operating income and revenues growth to 16% and 6% respectively. Recently, Disney has raised the price of a one-day ticket to the Magic Kingdom theme park by $4, and this is the world's most-visited theme park, with more than 17 million visitors. According to these statistics and increasing consumer spending, Disney will benefit from growing revenues in 2014 from this business segment.
Studio entertainment did well due to increased worldwide theatrical distribution results, and to a lesser extent, an increase in domestic home entertainment. Overall, studio entertainment revenues increased 23% to $1.9 billion, and the operating income increased by a tremendous rate of 75% to $409 million. The spectacular performance of Frozen and Marvel's "Thor: The Dark World" during the first quarter did the job for Disney.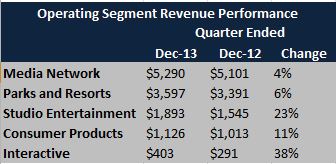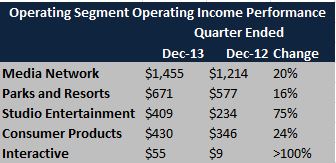 Source: Earnings presentation
The merchandising licensing and retail business also did well, as reported in Disney's quarterly results, and led to consumer products revenues of $1.1 billion, with a growth rate of 11% and an operating income of $430 million that increased by 24%. The increase in operating income from merchandise licensing was due to the inclusion of Lucasfilm and higher revenues from the performance of Planes, Disney Junior and Monsters University merchandise, partially offset by lower revenue from the sales of Cars and Spider-Man merchandise.
Favorable Industry Prospects will Drive Future Growth
According to PricewaterhouseCoopers, the film and entertainment industry in emerging countries, including China, India, Brazil and other parts of the world, is booming. However, the U.S. film and entertainment industry is expected to dominate in the coming years. The U.S entertainment and media market generated $479.23 billion in 2012, representing 29.2% of worldwide revenue of nearly $1.639 trillion. In 2017, the U.S. is expected to account for $632.09 billion, or 29.04% of the worldwide total of more than $2.152 trillion, with a growth rate of around 32%.
The U.S. film industry will remain at the top, with a growth rate of around 3.4% annually, reaching $36.35 billion by the end of 2017, while globally, the film industry revenue will grow annually by 3.6%, reaching $106 billion by the end of 2017. Over the past few years, the animated and 3D movies have been the prime reason for record box office sales in both the U.S. and international markets. The growing popularity of 3D movies, whose tickets are priced higher at theaters, would cause Disney to earn high margins.
Disney has announced the sequel of its successful film series, "Pirates of the Caribbean". This series has grossed $3.72 billion worldwide. The new sequel is expected to be released in 2015, and looking at the popularity of this series, it can be expected that this sequel would deliver successful results for Disney. Similarly, Marvel's "The Avengers" was released in 2012, and topped the box office with $1.5 billion in earnings worldwide, and its upcoming sequel "The Avengers: Age of Ultron" will hopefully outperform its prequel. Disney's franchises are very popular worldwide, and in 2014, Disney will release popular sequels for "Captain America: The Winter Solider", "Planes: Fire and Rescue", along with "Need for Speed" and "Guardians of the Galaxy". Similarly, 2015 will be an important year for Disney, with the release of Marvel's "Ant-Man" and "Star Wars: Episode VII".
The U.S. consumer spending on media and entertainment will grow by 4.8% per year through to 2017, with digital consumption rivaling physical sales. Increased internet access will be a major force behind pushing the growth in entertainment and media, reflecting expanded broadband services and growing usage of smart devices, including smartphones, tablets, and smart TV. Filmed entertainment will see digital sales increase at a faster pace than other segments, with the share almost doubling to 25% in 2017 compared to 13% 2013. The global household broadband penetration growth reached 51% in 2017 from 40% in 2012, with Asia and Latin America leading the growth. To benefit from this industry growth, Disney has launched a proprietary cloud-based movie service that gives users online access to its digital and physical Disney movie purchases.
Disney's animated movie "Frozen" was released at the end of 2013, and surpassed the $1 billion global box office receipts this weekend, as the film continues to play in various international markets. This movie contributed significantly to the company's earnings, and is now the most successful non-sequel animated film of all time and the 7th Disney movie to ever cross the $1 billion mark. The success of Frozen sets up the potential for a vibrant Disney franchise with a theme park and consumer product tie-ins.
Over the next two years, Disney will release sequels of its popular movies that have historically performed significantly well. This broad portfolio of popular movies and many other upcoming movies will successfully drive significant revenues for Disney. The studios generate a major portion of their revenues from the sales of tickets that are directly generated by movie theaters. The expected consumer spending will increase, and the growing number of adaptations will drive sales for Disney.
Disney has a lucrative opportunity to expand its media network business in the emerging markets, where the potential for growth is significant. The worldwide pay-TV market reached 903.3 million subscribers in 2013, generating $249.8 billion in service revenues. It is expected that the worldwide pay-TV market will reach $1.1 billion by the end of 2019. Asia-Pacific and Latin America will continue to grow, and are anticipated to reach a total of 634.5 million subscribers in 2019. China would account for more than 27% of the market, and similar growth is expected in India as well. The Walt Disney Company has already entered these markets and should continue to strengthen its position there to benefit from such high industry growth.
The world market for theme parks is projected to reach $31.8 billion by the year 2017. Growth will be primarily driven by increased consumer per capita spending on entertainment and leisure platforms, the growing base of middle class households, increasing disposable incomes, urbanization in developing countries and waxing popularity of mass entertainment.
Conclusion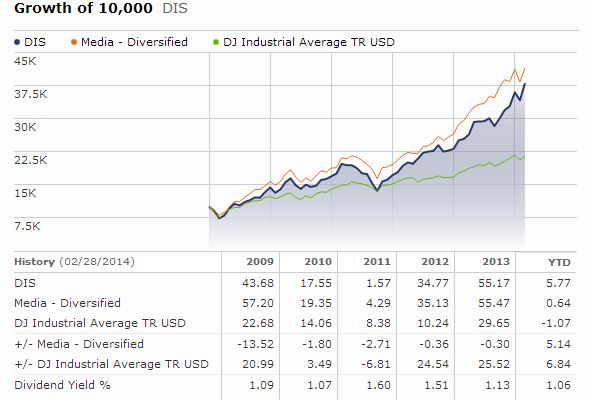 Source: Morningstar
Box office success may have driven a great quarter for Disney, but it's only one part of the company's value-creation, and Disney's total returns have outperformed the industry average. The formula for Disney to outperform the market is well-defined and it's working wonders for the company's long-term investors.

Source: YCharts
Currently, the stock is trading at a historically high price of $80.81, and has increased by 46% over the last twelve months. The entertainment industry seems to be on a growth trajectory, and Disney is well-positioned to enjoy the growth from its diversified operations, and double-digit growth for media conglomerates is likely to come from international sales. Disney is a pretty attractive stock for investors to consider for their investment portfolios.
Disclosure: I have no positions in any stocks mentioned, and no plans to initiate any positions within the next 72 hours.
Business relationship disclosure: The article has been written by a Blackstone Equity Research research analyst. Blackstone Equity Research is not receiving compensation for it (other than from Seeking Alpha). Blackstone Equity Research has no business relationship with any company whose stock is mentioned in this article.