When a potential investor looks to establish a long-term position in the oil & gas sector, a firm's ability to secure drilling contracts is certainly something to consider.
With that said, I not only wanted examine Helmerich & Payne's (NYSE:HP) announcement pertaining to a number of drilling contracts it was awarded on Tuesday, but also highlight a number of reasons why I'm staying fairly bullish on shares of this particular oil & gas play that offers investors a moderately-yielding stream of quarterly income.
Company Overview
Headquartered in Tulsa, Oklahoma, Helmerich & Payne, primarily operates as a contract drilling company in North and South America. It provides drilling rigs, equipment, personnel, and camps on a contract basis to explore for and develop oil and gas from onshore areas and fixed platforms, tension-leg platforms, and spars in offshore areas. As of November 14, 2013, the company's fleet included 305 land rigs in the U.S., 29 international land rigs, and 9 offshore platform rigs. Its contract drilling business operates through three reportable segments: U.S. Land, Offshore, and International Land.
Recent Performance & Trend Behavior
On Wednesday, shares of HP, which currently possess a market cap of $10.63 billion, a forward P/E ratio of 15.20, and an annual dividend yield of 2.52% ($2.50), settled at a price of $99.19/share. Based on its closing price of $99.19/share, shares of HP are trading 7.76% above their 20-day simple moving average, 13.63% above their 50-day simple moving average, and 35.53% above their 200-day simple moving average.
It should be noted that these numbers indicate both a short-term as well as a very strong mid-to-long-term uptrend for the stock, which generally translates into a moderate buying for most near-term traders and most long-term investors.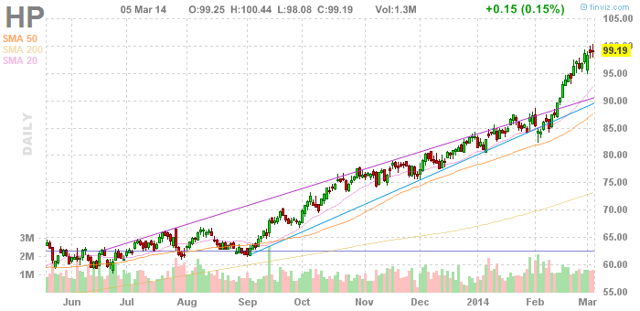 Click to enlarge
Recent Dividend Behavior
Since May 11, 2012, the company has increased its quarterly dividend three times in the last two years, with the most recent increase having taken place in February of this year. The company's forward yield of 2.52% ($2.50) coupled with its ability to maintain its quarterly distribution over last two years make this particular oil & gas play a highly considerable option, especially for those who may be in the market for a moderate stream of quarterly income.
Newly Awarded Drilling Contracts
On Wednesday, Helmerich & Payne announced that it had secured drilling contracts with Argentina's YPF S.A (NYSE:YPF) for 10 rigs to be deployed in the country's Vaca Muerta shale play. The company plans on deploying existing FlexRig rigs from the U.S. under five-year contracts, with the first of the rigs expected to start operations in Q4 and all five of the rigs be full operation by the end of the first half of next year.
Although the total value of the contracts wasn't disclosed, the company's President, John Lindsay noted that, "Helmerich & Payne is pleased to announce a growing presence in one of the most promising unconventional plays outside of the U.S. These contracts allow us the opportunity to continue our efforts to demonstrate the FlexRig value proposition in key markets around the world. We believe that our interests are well aligned with those of the customer, and look forward to working with YPF in the near future".
With that said, I think there are two key takeaways both potential investors and shareholders need to consider. The first takeaway examines the notion that HP's added presence in unconventional markets such as Argentina may be a risk worth taking, especially if all ten of the company's rigs are fully operational by the end of the first half of 2015, and revenues begin to see moderate-to-considerable growth over the next 12-24 months. The second takeaway I think we all need to consider is if FlexRig creates a sustainable value proposition in Argentina, there's really no telling what other key markets Helmerich & Payne may enter over the next 24-36 months.
Conclusion
For those of you who may be considering a position in Helmerich & Payne, I strongly recommend keeping a close eye on the company's dividend behavior, trend performance, and its ability to continue to enhance shareholder value through its presence in a number of global markets, as each of these factors could play a role in the company's long-term growth.
Disclosure: I have no positions in any stocks mentioned, but may initiate a long position in HP over the next 72 hours. I wrote this article myself, and it expresses my own opinions. I am not receiving compensation for it (other than from Seeking Alpha). I have no business relationship with any company whose stock is mentioned in this article.